6 Buying Tips for Low Power FM Transmitter for Drive-in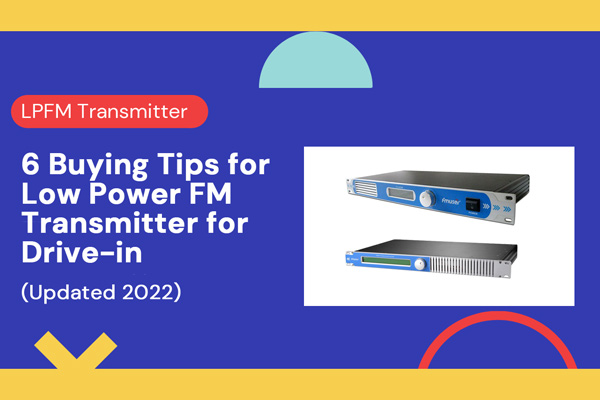 Drive-in service is one of the most popular radio businesses. It can provide a relaxed and pleasant entertainment experience for the masses. It is one of the most popular forms of entertainment under the epidemic.
Many people want to run drive in broadcasting services. If you want to make your drive-in service business stand out in the fierce competition, you need the best radio station equipment. There is no doubt that a high-quality low power FM transmitter can bring you more business. But do you know how to choose the best low power FM transmitter for drive-in?
With many years of radio broadcasting experience, FMUSER will introduce you to why to use FM broadcast transmitter and the most important part: how to choose the best low power FM transmitter for drive-in. Let's keep exploring!
Sharing is Caring!
Content
Why Low Power FM Transmitter for Drive-in Matters?
Low power FM transmitter is the centre radio station equipment for drive in services, and it takes the parts of audio transmitting and audio signals transferring. But why does it matters and you can hardly find an AM transmitter is used in drive-in services?
FM transmits audio signals steady - FM stands for frequency modulation, and it is the way of transmitting audio signals. Compared with the traditional AM transmitter, a low power FM transmitter comes with a clear and stable audio transmission. It means that you can provide a better listening experience to the believers.
FM transmitters have budget costs - Due to the development of technology, now a high-quality FM transmitter costs a little. It still can be used in many radio broadcasting applications, including drive-in services, community radio, school radio, etc.
In short, the low power FM transmitter has the features of outstanding audio transmission quality and budget prices so that it becomes the first choice for those who want to start a drive-in business.
6 Buying Tips for the Best Low Power FM Transmitter
Learning technology parameters is helpful for us when choosing the best low power FM transmitter. However, each FM radio transmitter has too many parameters, and which one should we focus on? Luckily, FMUSER summarizes 6 main tips for choosing the best low power FM transmitter for drive-in.
Full Range Frequency
An FM radio transmitter with full range frequency can provide more channels for choices and help you avoid FM signals interference. Why not choose the FM transmitters with a full range of frequency? Once you are aware that there are signal interference around, you can adjust the FM transmitter and find the unused frequency to transmit clear FM signals outward.
Note: In general, there are basically 3 types of FM frequency range all over the world:
Standard FM broadcast band: 87.5 - 108.0 MHz

FM frequency band used in Japan: 76.0 - 95.0 MHz

ORIT band: 65.8 - 74.0 MHz
Top Sound Quality
Sound quality really matters because it determines the listening experience. Better sound quality can help you attracts more listeners and grow your business. So you need to learn the definition of audio stereo separation and other audio parameters, etc.. In general, the audio stereo separation of 40 dB and SNR of 65 dB are acceptable.
Abundant Transmitting Power
An FM radio transmitter with abundant transmitting power can ensure you can provide broadcasting services to all the listeners. The Effective Radiated Power (ERP) determines how many areas you can transmit. What you should understand is that ERP is not equal to transmitting power, and it depends on the transmitting power and the performance of the FM broadcast antenna. It is advised that you choose a low power FM transmitter with transmitting power higher than your expectation, then you could ensure you have enough ERP.
Budget Price
A low power FM transmitter with a budget price is our ultimate target. But it doesn't mean that you have to give up some important features of the FM radio transmitter. Most importantly, you should choose a low power FM transmitter that fits your drive-in business' budget without compromising its quality, integrity, and functionality.
Easy Operation
Easy operation can reduce a lot of annoying troubles for you. For example, reasonably designed buttons can help you easily adjust the FM broadcast transmitter and avoid misoperation as much as possible. And if there is a clear LCD screen equipped on it, you can learn about the status of the FM broadcast transmitter directly and know the problems in time.
Complete Safe Protection Functions
The safety protection function can shut down the machine in time in case of machine failure to avoid further loss. The safety protection function is what you can't ignore when choosing the best FM radio transmitter. It should be able to start the protection mechanism in time in case of a harsh environment, such as overheating, supercooling, water, etc.
In short, we need to focus on the 6 points: full frequency range, top sound quality, abundant transmitting power, easy operation, budget prices and complete safety protection functions. We hope that these tips could be helpful for you. As one of the best FM radio broadcasting suppliers, FMUSER can provide you with FM broadcast transmitters with transmitting power varies from 0.5 watts to 10000 watts and complete radio station equipment packages. If you are interested in them, please feel free to check them out!
Frequently Asked Questions
Q: How Far Will a 50 Watt FM Transmitter Broadcast?
A: A 50 watt FM transmitter can generally broadcast around 10 kilometres.
Yes, we said a 50 watt FM transmitter can transmit around 10 kilometres. But it is inaccurate because the coverage is affected by a lot of factors, including transmitting power, the installation height of the FM radio antenna, the obstacles around, the performance of the antenna, etc.
Q: What Equipment Should I Have in a Low Power FM Radio Station?
A: At least you should have a low power FM transmitter, FM broadcast antenna packages, and you can add more peripheral radio station equipment based on your needs.
In detail, they are audio broadcasting station equipment, including:
FM broadcast transmitter
FM transmitting antennas
Antenna combiner
Antenna Switcher
Antenna cables
Transmitter remote control
Air compressor
Studio Transmitter Link
etc.
and other peripheral radio station equipment, including:
Audio processor
Audio mixer
Microphones
Microphone stands
headphones
BOP covers
Studio Monitor Speakers
Cue Speakers
Headphones
Talent Panel
On-Air Light
Button Panel
Phone Talkback System
etc.
Q: Is it Legal to Start Up a Low Power FM Radio Station?
A: Of course, if you have applied for the license.
Generally, starting up a low power FM radio station is legal all over the world, but most of the FM radio stations are administrated by the government. So you need to apply for a license first and learn about the relative regulations to avoid penalties.
Q: What is Effective Radiated Power (ERP)?
A: Effective radiated power (ERP) represents the transmitting ability of RF systems.
ERP is a standardized definition of directional radio frequency (RF) power. If you want to calculate it, you need to know the transmitting power of the FM radio transmitter, then subtract the losses from the duplexers and any measurable feedline loss, and lastly, you need to add the antenna gain.
Conclusion
Learning why use low power FM transmitters in drive-in business and the 6 main buying tips for low power FM transmitters for drive-in can help you start your drive-in business better. With decades of experience in radio broadcasting, we have helped thousands of customers to build up their own low power FM radio stations, and provided them with professional suggestions and budget low power radio station equipment, like low power FM transmitters for sale, FM antenna packages, etc. We believe that the knowledge above can bring you more and more customers and profits. If you want more about drive-in business, please feel free to contact us!
CONTACT US


FMUSER INTERNATIONAL GROUP LIMITED.
We are always providing our customers with reliable products and considerate services.
If you would like to keep touch with us directly, please go to contact us