How to Choose the Best Low Power FM Transmitter for Christmas Lights Display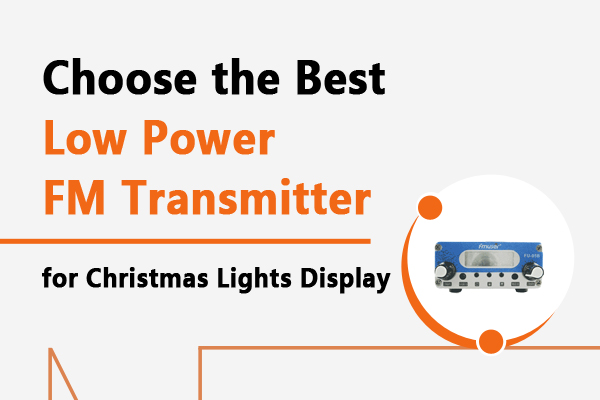 Christmas is coming, do you have any idea how to have a happy Christmas? Why not use an FM radio transmitter to have some fun for your Christmas? With little money and simple decoration, you can have an unforgettable Christmas. But how to choose the best FM broadcast transmitter used in Christmas Light Display? This blog will focus on this question and give you some advice for it.
Content
What Do You Need to Learn about FM Radio Transmitters?
FM radio transmitter is an FM broadcasting equipment. FM broadcasting has been one of the most popular audio transmission ways worldwide. As the core broadcasting equipment in FM transmission, the transmitting power of FM broadcast transmitter ranges from 0.1w to 10kw or even more.
Based on different transmitting power levels, it can be widely used in different applications, such as drive-in church, drive-in movie theater, education broadcasting, professional FM radio stations, city radios, government broadcasting, etc. Of course, it also can be used in Christmas Lights Display.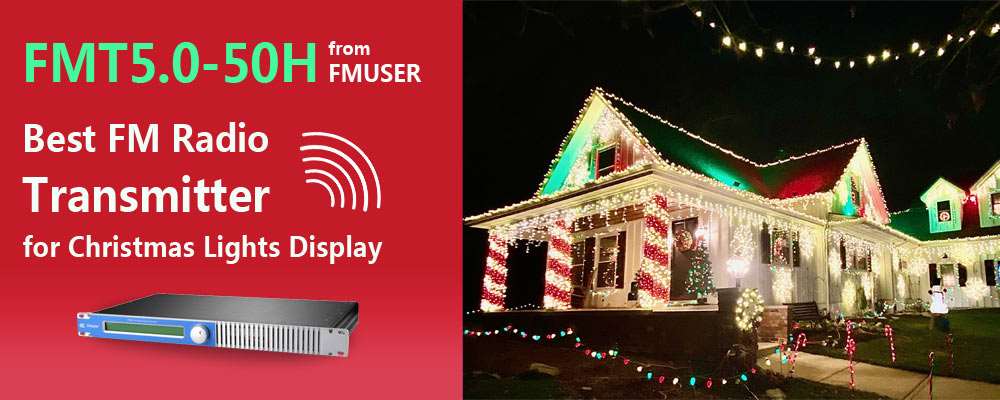 Why Do You Need an FM Transmitter in Christmas Lights Display?
Is broadcast voices the only reason for us to use FM broadcast transmitter in Christmas Lights Display? Of course not, and let's see what else benefits you can get when using the FM broadcast transmitter in Christmas Lights Display.
Broadcast Everything You Like
There are no limits in your broadcasting content, you can broadcast everything you like, including music, stories, even your voices. At Christmas, you are not just only broadcasting what you like but also sharing your fun with others.
Broadcast in a Distance
With an FM broadcast transmitter, you can broadcast the music or your voices to your neighborhood or passersby without getting out of your house. It means that you can keep a distance from others. In a pandemic, everyone needs to keep a distance from others.
Make the Lights Flash as Rhythm
On Christmas day, you can appreciate the lights away and control them to flash as the rhythm. You can achieve this crazy idea with an FM broadcast transmitter, a light control box, and a few audio cables.
How to Choose an FM Radio Transmitter?
Are you urging to buy a low-power FM transmitter to prepare for your Christmas Day? Don't worry. Let's first understand what factors to consider when buying a transmitter.
Suitable Transmitting Power
The transmitting power of the FM broadcast transmitter you choose should be suitable based on your needs. If you want to share the music or your voices with the neighbors, a 50w FM broadcast transmitter is an excellent choice for you.
Complete Frequency Range
Using the low-power FM transmitter to broadcast your programs means that your FM signals are probably interfered with by other signals. So your FM transmitter should have a complete FM frequency range, and you can adjust your frequency to the position without interference.
Friendly Operation
It would help if you bought those FM broadcast transmitters with friendly design so that you can quickly build up the FM radio station for the Christmas lights display and input the music you like. In addition, if you need to add some external equipment like an audio control box, it won't be too hard for you.
Reliable Brands
Would you put the transmitter away until the next Christmas Day? You can also use it in your daily life. It depends on you. The durability of the machine is the key. So you need to buy it from a reliable brand that guarantees the quality of the machine and provides timely help when the machine is broken.
The Best FM Broadcasting Equipment Manufacturer
FMUSER is one of the best manufacturers in FM broadcasting, we can provide complete FM broadcast transmitter kits for Christmas lights display, including an FM broadcast transmitter for sale, FM antennas packages, etc. Furthermore, if you get any problems while using the FM broadcast transmitter, contact us and we'll solve your problems as quickly as possible.
You can buy the best FM radio equipment here at reasonable prices, including FM broadcast transmitters for sale, FM antennas for sale, complete radio stations packages for sale, live streaming equipment for sale, and IPTV solutions. And you'll get the best support online and you can totally trust FMUSER, click here for more information.

Frequently Asked Questions
1. Q: How Does an FM Radio Transmitter Work in Christmas Lights Display?
A: An FM radio transmitter receives signals from other equipment and converts the signals into FM signals, then the FM antennas broadcast them.
In Christmas lights display, an FM radio transmitter works following 3 steps:
The music or other audio documents that are stored in your computer, MP3 players or other equipment would be input into the FM radio transmitter.

The audio signals would be converted into FM signals.

The FM signals would be transmitted by the FM transmitting antenna.
2. Q: What is a Low-power FM Station?
A: A Low-power FM station is a concept in the side of transmitting power.
Low-power FM stations are non-commercial radio stations that operate at 100 watts or less and reach a radius of 3 to 7 miles. The Low power FM stations broadcast to the air to serve their communities with a variety of new voices and services.
3. Q: What Applications Can Low-power FM Transmitters be Used in?
A: Low-power FM transmitters can be used in various applications.
In addition to the Christmas light display, the low power FM transmitters can also be used in school broadcasting, supermarket broadcasting, farm broadcasting, factory notice, scenic spot broadcasting, enterprise conference broadcasting, advertising, music programs, News programs, outdoor live broadcast, live drama production, correctional facilities, real estate broadcasting, dealer broadcasting, etc.
4. Q: How to Use a Low-power FM Broadcast Transmitter?
A: You need to start the FM transmitter and adjust the frequency and volume.
Please follow the steps to start a low-power FM radio transmitter.
Press the power button to start the FM transmitter.

Turn on the radio and switch to the FM channel until you hear the noise.

Adjust the FM radio transmitter's frequency just as the same as the radio's, and you won't hear the noise.

At last, adjust the volume to a desirable level in your music player and play the music.
Conclusion
In this blog, you know the reasons for using a low-power FM transmitter in Christmas light display and the factors to consider when buying the FM broadcast transmitter. Do you have the idea of building up a radio station for Christmas? Why not choose FMUSER? You can get the best complete FM broadcast transmitter kit at the best prices. If you need to buy an FM broadcast transmitter, please feel free to contact us!
CONTACT US


FMUSER INTERNATIONAL GROUP LIMITED.
We are always providing our customers with reliable products and considerate services.
If you would like to keep touch with us directly, please go to contact us