Reliable Worldwide Supply? We Always Do the Best!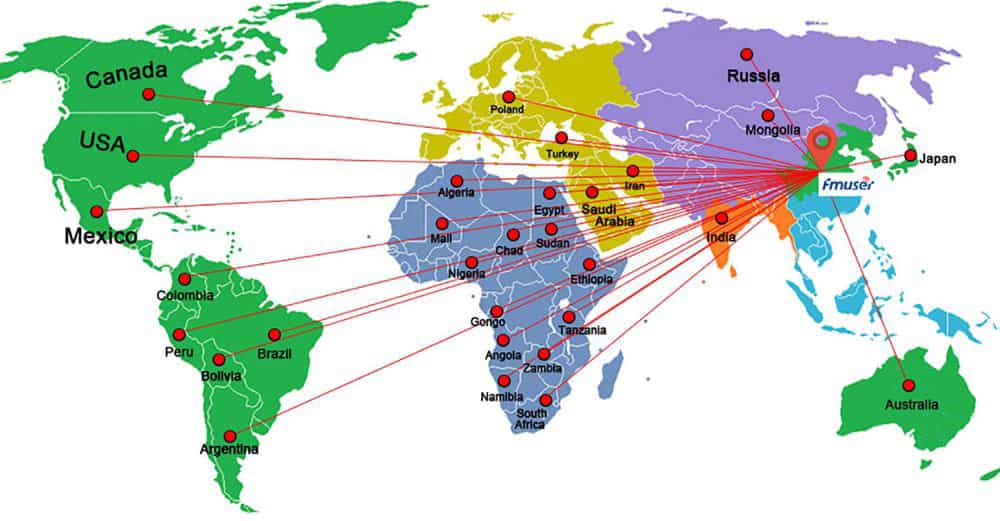 I Bet These are What You Looking for
Interesting Share: Wholesaling and retailing mean EVERYTHING for broadcasting.
To meet the various needs of end-user, we're capable of manufacturing radio broadcast equipment up to ten thousand full pieces, and even more pieces on the basis of ordered numbers, retail on fewer pieces are also available. By the way, we engage businesses on Amazon and eBay and doing great in business expansion. So far, our global buyers have benefitted from millions of premium sales resources, all FMUSER creations. With such leading manufacturing experience and a developed global sales network, FMUSER is still on its will to create a supply chain featured by budget cost in buying, high performance in products, and various categories in the division. Learn More>>
Contact us if you are in need of any ones in the following list:
FM Radio Station Equipment for Sale
Complete Radio Station Packages
A complete package of FM antenna systems with accessories
FM Broadcast Transmitter Package (accessories included)
A full package for an FM radio studio - from audio processors to studio table, studio transmitter link equipment for FM radio station, includes an STL antenna, STL transmitter, and STL receiver along with accessories.
FM Radio Broadcast Transmitters
From kilowatts level high power solid-state FM transmitters (AKA: cabinet FM transmitters) to rack-mount FM radio transmitters of a few hundred power level.
FM Broadcast Antennas
From the circularly polarized antenna, ground plane antenna, FM dipole antenna, FM antenna for car radio, and multi-bay FM antenna for high-power FM transmitter (3 bays, 4 bays, 6 bays, and 8 bays are optional).
TV Radio Station Equipment for Sale
UHF&VHF TV broadcast transmitters and antennas

Complete package for the TV radio station and TV studio.
Radio Engineering Room Equipment for Sale
RF filters, RF dummy load, high-power RF combiner, rigid transmission lines, antenna waveguide dehydrators, etc.

Click here to see more info about "Radio Engineering - Full Radio Station Equipment List ".
Customized Broadcast Solutions
Complete Radio Station Packages for Drive-in Church and Drive-in Theater — Full packages with FM transmitters, FM antennas, and accessories for contactless FM radio broadcasting during the pandemic (power level of broadcast transmitters are optional and cost varies).
All-in-one Radio Turnkey Solutions — On-ready broadcast equipment packages with everything needed for personal or commercial FM radio stations and expert TV broadcast stations.
Budget Solutions — Specially designed solutions for personal buyers who need only parts of a radio station equipment package.
Live Streaming Solutions
IPTV Hardware Streaming Devices — IPTV hardware encoder with 1, 4, and 16 channels, IPTV hardware transcoder, and decoder
Additional Equipment for Streaming — Modulator, camera, microphones, headphones, etc.
A Global Sales Network for Radio Broadcast Equipment
As an expert manufacturer in the radio broadcast field, we can totally cover your broadcast needs in cost, quality, and quantity. Over a few past years of manufacturing experience in broadcasting equipment, we have successfully served over ten thousand radio broadcast needs from all over the planet, thanks to our skilled factories (Yes we do have ones we own in China!), we are highly competitive in terms of buying cost and equipment quality, which helps build up strong confidence to our customers from over 200 countries who engage in radio broadcasting business.
Simply, if you're looking for any complete radio station packages or radio broadcast equipment for sale, make sure to contact FMUSER Broadcast; if you're digging for broadcast equipment wholesale business (ex: broadcast transmitters, RF combiners, etc), please feel free to Give us a call, WE ARE ALWAYS LISTENING!
Are You from One of these Cooperating Countries? Let's Work Together!
Afghanistan, Albania, Algeria, Andorra, Angola, Antigua and Barbuda, Argentina, Armenia, Australia, Austria, Azerbaijan, The Bahamas, Bahrain, Bangladesh, Barbados, Belarus, Belgium, Belize, Benin, Bhutan, Bolivia, Bosnia and Herzegovina, Botswana, Brazil, Brunei, Bulgaria, Burkina Faso, Burundi, Cabo Verde, Cambodia, Cameroon, Canada, Central African Republic, Chad, Chile, China, Colombia, Comoros, Congo, Democratic Republic of the, Congo, Republic of the, Costa Rica, Côte d'Ivoire, Croatia, Cuba, Cyprus, Czech Republic, Denmark, Djibouti, Dominica, Dominican Republic, East Timor (Timor-Leste), Ecuador, Egypt, El Salvador, Equatorial Guinea, Eritrea, Estonia, Eswatini, Ethiopia, Fiji, Finland, France, Gabon, The Gambia, Georgia, Germany, Ghana, Greece, Grenada, Guatemala, Guinea, Guinea-Bissau, Guyana, Haiti, Honduras, Hungary, Iceland, India, Indonesia, Iran, Iraq, Ireland, Israel, Italy, Jamaica, Japan, Jordan, Kazakhstan, Kenya, Kiribati, Korea, North, Korea, South, Kosovo, Kuwait, Kyrgyzstan, Laos, Latvia, Lebanon, Lesotho, Liberia, Libya, Liechtenstein, Lithuania, Luxembourg, Madagascar, Malawi, Malaysia, Maldives, Mali, Malta, Marshall Islands, Mauritania, Mauritius, Mexico, Micronesia, Federated States of, Moldova, Monaco, Mongolia, Montenegro, Morocco, Mozambique, Myanmar (Burma), Namibia, Nauru, Nepal, Netherlands, New Zealand, Nicaragua, Niger, Nigeria, North Macedonia, Norway, Oman, Pakistan, Palau, Panama, Papua New Guinea, Paraguay, Peru, Philippines, Poland, Portugal, Qatar, Romania, Russia, Rwanda, Saint Kitts and Nevis, Saint Lucia, Saint Vincent and the Grenadines, Samoa, San Marino, Sao Tome and Principe, Saudi Arabia, Senegal, Serbia, Seychelles, Sierra Leone, Singapore, Slovakia, Slovenia, Solomon Islands, Somalia, South Africa, Spain, Sri Lanka, Sudan, Sudan, South, Suriname, Sweden, Switzerland, Syria, Taiwan, Tajikistan, Tanzania, Thailand, Togo, Tonga, Trinidad and Tobago, Tunisia, Turkey, Turkmenistan, Tuvalu, Uganda, Ukraine, United Arab Emirates, United Kingdom, United States, Uruguay, Uzbekistan, Vanuatu, Vatican City, Venezuela, Vietnam, Yemen, Zambia, Zimbabwe.
We hope that our radio station equipment will benefit any broadcast personnel or commercial groups throughout the industry, which may lead to unexpected cooperation or brand awareness promotion, and of course, mutual profits for each one of our cooperated friends
So, if you're interested in being our global regional agents, or being attended for a solid long-term business relationship with FMUSER Broadcast, let's Have a Business Talk right now!
We're with the FMUSER Broadcast!
In order to reach out for a visionary view of global radio broadcast marketing, we always long for more exposure to our products by potential cooperating friends from all over the world, thus, we always participated in some of the broadcast electronics exhibitions open for the world, for example, Canton Fair, HKEF, CCBN, etc. The following pictures were taken at our booth during the Hong Kong Electronics Fair 2012 (Autumn Edition) exhibition.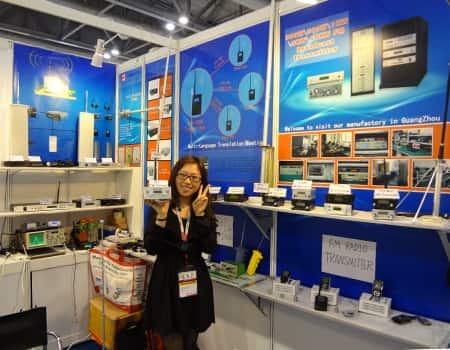 We were proud to have our FM broadcast transmitters shown in HKEF 2012.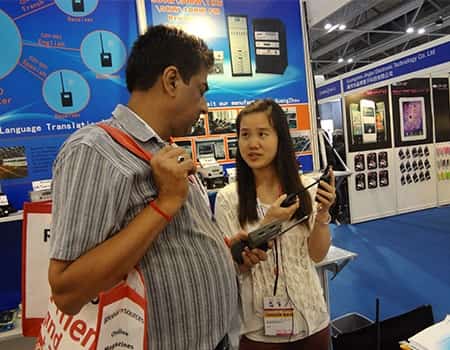 "First time with our broadcast products? Don't worry, Sir, it takes only a few minutes..."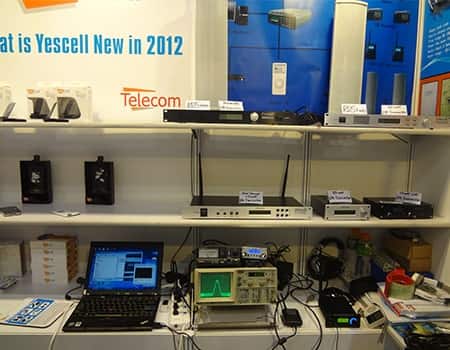 FM radio station equipment from FMUSER was shown at the out booth.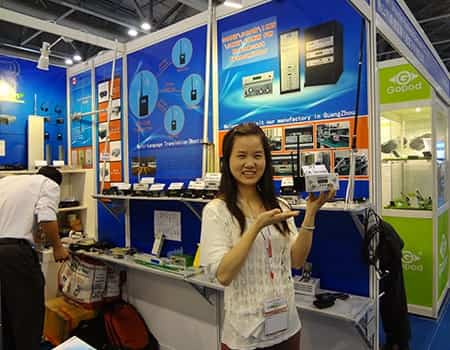 "It is not just an FM broadcast transmitter, it is an FM transmitter from FMUSER Broadcast!"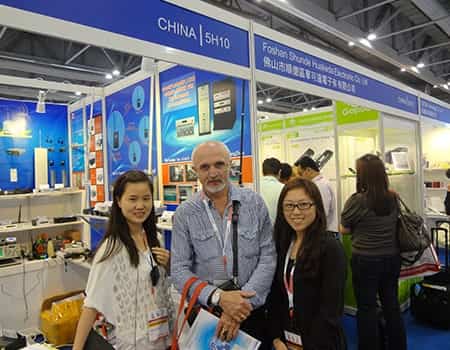 The best way to improve brand awareness is more exposure, and glad we made it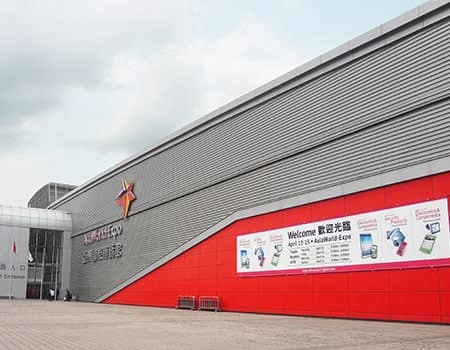 Where we have our first exhibition in Asia World-Expo - HKEF 2012
CONTACT US


FMUSER INTERNATIONAL GROUP LIMITED.
We are always providing our customers with reliable products and considerate services.
If you would like to keep touch with us directly, please go to contact us