How to Use a 0.5w Low Power FM Transmitter for Drive-in Church?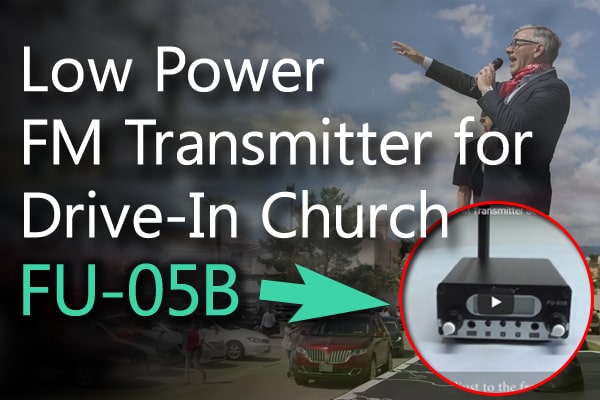 The FU-05B is one of our best selling low power FM transmitters due to its portability and practicality. When planning to buy radio station equipment for drive in movie theatre, many of our customers prefer to buy FU-05B.
But they will face some problems. For example, do they really know how to use it, or do they really know what must be done before starting the FM transmitter? These problems seem to be simple, but they are all very important.
Therefore, we will explain as clearly as possible in the following content on how to use a low power FM transmitter such as FU-05B, and other things you should know.
What You Need to Know Before Starting an FM Transmitter
Attention: Please make sure that the antenna is connected before starting any kind of FM Transmitter. Or the FM transmitter might break down easily.
Connect the antenna - The first and most important point is to make sure the antenna is connected before starting the transmitter. If the antenna is not connected well, the energy won't be radiated. Then the FM transmitter will generate a lot of heat in a short time.
Mount the antenna - The higher you mount your antenna, the farther away your signal will go. To avoid transmitting too far, just place your antenna just as high above the ground, that will give you a good, but limited signal to cover only your intended area.
Apply for a license - Please check with your local telecommunication authorities. In most countries require a time litmited low power broadcasting license. In case, your country accepts use of this kind of equipment without license, it is up to you to find an available frequency on the FM channel. When tuning the frequency, there should be a total silence of any other FM signal. Moreover, do not operate with full power so that do not cover a field or small festival area.
Balance the stereo - You can connect a balanced Left and Right stereo signal at the back of the transmitter, via the two XLR female input. Make sure you have correct audio level.
Enable the CLIPPER - It is a good idea to enable the CLIPPER functionality, to avoid overshooting modulation.

Check the pre-emphasis

Place your antenna on the ground - When assembled, your antenna must look like this: You can place your antenna on the ground, on a tube, but to cover a field or close open space, you do not need to mount the antenna on top of anything, unless you want to cover a wider area.
Final test - After everything is OK: check whether the antenna or the power supply or other cables are connected and ready. Grab a radio as an FM receiver, and an MP3 audio player as a signal source, play something stored in your MP3 and tune the FM frequency button to match the frequency on the FM transmitter, and listen if there is any unpleasant voice occurs, don't stop your frequency tuning until they all sound clear.
<<Back to the Before Starting an FM Transmitter | Skip
How to Start a LPFM Broadcast Transmitter?
After connecting the antenna to the low power FM broadcast transmitter, you can connect other components properly, such as RF cables, power supply, etc. So far, you have finished the preparations for starting the FM radio transmitter.
Next, you will find that with just a few simple operations, FU-05B will bring you a broadcasting experience beyond your imagination.
Please follow the steps to start a low power FM radio transmitter:
Press the power button to start the FM transmitter, and you can confirm the current working state of the FM transmitter through the LCD screen, such as the current working frequency.

Turn on the radio and switch to the FM channel. Then you need to adjust to the channel you desire, and your radio would make a "zzz" sound or a radio sound.

Adjust the FM radio transmitter's frequency just as the same as the radio's, such as 101mhz, and then the sound of "zzz" will stop. At last, adjust the volume to a suitable level in your music player and play the music. If your radio plays the same music as your music player, it indicates you've made it.

If the volume in the music player is too loud, the sound output will be distorted. In this case, you need to adjust the volume again until you are satisfied with the sound quality.

If there is interference nearby, the music output from the radio can not be heard clearly. In this case, you need to repeat steps 2 and 3 to adjust the frequency of the FM transmitter and the radio.
<<Back to the How to Start a LPFM Radio Broadcast Transmitter | Skip
Start a Drive in Theatre with a Low Power Transmitter? Here's What You Need!
So far, you can enjoy the extraordinary experience beyond imagination that FU-05B brings to you. You can try to run a drive in movie theatre with it.
Imagine that during the covid-19 pandemic, due to the strictly limited social distance ( which also led to the closure of many entertainment places), many people were unable to enjoy life with their family and friends. Now, if there is a drive in movie theatre, you can drive there with your family and friends and watch movies together in cars. Everybody can still enjoy their time with their friends or family. Watching movies, chatting with each other, etc. What a nice picture it is!
This low power FM radio transmitter FU-05B can help you to build a drive in theatre very well:
40dB stereo separation - Stereo separation is an important parameter you should pay attention to. The degree of it is related to the stereo effect. The higher the stereo separation, the more obvious the stereo. FU-05B fully meets the standards of the Institute of Electrical and Electronics Engineers. It will bring you the perfect stereo.
65dB SNR and 0.2% distortion rate - In terms of signal-to-noise ratio and distortion rate, FMUSER's technicians told us that the higher the SNR, the lower the distortion rate and the lower the noise. According to the test results, people can hardly hear the noise in the sound of the FU-05B. It can bring a perfect hearing experience to the audience.
These mean that you will have a perfect experience in hearing. You'll feel like you're really watching a movie in the cinema.
Just as this low power FM transmitter of reliability, FMUSER is a reliable radio station equipment supplier from China. If you are interested in starting a drive in moive theatre and you are not sure how to make the first step, please contact us, we will get back to you as soon as possible.
<<Back to the How to Start Your Drive In Church Broadcasting? | Skip
From this share, we know that we should first connect the FM transmitter with an FM broadcast antenna, then we can connect the cables and other needed accessories. If you don't connect the antenna first, your FM transmitter will break down.
When starting an FM transmitter, you only need to remember:
Connect the antenna before power on

Press the power button;

Turn on the radio;

Switch to the FM channel;

Match the frequency of the FM transmitter and the radio;

Enjoy your time with FU-05B.
So this is the end of the share, you may already build up a better understanding of how to use a low power FM transmitter such as FU-05B. Anyway, feel free to contact us if you need any extra support or need to buy any FM broadcast equipment from FMUSER, we're always listening.
<<Back to the Summary | Skip
Q:

How Far Can a 0.5 Watt FM Transmitter Transmitt?

A:

The question can not be answered easily, because how far an FM transmitter goes depends on many factors, such as the output power, the type of the antennas, the type of RF cables, the height of the antennas, the environment around the antennas, etc. A 0.5 watt FM transmitter may cover a range with a radius of 500m under certain conditions.
Q:

How to Start Your Own Drive-in Theatre?

A:

Starting a drive-in theatre is a nice choice especially during the COVID-19 pandemic. You need to prepare a series of radio broadcast equipment and video playing equipment, etc. And here's the list:

A parking lot being able to contain enough cars;

An FM radio transmitter;

The needed accessories such as RF cables, power supply, FM antennas, etc;

Projectors and projector screens for playing movies.

Get the license to show films.

Ticket sales management

The hobbies of the target market

The name of the drive-in theatre

etc.
Q:

How Can I Find an Available Low Power Channel?

A:

FCC provides a tool named Low Power FM (LPFM) Channel Finder, helping to identify the available channels for LPFM stations in their communities. People can apply for identifying by providing Latitude and Longitude coordinates of the radio station. Click here for more information about the tool.
Q:

What Frequency does FM Radio Transmitter Use?

A:

Typically most countries broadcast on any FM frequency from 87.5 to 108.0 MHz, and 65.0 - 74.2 MHz for Russia, 76.0 - 95.0 MHz for Japan, and 88.1 to 107.9 MHz for the US and Canada. Please confirm the broadcast frequency of the FM transmitter before purchasing.
Q:

What Equipment Needed to Build Your Own Radio Station?

A:

There are kinds of Radio Stations, such as Transmitter and antenna system, Studio Transmitter Link Systems (STL), FM Radio Studio, etc.

For Transmitter and Antenna System, it is composed by:

FM radio transmitter;

FM antennas;

RF cables;

Other needed accessories.

For Studio Transmitter Link System (STL), it is composed by:

STL link transmitter;

STL link receiver;

FM antennas;

RF cables;

Other needed accessories.

For FM Radio Studio, it is composed by:

FM radio Transmitter;

FM antennas;

RF cables;

Audio cables;

Audio mixer console;

Audio processor;

Dynamic Microphone;

Microphone Stand;

High quality monitor speaker;

Headphone;

Other needed accessories.
FMUSER offers complete radio station packages, including radio studio package, studio transmitter link systems, and complete FM antenna system. If you want more details, please feel free to contact us!

<<Back to the FAQs | Skip
<<Back to the Content | Skip
CONTACT US


FMUSER INTERNATIONAL GROUP LIMITED.
We are always providing our customers with reliable products and considerate services.
If you would like to keep touch with us directly, please go to contact us