FMUSER FU-1000C Low Costs Professional FM Broadcast Radio Transmitter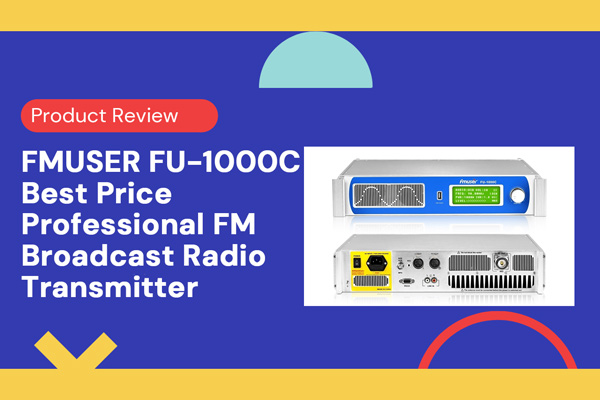 Are you troubled by the fact that your FM broadcast transmitter is not supporting you well in running your radio station, often with the issues like unstable radio signals, being unable to work for long hours, inefficient, and often with machine breakdowns?
So why not have a try on FMUSER FU-1000C 1000 watt FM transmitter? Not only does it have a great performance, but also quite affordable at just $1,840!
It combines excellent performance, compact and rugged design, and cost-effectiveness, and it can perform well in a variety of professional application scenarios. In this share, we will explain why it would be the best choice for your professional FM broadcast radio transmitter in terms of features, brand, and design. Let's started!
KEY FACTS
Available for only $1,840 [Time Limit!]

70dB SNR and 60dB stereo separation, 0.02% distortion rate, and excellent clutter suspression

Extensive expandability: SCA/RDS subcarrier input and XLR/RCA/USB audio input are supported

The helpful log recordset and SWR scan set Function

Diversified security protection features

Complete 1000 watt FM radio station solution

Compact and modular design
Powerful Features
Do you need a professional FM broadcast radio transmitter performing well to meet your demanding broadcasting needs? The FU-1000C 1000 watt FM transmitter is just your best choice.
Broad Applications
If you are looking for a professional FM radio transmitter for the following applications, the FU-1000C 1kw FM transmitter is quite fitted:
Commercial radio broadcasting;

Professional radio broadcasting

City radio broadcasting

Public radio broadcasting

Government radio broadcasting

Community radio broadcasting

Educational radio broadcasting

Stadium radio broadcasting

Government radio broadcasting

Car parking lot broadcasting service
....
Clear Sound Quality
No matter what kind of FM radio station you are operating, the audio quality of the FM radio transmitter is always one of the hottest topics. Excellent audio quality is the basic requirement for retaining listeners. And the FU-1000C 1000w FM transmitter can provide the best listening experience for the listeners.
Let's look at these parameters.
Signal Noise Ratio ≥ 70 dB (1 kHz, 100% modulation)

Stereo Separation ≥ 60 dB (L → R, R → L)

Distortion ≤ 0.02% (30 Hz - 15000 Hz, 100% modulation)

Harmonic Radiation Suppression < -70 dB

Internal Residual Wave Radiation < -70 dB

High-Temporal Harmonic Radiation < -65 dB

Parasitic Modulation Noise < -50 dB



With an SNR of up to 70 dB and stereo separation of 60 dB, a distortion rate of 0.02, and excellent noise suppression, FU-1000C is able to highlight the most original sound as much as possible and reduce the impact of adverse signals, allowing it to bring the crystal sound to the audience.
Unique SWR Scan Function
The FU-1000C would scan the entire FM band and provide the three frequency points with the lowest SWR for you before you start broadcasting. This way, you can broadcast with maximum efficiency and run your own radio station stably with minimum operating costs.
The professional FM broadcast radio transmitter FU-1000C has an RF efficiency reaching up to 75%, which is much higher than most 1000 watt FM transmitters on the market.
Rich Expansion Interfaces
The FU-1000C supports diverse audio input interfaces, including USB, XLR, and RCA interfaces, allowing you to use a more diverse range of devices as audio input sources.
Besides, the FU-1000C is also equipped with SCA/RDS sub-carrier input interface, allowing you to combine text signals for broadcast services, making your broadcasts programs richer and more appealing.
Practical Log Set
For radio station operators, it is still necessary to check out the operating status of the FM radio transmitter from time to time.
The FU-1000C can record the status as logs and provide you to check out the FM broadcast transmitter's operating status, including the number of alarms, alarm type, SWR, etc.
Various Protection Functions
Radio stations often need to run for a long time, and inferior FM transmitters are often broken down after a few hours of operation, while FU-1000C can work for a long time without damage, can work in high temperature and humid environments, and can avoid damage to the FM broadcast transmitter due to overheating, overvoltage, overcurrent, and other problems, minimizing the loss of the operator.
The Professional and Trusted Brand
FMUSER is a professional radio broadcasting equipment manufacturer that has been in the radio industry for many years. We have provided various professional FM broadcast radio transmitters and other radio station equipment for several commercial radio stations, professional radio stations, city radio stations, public broadcasting, government radio stations, and other operators around the world.
It can be said that FMUSER FU-1000C is one of the best-selling 1000 watt transmitters due to its excellent performance and reasonable price.
Besides, the FU-1000C can be used altogether with other radio broadcasting and studio equipment to provide you with a complete 1000 watt FM radio station package and professional commercial radio station solution, which covers:
FM Broadcasting Equipment
FU-1000C 1000 Watt FM Transmitter

High Power Dipole Antenna

Power Divider (Antenna Splitter)

RF Jumper Leads

Releasable Cable Ties

Weather Proof Cable Tie

RF Coaxial Cable



Studio Station Equipment
Professional Broadcast Mixing Console

Professional Audio Processor

Label Tape

Handheld Label Printer

MP3/CD Player

Studio Headphones

Laptop

Mobile Gateway

Microphone Stand

ON AIR Light

Studio Monitor

Side-Clamping Loudspeaker Wall Mount

Monitor

Portable Recorder

Universal Mic Windscreen Muff for Handheld Recorders

High Quality Audio Cable

Equipment Rack for Studio and Transmission

Blank Panel for Equipment Rack

Dynamic Microphone

Microphone stand

USB Monitor Speakers

DAB & FM Radio Tuner
Unique Process Design
The excellent process design of the FU-1000C 1kw FM transmitter brings these advantages to it.
Lightweight and Rugged Body
The FU-1000C's body is made of aluminum alloy, which not only makes it as low as 10kg in weight but also rugged and durable.
Compact Design
Although the FU-1000C has many useful features, its components are placed in a 2U size body, which helps to save space.
Modular Design
Its components are all modular. When you need to repair the FM broadcast transmitter, you just need to replace the damaged parts.
Conclusion
Why is FMUSER FU-1000C 1000 watt FM transmitter the best choice for professional FM broadcast radio transmitters? Because it has these advantages:
Competitive price - currently for only $1,840;

Powerful and useful features - its excellent sound quality and other practical functions allow it to perform well in a wide range of professional radio broadcasting applications;

Trusted professional brand - FMUSER can provide you with professional commercial FM radio station solutions;

Unique body design - lightweight, rugged, space-saving, and easy to maintain
Operating your FM radio station with the FU-1000C 1000watt transmitter not only allows you to reduce operating costs but also makes your radio broadcasting more stable and improves the operations situation, allowing you to focus more on the quality of radio broadcasting programs.
FMUSER is the best professional FM broadcast radio transmitter manufacturer, feel free to contact us if you want to learn more!
CONTACT US


FMUSER INTERNATIONAL GROUP LIMITED.
We are always providing our customers with reliable products and considerate services.
If you would like to keep touch with us directly, please go to contact us