Corrugated Black PE 50 Ohms 1 5 8 Feeder Cable 1-5/8'' RF Coax Cable for Radio Station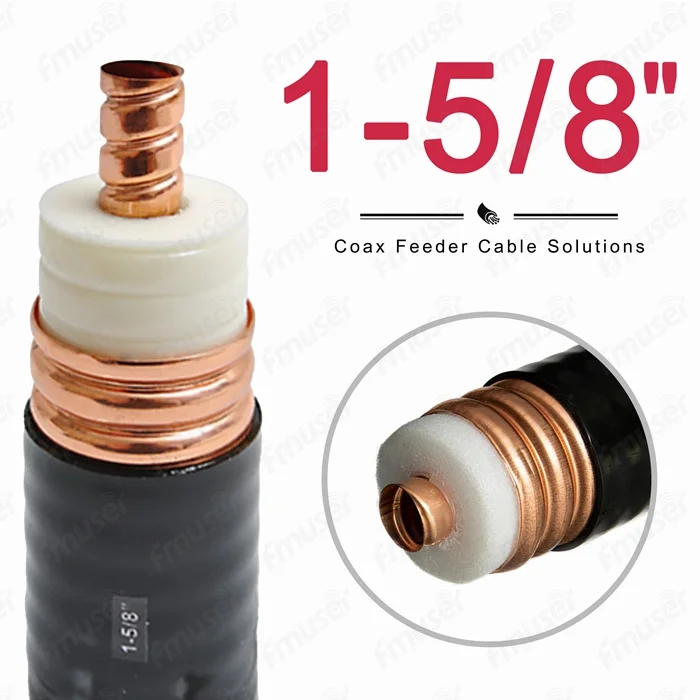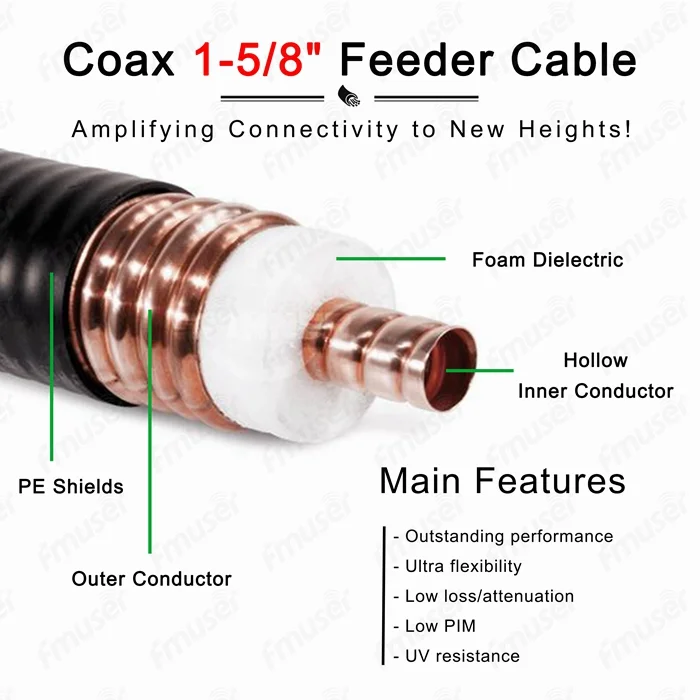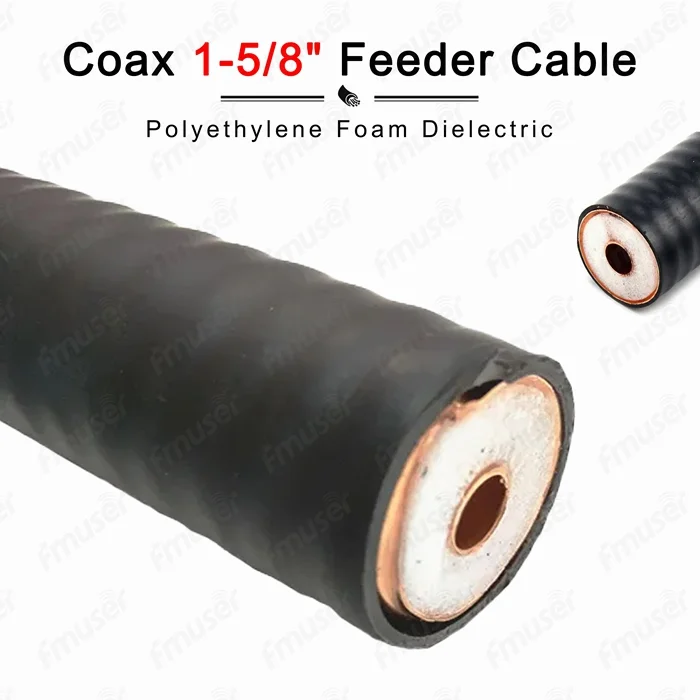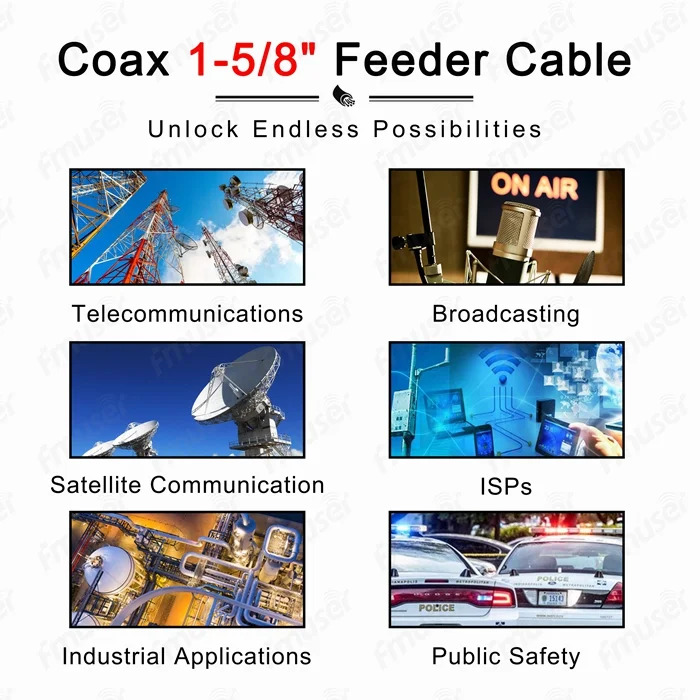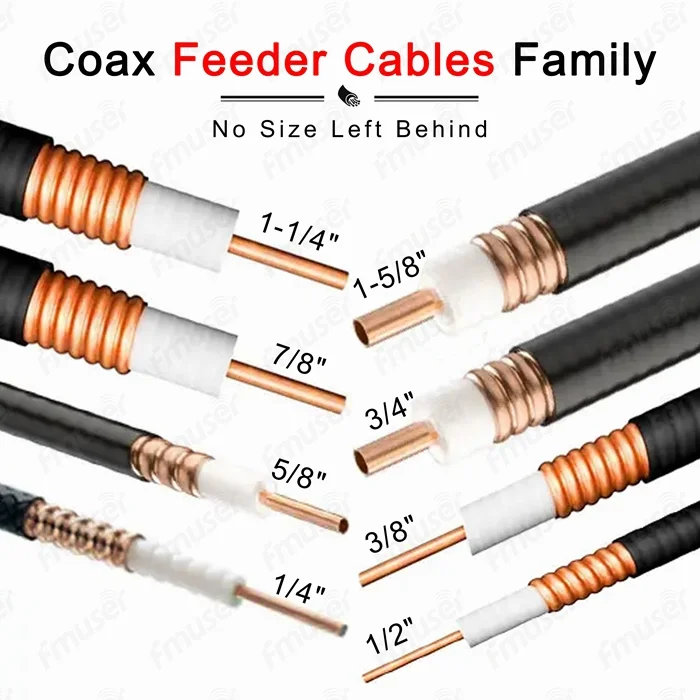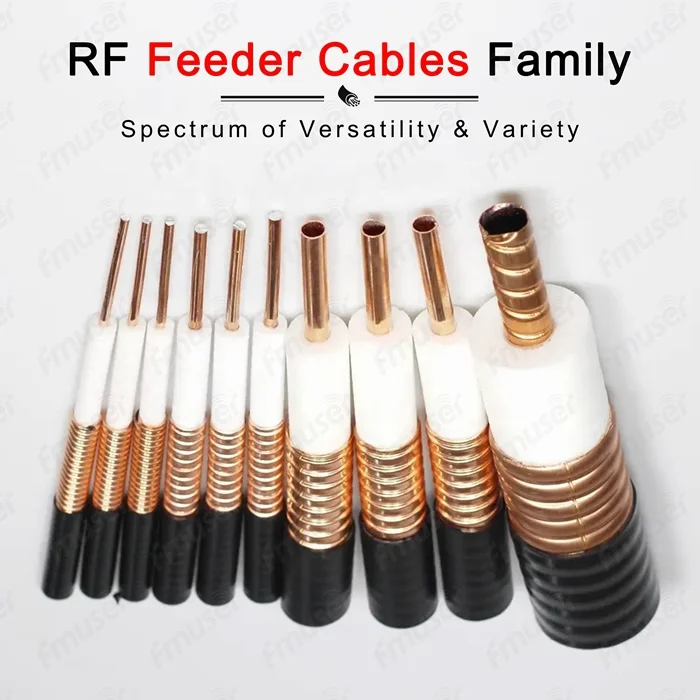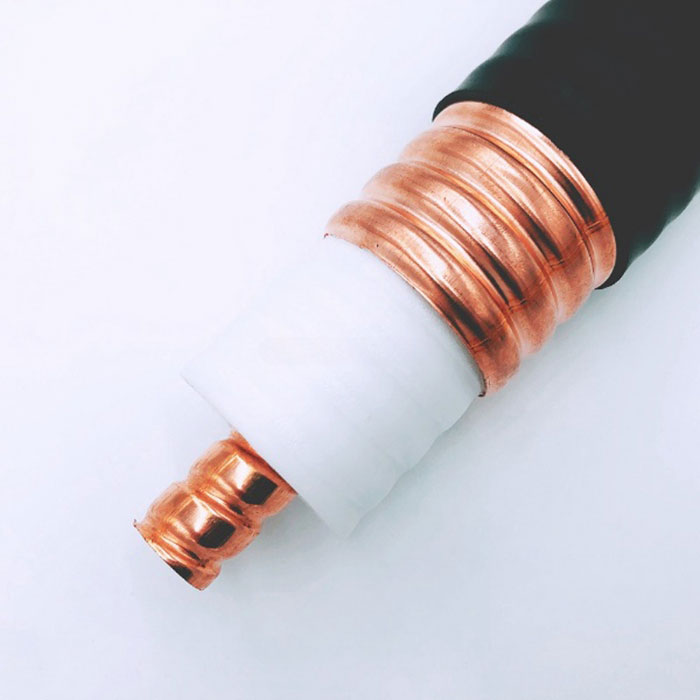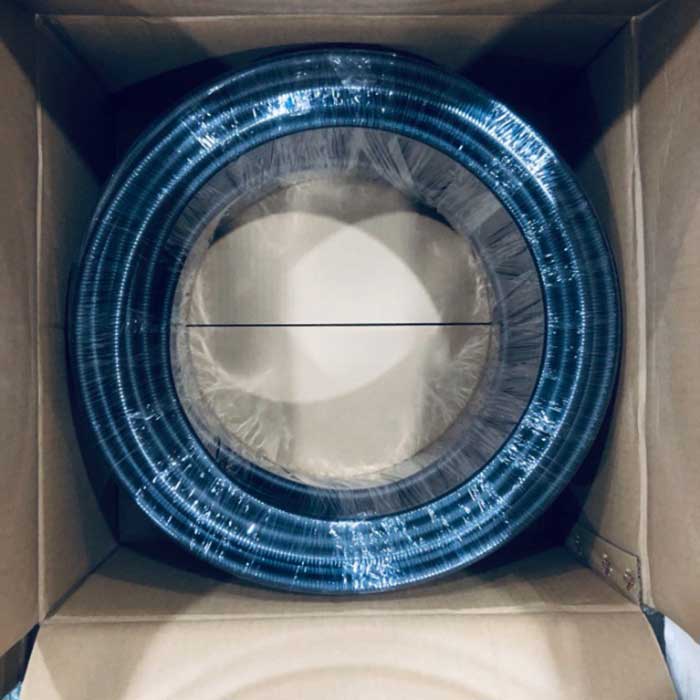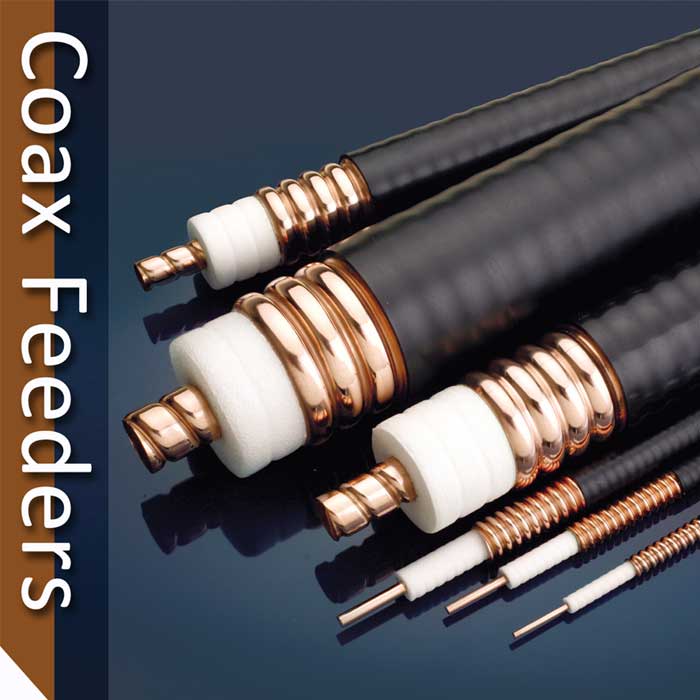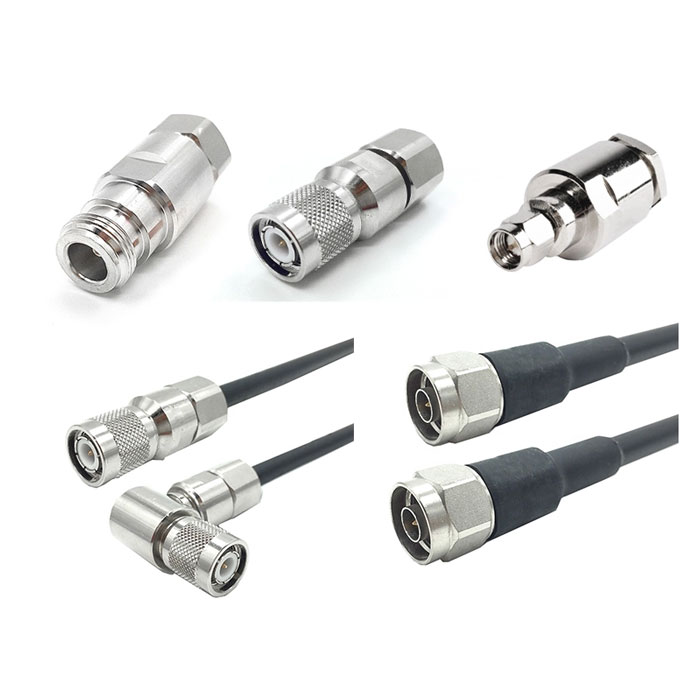 Corrugated Black PE 50 Ohms 1 5 8 Feeder Cable 1-5/8'' RF Coax Cable for Radio Station
FEATURES
Price (USD): Ask for Quotation
Qty (PCS): 1
Shipping (USD): Ask for Quotation
Total (USD): Ask for Quotation
Shipping Method: DHL, FedEx, UPS, EMS, By Sea, By Air
Payment: TT(Bank Transfer), Western Union, Paypal, Payoneer
What is a 1 5 8 Feeder Cable?
The 1 5 8 feeder cable is officially written as the 1-5/8'' feeder cable, while the 1-5/8'' refers to the diameter, to view the details of 1 5 8 coax specifications, please move to the "Specs" part.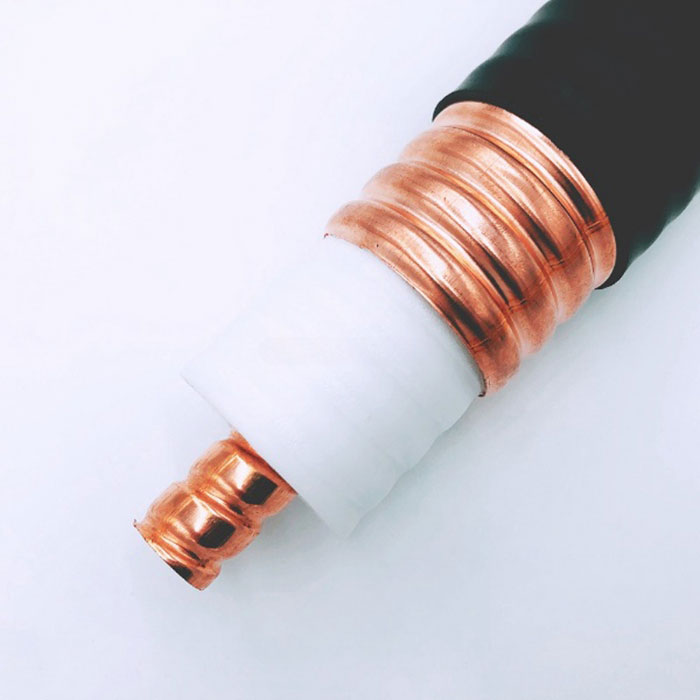 1 5/8 coax consists of the following parts:
Inner Conductor (copper-made)
Foam Dielectric
Outer Conductor or shield (copper or aluminum)
Black PE Jacket
Why 1 5 8 Feeder Cable is Necessary?
As an important type of RF coaxial cable, 1 5 8 feeder cable is used in many applications where it is necessary to transfer radio frequency energy from one point to another, here is the list of applications of 1 5 8 coax cable:
In-building distribution system
CATV-community antenna television
DBS-direct broadcasting satellite
DAS & Small Cell.
Telecommunications.
Aerospace Industries.
Mobile communications
Base stations
Broadcasting systems
etc.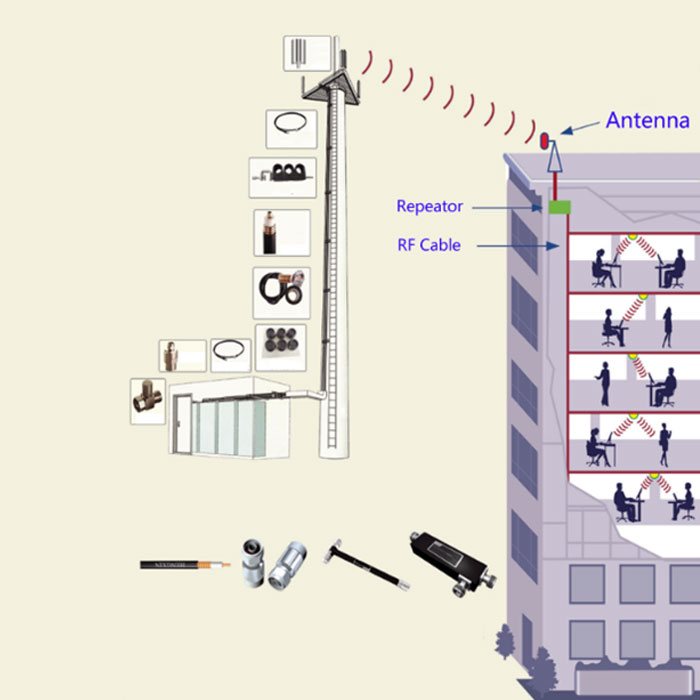 A high-quality 1 5 8 feeder cable incorporates high foaming polyethylene insulation technology to minimize signal loss and has excellent electric features such as low damping and reflection coefficient.
As for the accessories, N-type connectors are usually used as 1 5 8 coax connector.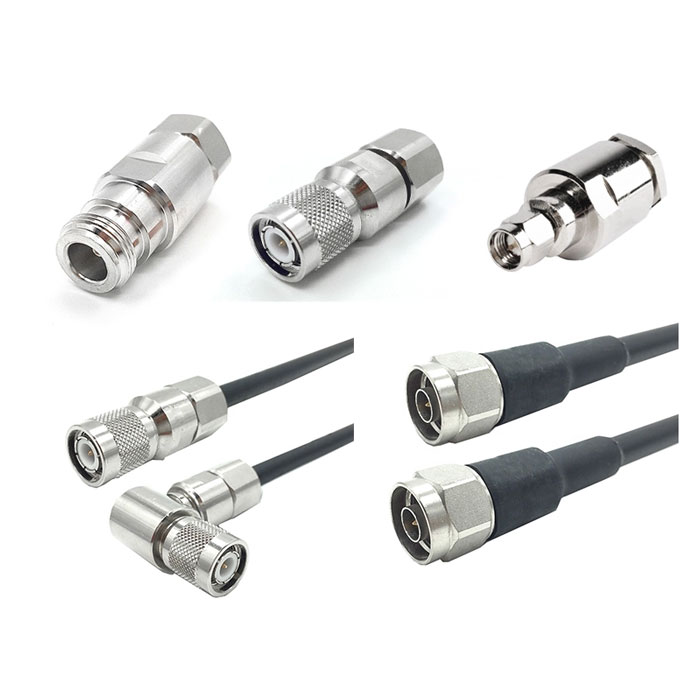 Where to Buy the Best 1 5 8 Feeder Cable?
Thanks to our manufacturing factory, we are able to serve our customers with feeder cables family, which includes the following sizes: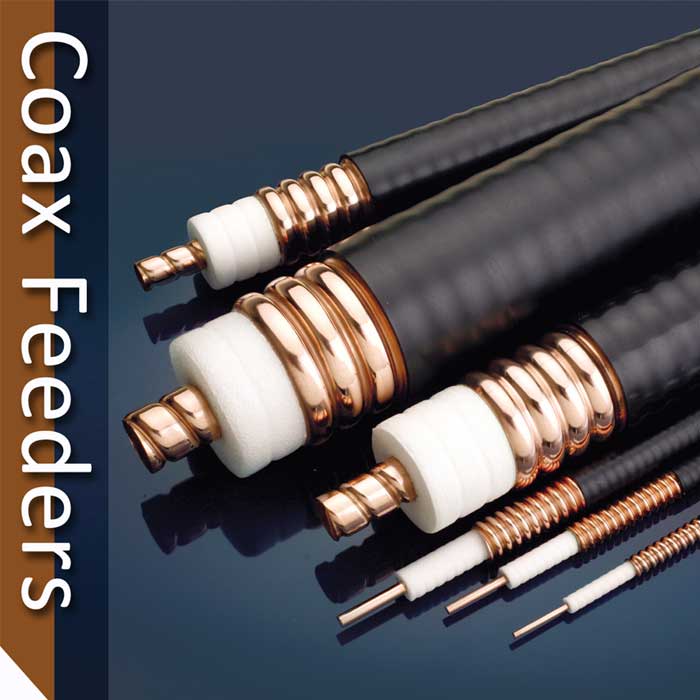 1/4''S (1.90±0.03)
3/8" (2.60±0.05)
1/2" S (3.60±0.05)
1/2" (4.80+0.05)
5/8" (7.05±0.05)
7/8" (9.00.05)
7/8" S (9.40±0.10)
1-1/4" (13.1+0.10)
1 5/8 coax (17.3±0.20)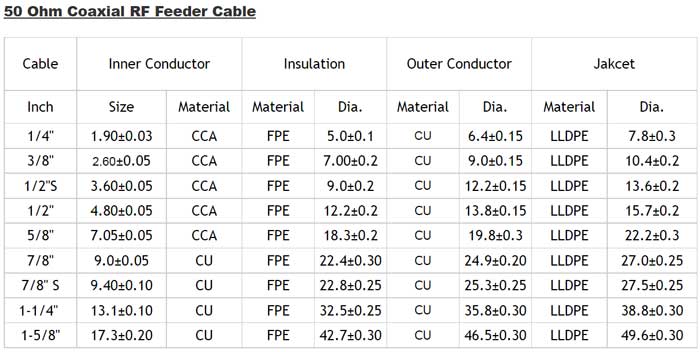 The FMUSER 1 5 8 coax cable has the characteristics of high use frequency, low attenuation, low voltage standing wave ratio, and is not easy to be affected by moisture.
1 5 8 Feeder Cable Alternatives
Click the links below to explore more about the 1-5/8'' feeder cable alternatives, best price & quality!
Additionally, our 1 5 8 feeder cable is featured by:
High Flexibility
Low Attenuation
High Power Rating
Resistant to hostile environments
DAS & Small Cell.
Telecommunications.
Aerospace Industries.
50 Ohm data signal transmission;
The shielding layer composed of aluminum foil and braiding has good shielding effectiveness;
Excellent performance in high frequency, VSWR stability;
RoHS compliant
To meet the leading standard for 1 5 8 coax production, this feeder cable will be produced with the following steps:
Stranding
ERP Control Console
Extruding
OD Control
Spooling
Meter Counter
Spark Test
Printing
Cabling
Shielding
Packing
Testing
Equipment Needed for 1 5 8 Feeder Cable Manufacturing
The following list is the equipment needed for 1 5 8 coax cable production:
Pay-off Rack
Stranding Machine
Granulating Machine
ExtrudingMachine
Winding Machine
Braiding Machine
Cabling Machine
Wrapping Machine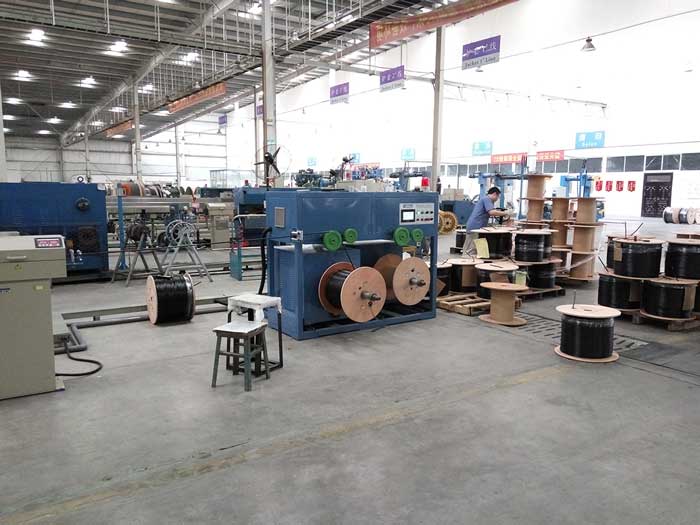 As for the testing equipment, here is the list:
Current Tester
Eccentric Tester
Insulation Adhesion Tester
Resistance Tester
Vertical and Horizontal Burning Tester
Wire Elongation Tester
FMUSER: High Quality 1 5 8 Feeder Cable Worldwide Supplier
FMUSER is the leading manufacturer of RF coaxial components such as 1 5 8 feeder cable and coaxial switch, we also supply various kinds of wires and cables such as ul electronic wire, certified power cord, rubber cable, automotive wire, high-temperature wire, speaker cable, alarm cable, microphone cable, telephone cable, LAN cable, rf coaxial cable, fiber optic cable, solar PV products, special cable, etc.
Contact us and ask for a quotation, we are always listening!
Construction
Terms
Material
Diameter(mm)
Inner Conductor
Copper Tube
17.3
Dielectric
Foam, PE
43.5
First Shield
Corrugated Bare Copper Tube
46.5
Jacket
PE or LSZH
49.5
Electrical Characteristics
Nominal Capacitance (pF/m)
76
Impedance (Ω)
50
Velocity Ratio
88
DC Resistance Inner Conductor(Ω/KM)
0.78
DC Resistance outer Conductor(Ω/KM)
0.66
Operating Temperature
-50°Cto+85°℃
Min. Bending Radius (Single)
70mm
Min. Bending Radius (Repeated
200mm
Attenuation @68oF(20oC)
Frequency(MHz)
Max Attenuation (dB/100m
100 MHZ
0.671
150MHZ
0.834
200MHz
0.976
300MHZ
1.22
450MHZ
1.53
80OMHZ
2.13
1000MHz
2.43
1500MHz
3.11
2000MHz
3.71
2500MHz
4.27
Please contact our sales team for more details!
CONTACT US


FMUSER INTERNATIONAL GROUP LIMITED.
We are always providing our customers with reliable products and considerate services.
If you would like to keep touch with us directly, please go to contact us