FMUSER 2U Economic FM Transmitter 1000 Watt FU-1000C for FM Radio Station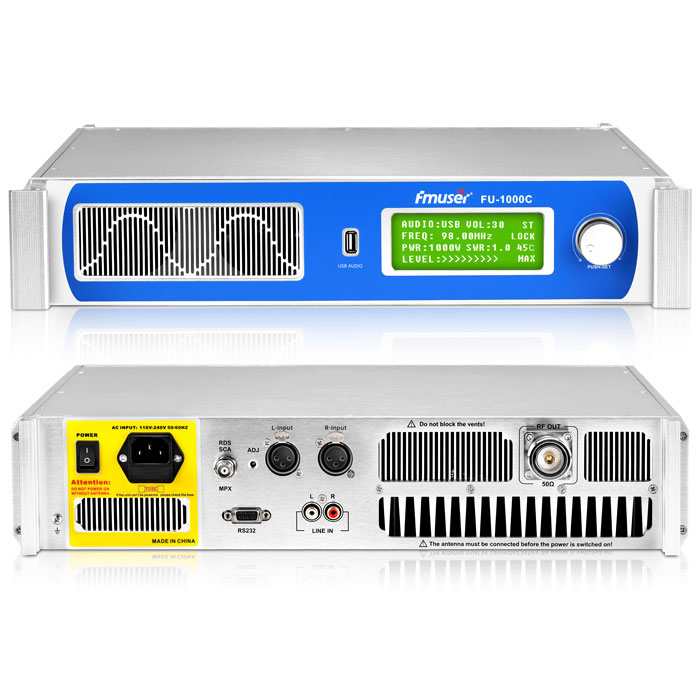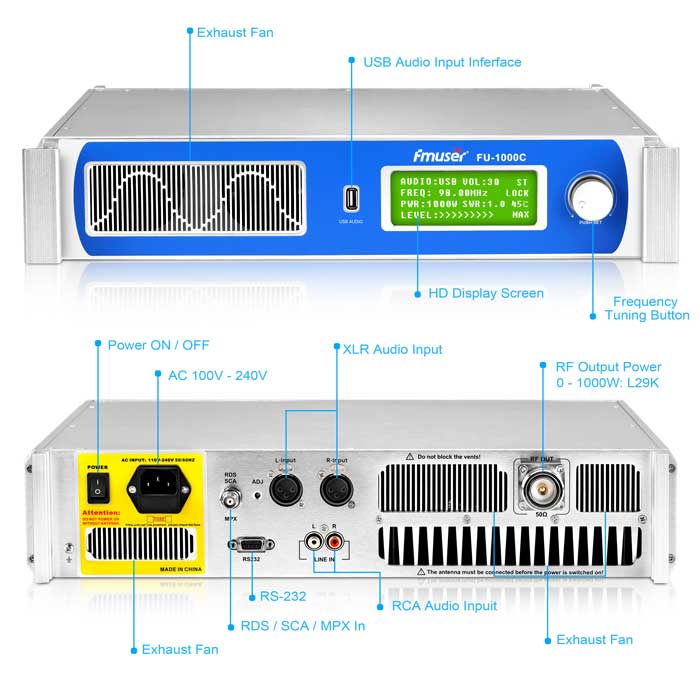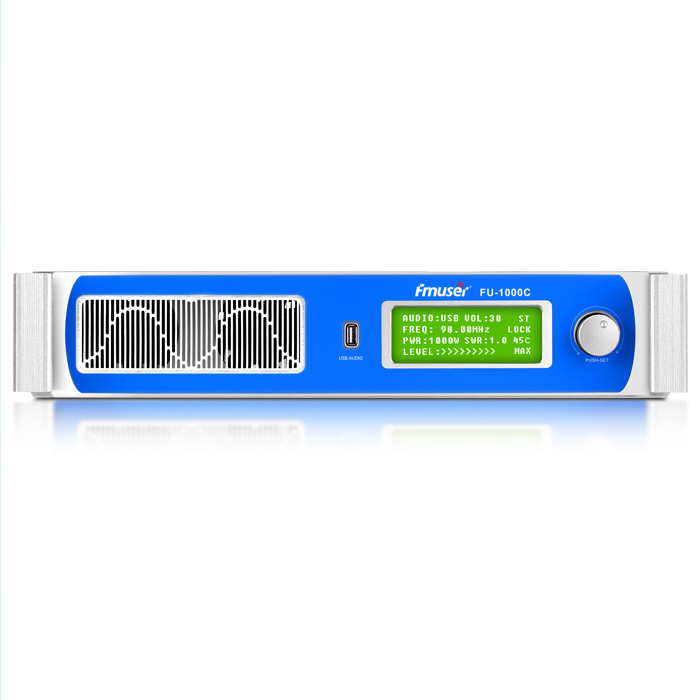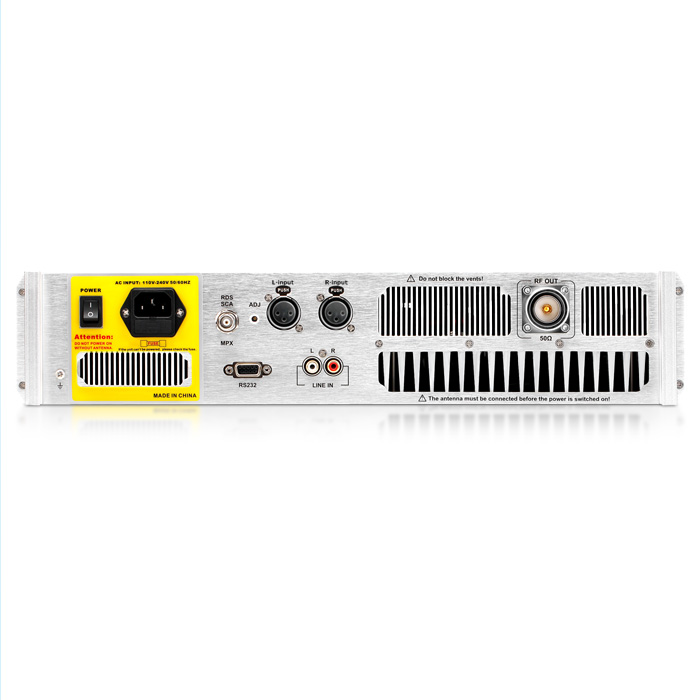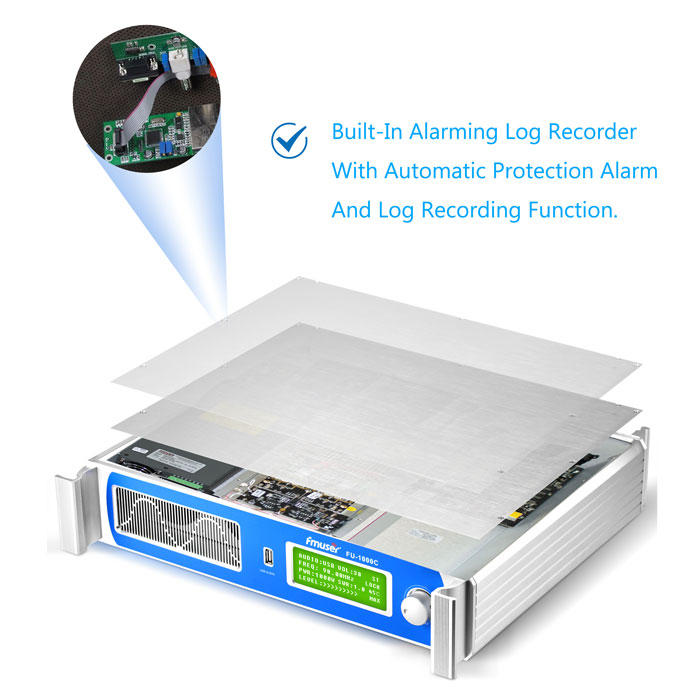 FMUSER 2U Economic FM Transmitter 1000 Watt FU-1000C for FM Radio Station
FEATURES
Price (USD): 1840
Qty (PCS): 1
Shipping (USD): 0
Total (USD): 1840
Shipping Method: DHL, FedEx, UPS, EMS, By Sea, By Air
Payment: TT(Bank Transfer), Western Union, Paypal, Payoneer
RF Part
Modulation
Frequency Modulation
Frequency Stabilization Method
PLL Phase-locked loop
Nominal Transmission Frequency
87 MHz - 108 MHz (other frequencies can be customized)
Frequency Deviation
± 75 Hz
The Frequency Step Value
50 kHz
The Output Impedance
50 Ω
RF Output Connector
L29-K or other specified connectors
The Output RF Power
1000w
The Output Power Deviation
± 10 W
RF efficiency

> 75%

Pilot Frequency Deviation

± 0.1 Hz

Harmonic Radiation Suppression

< -70 dB

Internal Residual Wave Radiation

< -70 dB

High-Temporal Harmonic Radiation

< -65 dB

Parasitic Modulation Noise

< -50 dB

Audio Part
Audio Input Interface
XLR / USB / RCA
Audio Input Level
< 15 dBV
Sign Noise Ratio
≥ 70 dB (1 kHz, 100% modulation)
Stereo Separation
≥ 60 dB (L → R, R → L)
Distortion
≤ 0.02% (30 Hz - 15000 Hz, 100% modulation)
Frequency Response
50 - 15000 Hz
Audio Preload
0 μs / 50 μs / 75 μs optional
Left And Right Channel Level Difference
≤0.05 dB (100% modulation)
General Part
Chassis Size
2U (length 530 mm × width 340 mm × height 100 mm)
Chassis Size
2U (length 20.8-inch × width 13.3-inch × height 4 inch)
Machine Weight
10 kg
Machine Weight
22 lbs
Heat Dissipation
Mode: Air-cooling
Chassis Standard
19 inches
External Control Interface

RS232
The Protection Mode
high temperature and high VSWR protection supported

Relative Humidity

< 95%

Altitude Height

< 4500 M

Power Supply Voltage

100 VAC - 240 VAC / 50 Hz

Run Ambient Temperature

-10 ° C - + 45 ° C

Maximum Power

Consumption: 1500 W

A Preview of FMUSER FU-1000C FM Transmitter 1000 Watt
What are the characteristics of a top-quality kilowatt FM radio transmitter? FMUSER hereby suggests this transmitter: FU-1000C 1000W FM Transmitter 1000 Watt.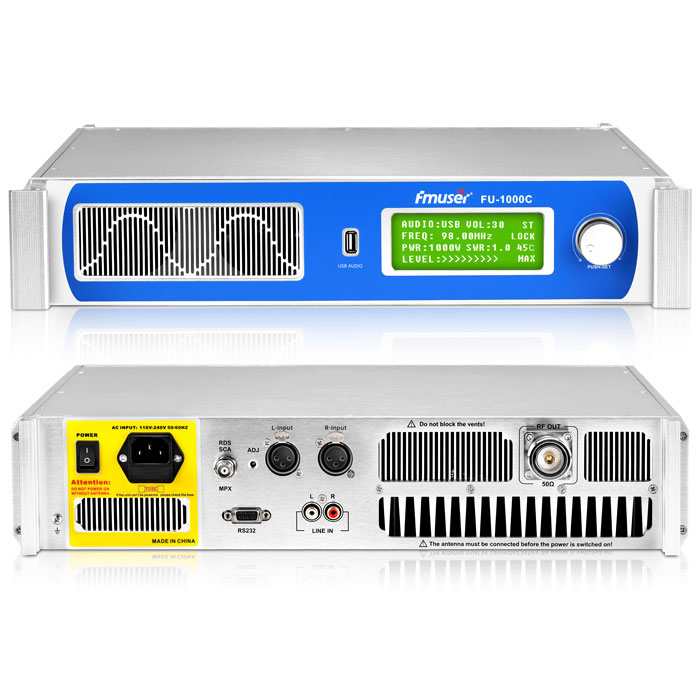 If you intend to choose the most effective kilowatt-level FM broadcast transmitter, pick FU-1000C, you will add an effective program hardware device to your radio station at an affordable rate.
This is additionally the first ideal option for most medium-sized FM radio station drivers. The picture is that if you stay in coastal countries or regions (such as the Philippines, Indonesia, Thailand, Vietnam, etc), you need to face unpredictable temperatures and also moisture, rains, sunlight direct exposure, and other irrepressible elements.
No matter how gorgeous the device is or just how famous the brand name is, simply with only one aspect, for instance, over-humid air, can those costly transmitters be ruined? No matter whether this transmitter is imported from Italy or the USA, uncontrollable variables will considerably shorten the life expectancy of the transmitter. So, why not choose an extra budget plan for your station?
Key Highlights of FU-1000C FM Transmitter 1000 Watt
All-in-one Shelf Type Style: includes exceptional program experience in addition to "dead-easy" operation, this 1000W FM radio transmitter is just one of the very best choices for low-power medium-sized FM broadcast radio terminals.
Practical USB Design: the audio input user interface can assist you quickly importing and automatically recognizing MP3 audio signals of all types of custom content, you can constantly change any kind of various audio material at any time
Superior Sound Setting Layout: changed single/stereo sound mode is optional for you to fulfill your special sound playback requirement
SCA/ RDS Subcarrier Input: is sustained for the incorporation use of message broadcast signal as well as the audio broadcast signal, which improves the human-machine-human communication and also expands the variety of typical broadcast
XLR/ RCA/ USB Inputs: stereo sound signals are supported to randomly change the size of the audio gain feature, which makes the radio broadcast a lot more cheerful
1KW TPO: can be tuned up to 1000W as well as a one-button on/off function is supported
Cutting-edge SWR Protection: it makes sure that the trouble caused by the irregular SWR does not impact the transmitter operation, if there is no antenna to attach to the transmitter, or when the antenna is mismatching to the transmitter, the feature will be instantly begun as well as shield the transmitter
Totally Inside Accessory Security: When the body temperature level is expensive, the transmitter will instantly get in the protection state, which can properly stay clear of a collection of serious influences from the interior temperature of the transmitter
Micro-Processing Option: makes certain the longevity and effectiveness of the FM radio transmitter.
RS232 Remote Control Technology: can connect to the computer for remote to make sure that you can apply instant operation without in-person running the transmitter.
Signal Transmission Control: it has really accomplished the industry-leading ultra-low-emission power and frequency deviation criterion
The basic 153 x 50 mm OLED display is taken on so as to use a smoother, clearer real-time data present
The jog dial can streamline the operation and also efficiently boost your operational performance, which can considerably decrease time costs
The integrated menu password security modern technology can avoid mistouch and shield your high confidential documents and web content
The antenna complete band standing wave ratio scanning is supported to instantly detect one of the most suitable regularity arrays for your antenna.
Built-in alarming log recorder with automatic security alarm and log recording feature prepares to utilize.
Real-time information keeping an eye on innovation supplies you with complete major display audio signal tracking
The 19-inch common framework with a height of 2U can completely meet your requirements
FMUSER FU-1000C is One Of The Most Selected FM Transmitter 1000 Watt
Please note that the worth of the FU-1000C is a lot more than the above parameters. The FU-1000C is an FM Transmitter 1000 Watt geared up with a USB user interface. Its expert FM broadcast capacity can make you so blown away by its broadcast performance of it.
The ingrained USB user interface absolutely recognizes the feature of human-transmitter communication, just with a few actions in a few minutes: secure your USB, connect it to the transmitter, utilize the jog dial, as well as the only point left is to play the music!
Fairly simple, appropriate? That's true, with this FM Transmitter 1000 Watt, you can have the top-notch customized sound satisfaction brought by FMUSER FU-1000C
FU-1000C is a transmitter outfitted with an RDS input interface, which allows you to discover even more of your program thickness (RCA input is additionally supported).
You can communicate with your audience with information in words in addition to sound signals so that your target market can obtain more information concerning your radio broadcast!
FU-1000C is also furnished with front jog dial input, which is committed to making for an excellent user experience.
Though this program equipment is complicated in issues of procedure and framework, it is such a gospel for somebody, particularly for the individuals who have solid antipathy towards those hard-to-use broadcast devices, the jog dial still makes the operation of the tool come to be more convenient.
In terms of protection, FU-1000C can successfully prevent being impacted by inner and outside problems, for example, in the facet of over-heated temperature level, here is what traditional ones will certainly be: the functioning temperature level gets higher and also greater and also won't quit up until the transmitter burns down.
Instead, FU-1000C will instantly come to be self-protected in the over-heated temperature level, and also, in addition, its self-protection is still on when the standing wave ratio gets greater because of the mismatched connections of the FM program antennas.
Choosing FU-1000C for your radio terminal implies conserving your time cost and also boosting job effectiveness. It has the attributes of sturdiness and also functionality, which can efficiently extend the real-life span of your radio terminal as well as can help you develop a thorough radio signal protection network in a big area.
FMUSER FU-1000C is the most effective Low-Cost FM Transmitter 1000 Watt
FU-1000C is absolutely your assistant if you want to make a secure medium-range FM program that complies with situations! As the very successful 1000W FM transmitter for radio broadcast, FU-1000C has been confirmed to be able to use in a selection of various scenarios, consisting of the drive-in Church, church car park, drive-in church, drive-in movie, etc.
Tool Power Drive in FM Transmitter Pickup
If you are a radio supervisor who takes care of a town with several drive-in churches and drive-in theaters, a trusted FU-1000C 1000 watt FM transmitter for sale can aid you in better handling your program events and also produce limitless business possibilities for you as well as your town.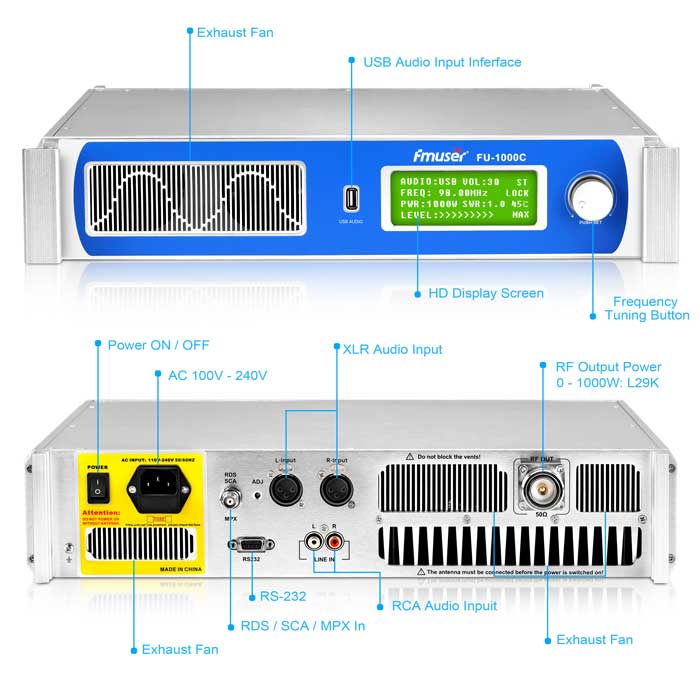 If you're already running a drive-in church or drive-in movie or you intend to try a brand-new drive-in service, a reputable FM radio transmitter is required to accompany you.
Think of exactly how purposeful it is: to supply such cozy, dynamic and risk-free family enjoyment to many families under the 2021 epidemic. "After the virus outbreak, my other half Sally and I invested many fantastic weekends in a car cinema that is a mile away from home, and also several various other families were like us, embracing their families, enjoying films on top of the vehicle or inside the auto.
" Can not wait to start another plan for the next coming weekend break!"
-- Aaron, Ilocos Sur, Candon, Philippines
Being Pro Not Only in Style
A great 1 kW FM transmitter not just with effective performance, and also an appealing appearance but more important is at a sensible cost. FU-1000C, a silver-black streamlined layout portable FM transmitter, which integrates those qualities that the most common transmitters don't have, has been trusted by numerous FM radio station drivers.
FU-1000C is the very best 1 kW FM transmitter for the drive-in church and drive-in theater, affordable cost and also superb efficiency is the basic reason that they select the FU-1000C FM radio broadcast transmitter.
If you're looking for the most effective 1000W FM transmitter for radio broadcast, choose FU-1000C.
If you're seeking the most effective 1000W FM transmitter for drive-in movies, choose FU-1000C.
If you're looking for the most effective 1000W FM transmitter for the church broadcast, select FU-1000C.
Pick FU-1000C if you're looking for the best 1 kW FM transmitter for the church vehicle parking lot.
FMUSER FU-1000C FM Transmitter 1000 Watt is really basic to utilize, in some cases you just require to connect the USB with the MP3 documents right into the interface and connect it to the power supply. You don't need to spend added time studying the user handbook or pay much interest to the tiresome manual procedure, the transmitter can function safely and usually.
You simply require to focus on praying or playing the film safely and the trustworthy FU-1000C will certainly deal with the rest. FMUSER will also provide a straightforward setup operation video clip on YouTube to let you recognize much more about FU-1000C in a very short time.
Impressive Program Quality Makes Everything Possible
FU-1000C stands for the real kilowatt high broadcasting quality of every medium-sized FM radio station in the world. Besides reasonable rate and also power efficiency, functionality is additionally among the largest qualities of FU-1000C.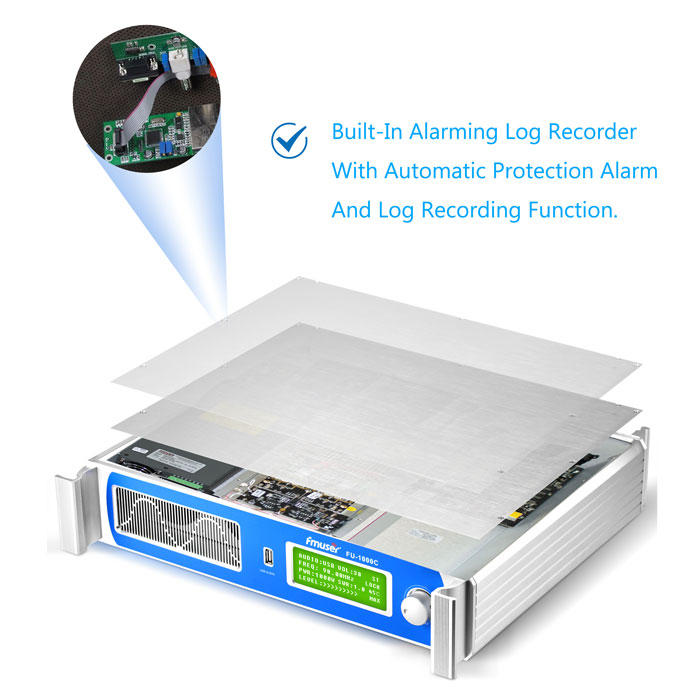 With its fantastic FM transmitting top quality, FU-1000C FM Transmitter 1000 Watt has successfully attained high efficiency and popularity among broadcasting businesses as well as is favored by professional/amateur FM radio lovers and numerous other FM broadcasting teams.
Some individuals will use it to release a unique radio wedding event on an island.
" I fulfilled my beloved Kathy, we chose to hold a wedding celebration on a little island near the city, and since I was an RF Engineer as well as I determined to have an extraordinary radio wedding celebration for her. To establish a perfect radio broadcast location, I constructed a medium-sized FM radio station to relay our wedding event for those relatives as well as pals who couldn't be present, with a programmed frequency of 87.7 MHz. Pay attention to the noise-free as well as clear songs appearing on the radio, with everybody's blessings, we embraced tightly"
-- Ahmad, Jakarta, Indonesia
In brief, the FU-1000C FM radio broadcast transmitter of FMUSER has the ability to broadcast more than you can picture.
An FM Transmitter 1000 Watt That Genuinely Meets Your Ultimate Broadcasting Needs
Have you ever before been troubled by these problems prior to you buying a kilowatt-level FM broadcast transmitter?
When purchasing a kilowatt-level FM stereo transmitter, what elements should you take note of?
Why pass by a 1500W FM transmitter or a 3000W FM transmitter, yet instead, choose an FMUSER 1000W FM broadcast transmitter?
Any kind of details I can get about getting an FM radio broadcast transmitter? What should I understand prior to starting a plan on buying an FM broadcast transmitter for radio broadcast?
Lots of people will certainly think about the brand initially, complied with by the rate. In addition to the info stated above, some parameters of an FM broadcasting transmitter are likewise important reference problems for acquisition.
FMUSER hereby takes FU-1000C FM Transmitter 1000 Watt as an instance in the following material to present a number of important criteria you must think about before purchasing a stereo FM transmitter.
Audio Distortion.
Initially, you need to consider the distortion of the FM broadcast transmitter. As you know, not every signal you input to the stereo FM transmitter can be entirely transferred from the same placement, signal distortion is unpreventable.
The amplifier of some FM audio transmitters has a signal boosting feature, which will additionally create distortion of the audio signal.
The RF engineers of FMSUER show us some remarkable information: the FU-1000CFM Transmitter 1000 Watt distortion examination outcomes were less than 30 Hz - 15000 Hz 0.02%, far listed below 0.02% of the public program FM transmitter!
This is a blessing for those who go after the best audio top quality from FM radio transmitters!
Stereo Splitting up.
This is a recognized sound judgment: the stereo splitting up could be a great impacting element to the stereo feeling. The more obscured the stereo separation, the weaker the stereo feeling. Do you understand the stereo separation value that many FM radio broadcast transmitters can attain?
Yes, greater than or equal to 40 dB at 500 Hz.
This index is also stated by the International Electrotechnical Compensation. Yet, thankfully, the FU-1000C FM Transmitter 1000 Watt of FMUSER can achieve greater than 60 dB!
Still seems like the most effective choice for your radio station, right? Let's develop a greater stereo audio getting experience for your radio station followers!
Sound Processing.
How to keep the existing radio terminal target market and also draw in a brand-new target market is the timeless going-over subject for the radio terminal operators. But it is certain that no person wants to listen to a radio program loaded with noise.
The question is, how can you entirely send the high-fidelity radio signal to the target market? Don't worry, FU-1000C FM Transmitter 1000 Watt can perfectly solve this issue.
As an FM stereo transmitter with a high signal-to-noise proportion (≥ 70dB), just include an FU-1000C FM radio transmitter in your radio station, as well as you won't have to bother with all kinds of annoying program noise anymore!
Naturally, you can use the precise data obtained by the FMUSER examination group after testing the FU-1000C radio FM transmitter as a referral to pick other FM stereo transmitters, yet FMUSER all the best hopes that you can take advantage of your selection.
If you require to get a kilowatt-level transmitter that includes these attributes, FMUSER thus advises this transmitter: FU-1000C 1000W FM Transmitter 1000 Watt.
No issue exactly how stunning the transmitter is or just how renowned the brand name is, simply with only one element, for example, over-humid air, can those costly transmitters be ruined? No issue whether this transmitter is imported from Italy or the United States, uncontrollable variables will substantially reduce the life expectancy of the transmitter. The FU-1000C broadcast FM transmitter is a 1000W FM transmitter furnished with a USB interface. Do you know the stereo separation worth that many FM radio program transmitters can accomplish?
1 * FU-1000C FM Transmitter 1000 Watt
CONTACT US


FMUSER INTERNATIONAL GROUP LIMITED.
We are always providing our customers with reliable products and considerate services.
If you would like to keep touch with us directly, please go to contact us