FMUSER CZH518A-3KW 3KW 3000W Analog TV Transmitter Professional VHF/UHF Analog TV Transmitter for TV stations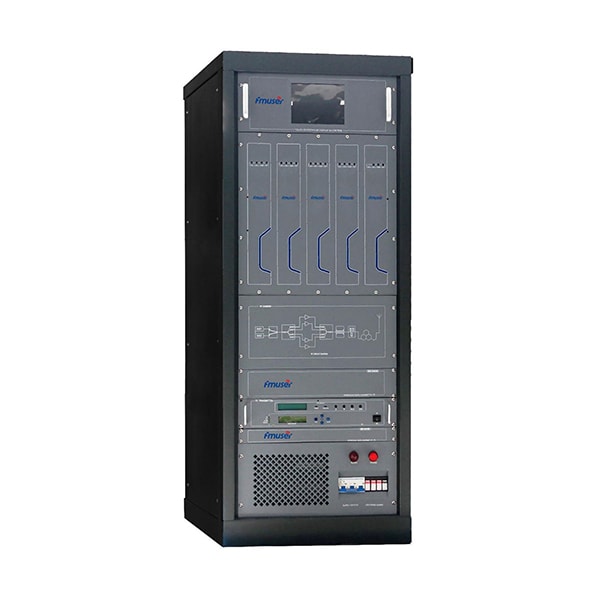 FMUSER CZH518A-3KW 3KW 3000W Analog TV Transmitter Professional VHF/UHF Analog TV Transmitter for TV stations
FEATURES
Price (USD): 35229
Qty (PCS): 1
Shipping (USD): 155
Total (USD): 36779
Shipping Method: DHL, FedEx, UPS, EMS, By Sea, By Air
Payment: TT(Bank Transfer), Western Union, Paypal, Payoneer
CZH518A-3KW 3000W transmitter is a solid-state single-channel VHF/UHF analog TV transmitter. It adopts professional TV exciter and is installed in 19-inch chassis, which is suitable for all levels of TV. In addition, single/double actuator configuration can be used for automatic switching. It has the functions of multi linear and non-linear pre-correction, carrier frequency offset, and precision deviation (with external precision reference source). It can prefabricate and control half-power output and has remote control and telemetry interface. The power amplifier makes use of analog and digital compatible LDMOS FET for TV broadcasting. In terms of accessories, a high-quality switch parallel power supply is used. The power amplifier and power supply use hot-swap equipment. The main touch screen displays the working parameters of the whole machine and the power amplifier (PA) module in real-time. The power amplifier module can display the working parameters in real-time. The whole machine has over-current, over-temperature, overpower, and standing wave ratio protection functions. Therefore, the power loss and standing wave of a one-time synthetic power synthesizer are very small, with low loss and high efficiency.
Advantages
CZH518F-3KW is a solid-state single-channel VHF / UHF analog TV transmitter, image, and audio together.
Three redundant configuration designs: exciter redundancy design, power amplifier redundancy design, power supply redundancy design can reduce the inactive rate to zero. This means that when the main exciter fails, it can switch to the standby exciter continuously; multiple power amplifiers are integrated, and the power amplifier modules are highly consistent.
The two exciters are standby for each other and are easy to replace; they are supplied by multiple switching power supplies in parallel, and the computer can monitor and automatically adjust the working state of the power supply.
Intelligent management and monitoring system, equipped with an external network PC interface. Full function computer control software, with automatic diagnosis function, technical data detection, monitoring system, and other functions.
The integrated protection measures transformed from a modular design concept can reduce equipment damage. This machine has no video protection; voltage standing wave ratio is too large, overheating, over excitation, lack of phase protection, lightning protection.
Over-voltage, over-current, under-voltage, over-temperature, short-circuit, and lightning protection. At the same time, all technical parameters can be read through the LCD. All power supplies are switching power supplies with high efficiency, wide adjustment range, and strong ability to adapt to external voltage changes. The hot-swap design makes the power amplifier and switching power supply support hot-swap, which is convenient for debugging and maintenance, and improves reliability.
Compact structure and beautiful appearance, with a strong cooling built-in fan.
1*CZH518F-3KW 3000W TV Transmitter
Technical Specs
Working frequency: UHF 13~48 Channel Arbitrary choice
Output power: 3KW (Synchronous)
Output impedance: 50Ω
VSWR of output load impedance: ≤1.12
Inter-modulation distortion: ≤-50dB
Useless transmission: In the adjacent channel≤-40dB
RF output interface: Φ40
Power supply: Three-phase 380V
Shape size: 1840mm×580mm×1150mm
Weight: 380KG
Image Performance
Video frequency input level: 1VP-P positive polarity
Video frequency input impedance: 75Ω
DG: ±5%
DP: ±5°
Luminance nonlinear: ≤10%
Group delay: ≤±60ns
The signal-to-clutter ration of low-frequency period interference: ≥50dB
Sound Performance
Audio input level: 0dBm±6dB
Audio input impedance: 10KΩ (imbalance)/600Ω(Balance)
Maximum frequency deviation: ±50KHz
Harmonic distortion: ≤1%
The amplitude-frequency characteristics: ±1dB
Signal-to -clutter: ≥60dB
Attention
The shipping cost was roughly calculated, please consult us the freight before placing order.
CONTACT US


FMUSER INTERNATIONAL GROUP LIMITED.
We are always providing our customers with reliable products and considerate services.
If you would like to keep touch with us directly, please go to contact us