FMUSER FUTV3627 Indoor (5W) MMDS 2.5G 2.7G Broadband TV Broadcast DVB-s DVB-t Transmitter Amplifier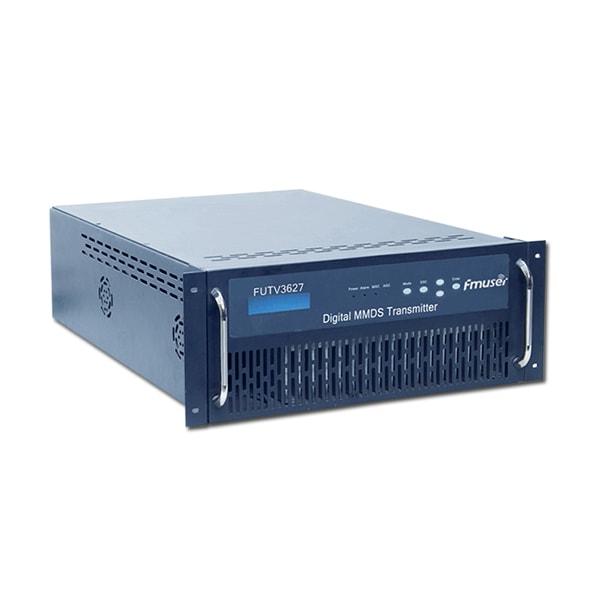 FMUSER FUTV3627 Indoor (5W) MMDS 2.5G 2.7G Broadband TV Broadcast DVB-s DVB-t Transmitter Amplifier
FEATURES
Price (USD): 3280
Qty (PCS): 1
Shipping (USD): 0
Total (USD): 3280
Shipping Method: DHL, FedEx, UPS, EMS, By Sea, By Air
Payment: TT(Bank Transfer), Western Union, Paypal, Payoneer
FMUSER FUTV3627 2.5G 2.7G broadband TV broadcasting digital MMDS (multi-channel microwave distribution system) 5W DVB-s DVB-t indoor transmitter can support single-channel or multi-channel broadband transmission. Single-channel transmission usually requires a microwave power combiner to combine single-channel microwaves, and then send them to the antenna through a waveguide. In this way, the microwave power can be enhanced and reach long distances. The multi-channel channel broadband transmission function does not require a power combiner but connects the IF source to the transmitter through a mixer. After frequency conversion, filtering, and amplification, it sends the signal to the antenna through the waveguide. In this way, the microwave power is low and the transmission distance is short. The MMDS transmitter can provide a signal channel with a maximum bandwidth of 200MHz. The low phase noise of the local oscillator allows FUTV3627 to be used in analog and digital signal transmission. The use of advanced super linear amplification technology can increase transmission power while reducing non-linear distortion and total power consumption. Similarly, the AGC function can maintain a constant power output, and the circulator can provide VSWR protection. All these features make FUTV3627 widely used in broadcasting systems.
Advantages
Low local oscillator phase noise, available for both analog and digital transmission.
Low power consumption and superlinear design to improve the transmission power, and reduce the nonlinear distortion.
Support AGC function with sustained power output to allow the transmitter good stability and reliability.
Full digital front panel control, easy operation.
LCD window displaying output power, digital attenuator status, AGC/MGC working status, and voltage.
Easy to install, elegant appearance.
Technical Specs
Working frequency band: 2500MHz~2700MHz
In-band Flatness: ±0.75
In-band intermodulation: ≤-70dBc
Clutter suppression: ≤-65dBc
Harmonic suppression: ≤-70dBc
Local oscillator phase noise: ≤-90at10KHz dBc/Hz
Local oscillator carrier deviation: ±500Hz
IF Range: 467MHz~667MHz
Input Level: ≥-15dBm
Interface: N-type
Impedance: 50 Ohm
Output power: 5W
MW Output impedance: 50 Ohm
Output interface: N-type
Working temperature: -20~+45C
Relatively humidity: <95%, 25C no condensation
Cooling mode: inside cooling fan
Power supply: AC, 220V±10%/50Hz
Machine room requirement: less dust, no shake
CONTACT US


FMUSER INTERNATIONAL GROUP LIMITED.
We are always providing our customers with reliable products and considerate services.
If you would like to keep touch with us directly, please go to contact us