How Does A Studio Transmitter Link Work?

"Studio Transmitter Link (Studio Transmitter Link) is a unique wireless audio transmission technology in the broadcasting industry. The studio transmitter link, or studio to transmitter link, or Studio Transmitter Link link, can be divided into digital Studio transmitter link and analog studio transmitter link. Studio transmitter link equipment can be divided into equipment such as Studio Transmitter Link transmitter, Studio Transmitter Link receiver, and Studio Transmitter Link antenna, this varies from different types of studio transmitter links. Understanding the type and working principle of studio transmitter link can effectively reduce the expenses of purchasing equipment."
If You Like It, Share It!
What is a Studio Transmitter Link ?
Definition: Studio to transmitter link refers to the audio/video signal transmission link or the point-to-point microwave link for transmitting digital TV programs (ASI or IP format). Radio stations using studio transmitter links usually also have a transmitter / Transmitter Studio Link (TSL) to return telemetry information. In short, a studio transmitter link is a point-to-point broadcasting process, which can connect a studio with other radio transmitters or TV transmitters of a TV station.
How Does a Studio Transmitter Link Work?
When the audio and video signals of a radio station or TV station are first recorded by the equipment in the radio studio, and then sent out from the radio studio or TV station by the radio transmitter, generally these audio and video signals will realize the transmission function of the studio to transmitter link through the following three ways:
Use of terrestrial microwave links

Use optical fiber

Use a telecommunication connection (usually at the transmitter site)
What are Types of Studio Transmitter Links ?
Studio to transmitter links can be divided into analog Studio Transmitter Link, digital Studio Transmitter Link (DSTL), and hybrid Studio Transmitter Link. If you want to transmit high-quality audio signals over a short distance, it is necessary to learn some of these types of studio transmitter links.
Digital Studio Transmitter Link and analog Studio Transmitter Link
Digital studio transmission link, also known as digital Studio Transmitter Link (DSTL), is a way to select network transmission mode for point-to-point audio and video signal transmission. The general digital studio is composed of excellent audio and video encoder, transcoder, Studio Transmitter Link bridge, and feeder, visit for more.
Digital Studio transmitter link from www.fmradiobroadcast.com
This Digital Studio Transmitter Link Equipment has better signal tolerance and lower signal loss in point-to-point audio and video signal transmission. At the same time, it also has the characteristics of ultra-low-cost and ultra-long signal transmission distance.
Digital studio to transmitter link equipment is always in these places: radio stations and TV stations that need to set up and use PTP FM / TV antenna for long-distance transmission
Compared with digital Studio Transmitter Link, analog Studio Transmitter Link has stronger anti-interference and anti-noise functions. High-quality radio equipment often appears in the form of packages. For analog Studio Transmitter Link, an STL transmitter, STL receiver, STL antenna, and some accessories are essential.
Generally, an STL antenna is a Yagi antenna that can be used for vertical and horizontal polarization. This antenna provides great directivity. It is a high-quality and low-cost antenna. Generally, it is made of stainless steel clamp. The excellent Yagi antenna has the characteristics of remarkable radio ease of use, high gain, lightweight, and high weather resistance.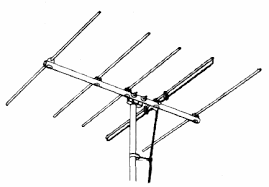 Yagi Antenna. Source: Wikipedia
Analog studio to transmitter link equipment is always in these places: large-scale radio or television stations (such as provincial and uplink radio stations, radio and television stations, etc.) and normal radio and TV studios indoor and outdoor audio and video signals transmission
Back to Content | Click Here
Traditional Microwave Studio Transmitter Link System and Special Studio Transmitter Link System
The traditional microwave link system is favored by many operators of large radio or television stations because it has a very stable signal transmission capacity. The general traditional microwave link system consists of two Paraboloid Antennas, an STL transmitter and STL receiver, and some feeders, but these seemingly simple broadcasting devices can easily realize stable audio signal transmission for 50 miles (80 kilometers).
However, there is a link system that is different from the previous three Studio Transmitter Links. FMUSER-Studio Transmitter Link is a non-traditional Studio Transmitter Link system from FMUSER broadcasting.
Studio transmitter link from FMUSER | Visit for more
The magic of this link system is that it does not need to apply for an RF license or worry about its RF radiation; According to the RF team of FMUSER Broadcast, this link system equipped with the fifth generation audio transmission technology can realize the ultra long-distance point-to-point audio signal transmission of up to 3000km, and can easily cross mountains or buildings and other obstacles to transmit signals in the transmission process. Click to learn more
Generally, the bandwidth of broadcast Studio Transmitter Link bandwidth is measured in GHz, that is, the number of transmitted programs can be large, and the audio and video quality is also very good. This is why the Studio Transmitter Link link is also called UHF link radio
What is an STL Antenna ?
An STL antenna is usually an essential part of the studio transmitter link equipment used for transmitting audio and video signals from the studio. Studio Transmitter Link antennas are the ideal solution to ensure continuous transmission between the studio and the transmission center, they are usually made of aluminum. These link antennas cover a series of VHF and UHF frequencies. The common coverage frequencies are 170-240 MHz, 230-470 MHz, 300-360 MHz, 400 / 512 MHz, 530 MHz, 790-9610 MHz, 2.4 GHz, etc.
What is Studio Transmitter Link Frequency Range?
Analog studio transmitter links such as microwave studio transmitter links and ordinary studio transmitter links, their Studio Transmitter Link Frequency Range is 8GHz - 24GHz and 200/300 / 400MHz, respectively; and digital studio transmit links such as Digital Studio Transmitter Link and Mobile Audio Link, their Studio Transmitter Link Frequency Range is 4.8GHz - 6.1GHz and 1880-1900 MHz, 2320-2370 MHz, 2575-2635 MHz, 2300-2320 MHz, 2555-2575 MHz, 2370-2390 MHz, 2635-2655, respectively MHZ. Of course, the corresponding price of simulated Studio Transmitter Link is expansive, but if there is a sufficient budget, simulated Studio Transmitter Link is a well-deserved choice.

However, find budget studio transmitter link equipment for radio stations is not easy, I mean, the real ones with high quality. Fortunately, As a one-stop radio station equipment manufacturer, FMUSER is able to provide all kinds of studio transmitter link equipment, from analog studio transmitter link to digital studio transmitter link, equipment from the broadcast Yagi antenna, Studio Transmitter Link transmitters, Studio Transmitter Link receivers to the FBE200 streaming hardware encoders to FBE300 streaming hardware transcoders. Contact their experts, They can help customize the Studio Transmitter Link link solutions you need.
Back to Content | Click Here
Frequently Asked Questions On Studio Transmitter Link Link System
Q: Is the studio to transmitter link system legal or not?
Yes, in most countries, the Studio Transmitter Link link is legal. In some countries, some law has constrained the Studio Transmitter Link links, but in most countries, you're free to use the studio to transmitter link equipment.
Countries where is possible to buy our studio to transmitter link equipment
Afghanistan, Albania, Algeria, Andorra, Angola, Antigua and Barbuda, Argentina, Armenia, Australia, Austria, Azerbaijan, The Bahamas, Bahrain, Bangladesh, Barbados, Belarus, Belgium, Belize, Benin, Bhutan, Bolivia, Bosnia and Herzegovina, Botswana, Brazil, Brunei, Bulgaria, Burkina Faso, Burundi, Cabo Verde, Cambodia, Cameroon, Canada, Central African Republic, Chad, Chile, China, Colombia, Comoros, Congo, Democratic Republic of the, Congo, Republic of the, Costa Rica, Côte d'Ivoire, Croatia, Cuba, Cyprus, Czech Republic, Denmark, Djibouti, Dominica, Dominican Republic, East Timor (Timor-Leste), Ecuador, Egypt, El Salvador, Equatorial Guinea, Eritrea, Estonia, Eswatini, Ethiopia, Fiji, Finland, France, Gabon, The Gambia, Georgia, Germany, Ghana, Greece, Grenada, Guatemala, Guinea, Guinea-Bissau, Guyana, Haiti, Honduras, Hungary, Iceland, India, Indonesia, Iran, Iraq, Ireland, Israel, Italy, Jamaica, Japan, Jordan, Kazakhstan, Kenya, Kiribati, Korea, North, Korea, South, Kosovo, Kuwait, Kyrgyzstan, Laos, Latvia, Lebanon, Lesotho, Liberia, Libya, Liechtenstein, Lithuania, Luxembourg, Madagascar, Malawi, Malaysia, Maldives, Mali, Malta, Marshall Islands, Mauritania, Mauritius, Mexico, Micronesia, Federated States of, Moldova, Monaco, Mongolia, Montenegro, Morocco, Mozambique, Myanmar (Burma), Namibia, Nauru, Nepal, Netherlands, New Zealand, Nicaragua, Niger, Nigeria, North Macedonia, Norway, Oman, Pakistan, Palau, Panama, Papua New Guinea, Paraguay, Peru, Philippines, Poland, Portugal, Qatar, Romania, Russia, Rwanda, Saint Kitts and Nevis, Saint Lucia, Saint Vincent and the Grenadines, Samoa, San Marino, Sao Tome and Principe, Saudi Arabia, Senegal, Serbia, Seychelles, Sierra Leone, Singapore, Slovakia, Slovenia, Solomon Islands, Somalia, South Africa, Spain, Sri Lanka, Sudan, Sudan, South, Suriname, Sweden, Switzerland, Syria, Taiwan, Tajikistan, Tanzania, Thailand, Togo, Tonga, Trinidad and Tobago, Tunisia, Turkey, Turkmenistan, Tuvalu, Uganda, Ukraine, United Arab Emirates, United Kingdom, Uruguay, Uzbekistan, Vanuatu, Vatican City, Venezuela, Vietnam, Yemen, Zambia, Zimbabwe.
Q: How do broadcasters link the studio to the transmitter?
Well, they connect the studio with the transmitter through a whole Studio Transmitter Link link system. After broadcasters purchase and install studio to transmitter link equipment, they send the audio and video signals of the broadcast station or TV station (usually the signal transmitted by the Studio Transmitter Link transmitter and the Yagi Studio Transmitter Link antenna as the carrier) to the broadcast transmitter or TV transmitter (usually received by the Studio Transmitter Link receiver) on another location (usually other radio or TV stations).
Q: How to borrow a studio transmitter link system?
FMUSER provides you with the latest updated information on the studio to transmitter link system (including pictures and videos as well as descriptions), and this information is all FREE. You may also leave your comment below, we'll reply to you ASAP.
Q: What's the price for the studio to transmitter link?
The price of the studio to transmitter link of each Studio Transmitter Link link manufacturer and manufacturer is different. If you have enough budget and want to transmit high-quality audio and video signals, you can consider buying from Rohde & Schwarz. The price is about 1.3W USD. If you don't have enough budget, but want to transmit high-quality audio and video signals, you can consider FMUSER's digital studio to transmitter link, their price is only about 3K USD.
Q: What licensed microwave bands are typically used?
Above 40GHz is allowed in the USA. According to FCC - click to visit, early technology limited the operations of these systems to radio spectrum in the 1 GHz range; but due to improvements in solid-state technology, commercial systems are transmitting in ranges up to 90 GHz. In recognition of these changes, the Commission adopted rules allowing the use of spectrum above 40 GHz (See Millimeter Wave 70-80-90 GHz).
This spectrum offers a variety of possibilities, such as use in, among other things, short-range, high-capacity wireless systems that support educational and medical applications, wireless access to libraries, or other information databases.
However, not every country follows this principle, FMUSER suggests you checking the licensed radio spectrum band in your country in case any personally illegal broadcast happens.
Back to Content | Click Here

Like it? Share it!
CONTACT US


FMUSER INTERNATIONAL GROUP LIMITED.
We are always providing our customers with reliable products and considerate services.
If you would like to keep touch with us directly, please go to contact us