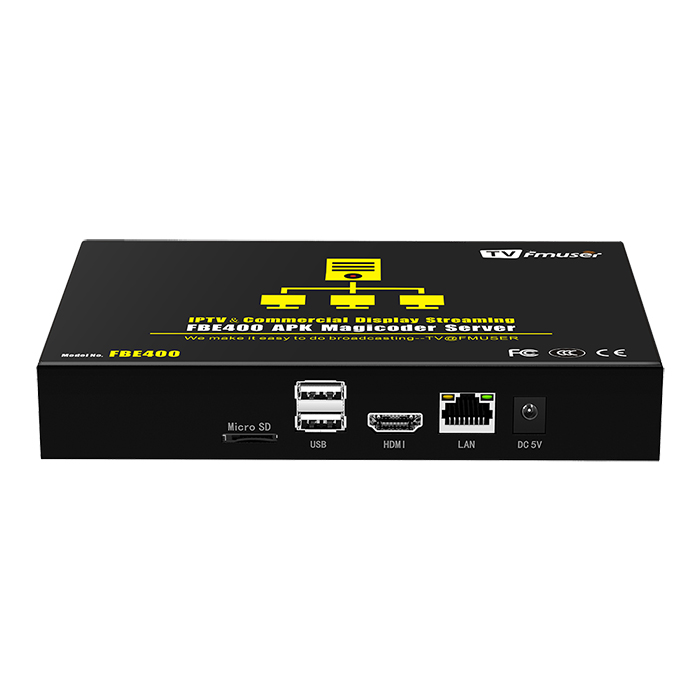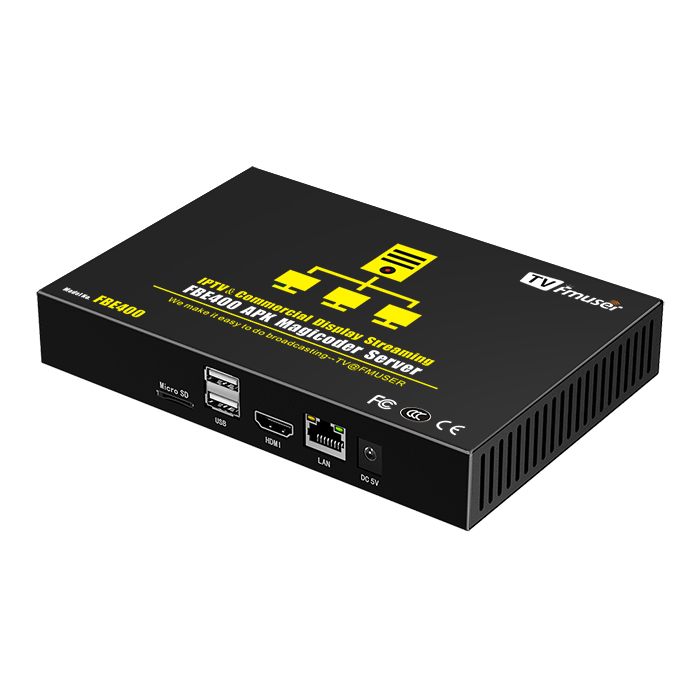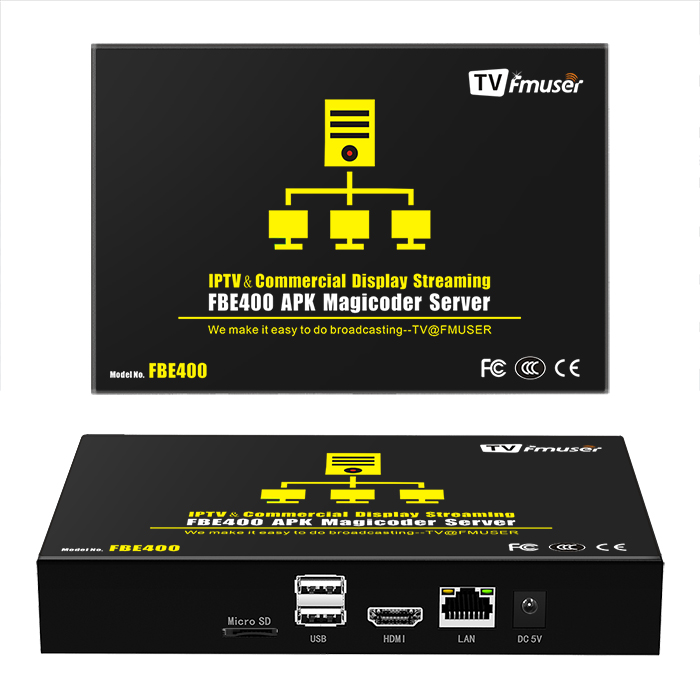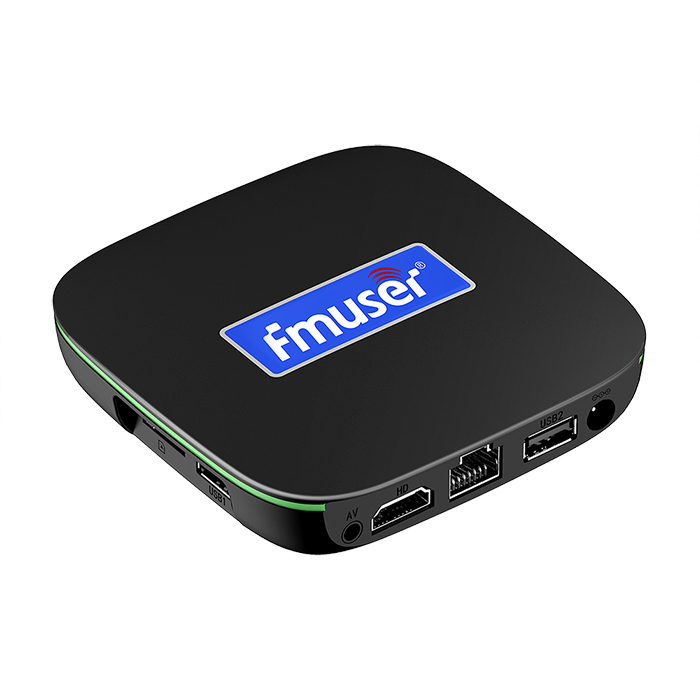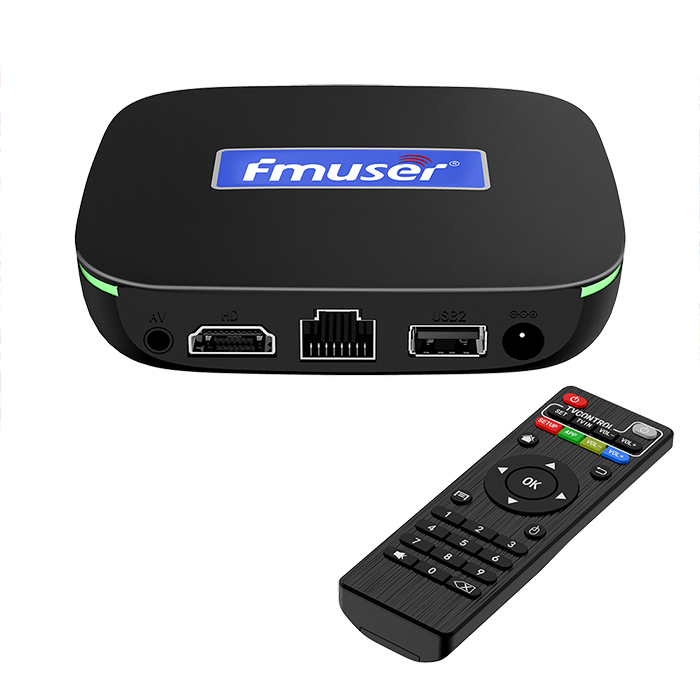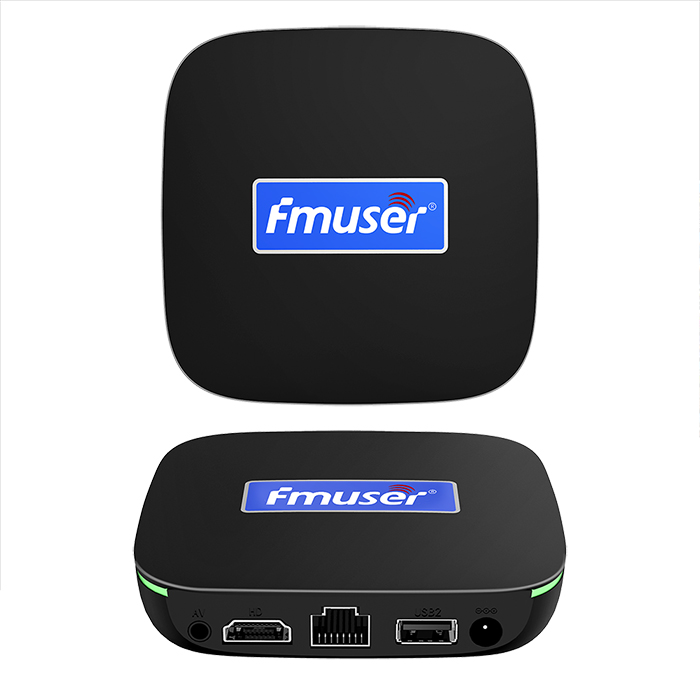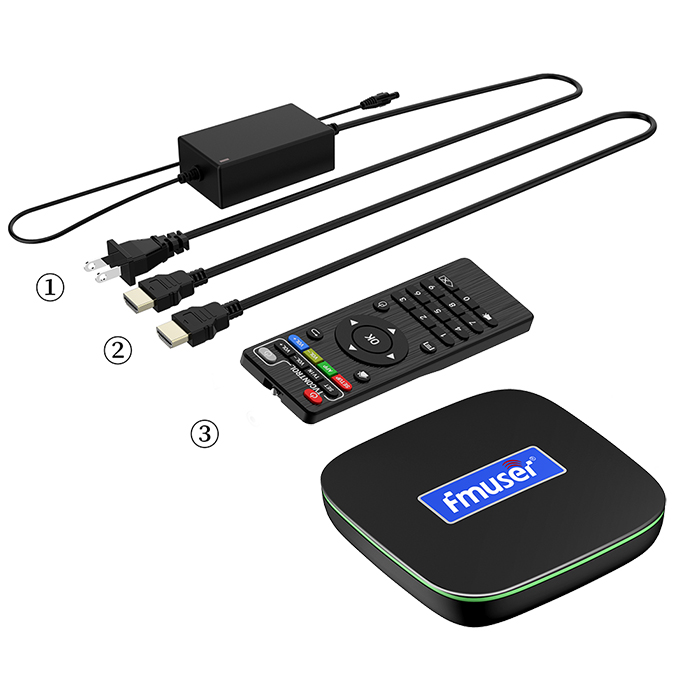 FMUSER Complete IPTV Solution for School with FBE400 IPTV Server
FEATURES
Price (USD): PLease inquire us
Qty (PCS): PLease inquire us
Shipping (USD): PLease inquire us
Total (USD): PLease inquire us
Shipping Method: DHL, FedEx, UPS, EMS, By Sea, By Air
Payment: TT(Bank Transfer), Western Union, Paypal, Payoneer
Why Choose FBE400 Complete IPTV Solution for School?
While the COVID-19 pandemic is preventing most students from learning inside their classrooms, IPTV Educational has grown in popularity. FMUSER FBE400 Magicoder Server combination with FMUSER FBE200 IPTV Encoder and FBE300 Magicoder Transcoder is ideal for economic IPTV solution for school distance learning.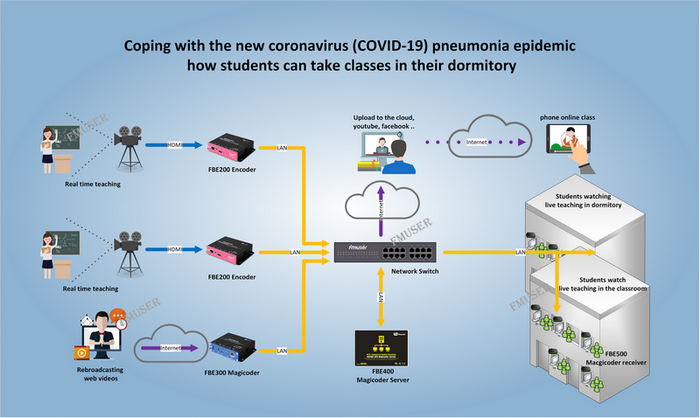 FMUSER FBE400 APK magicoder server is a purpose-built appliance for catching and streaming TV content. It applies to economic IPTV solutions designed to efficiently combine different video channels for TV delivery. The IPTV server delivers television services over a local access network (LAN) via a communication method called Internet Protocol (IP).
FMUSER FBE400 IPTV server software also keeps careful track of statistics and information on who views what content, sending this data to Middleware. The server software manages the whole business, to monitor and control all functions of the device, including channels, subscription plans, users, servers, etc. The background management of the server is a very easy setup of the stream quality parameters and other functions.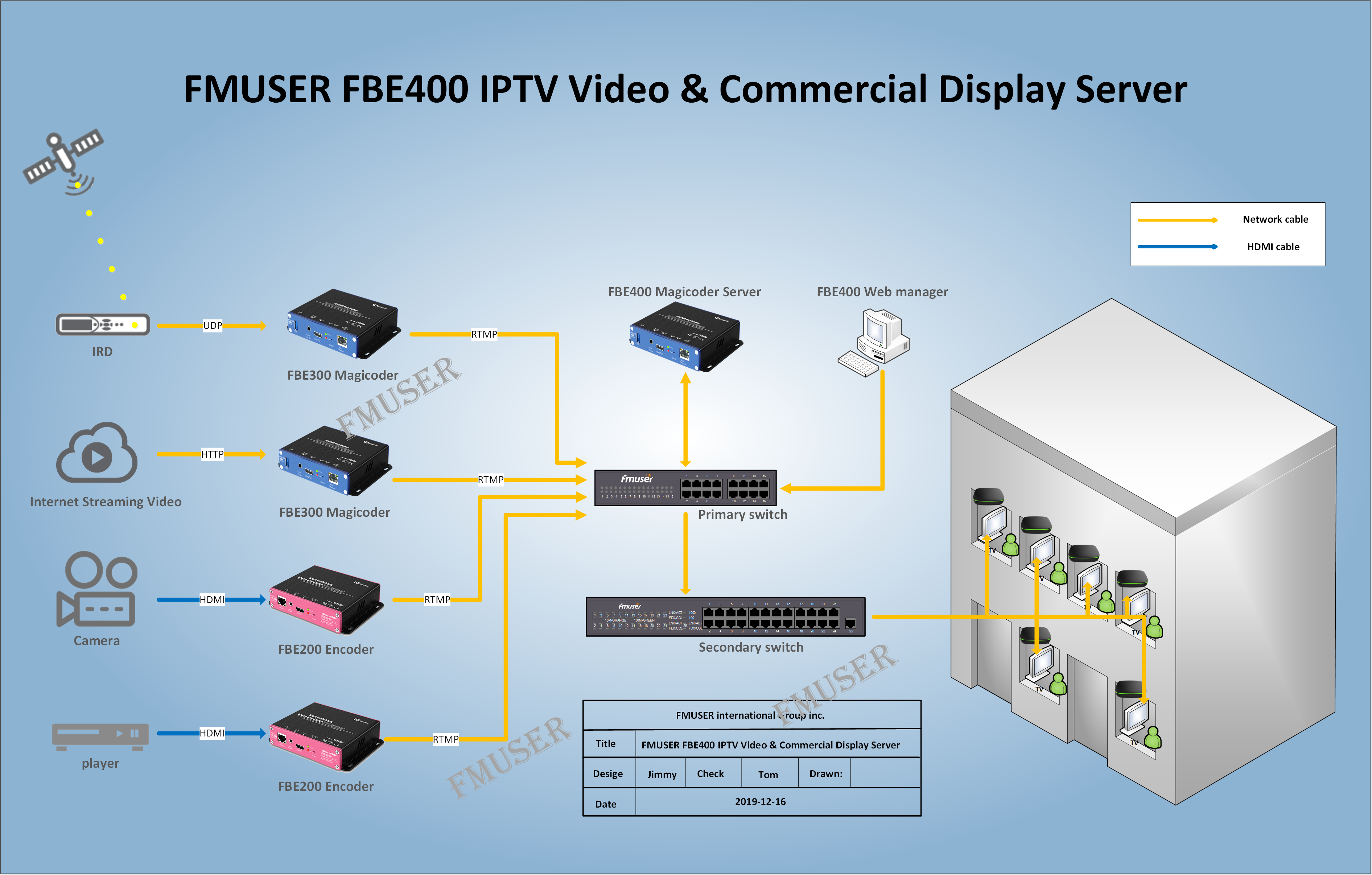 FMUSER is developing and following the latest trends in the broadcasting and streaming field continuously. That is why we can provide our customers with the most complete and efficient devices.
Whether you want to offer channels streaming or broadcasting in a public place, FMUSER solutions have got you covered!
Benefits You Can Not Resist
Supports direct preview of programs on the WEB interface, you can monitor the status of all programs anytime, anywhere
Support push single audio program source
Super perfect front and rear docking products, which can perfectly dock all front and rear equipment
Ultra-low latency, no stutter
Support system configuration backup and restore
Support Web page setting parameters and support multiple language switching
Each machine has passed the strict aging test before leaving the factory. The aging process is 72 hours of continuous full load work.
Also in Stock:
Looking for more DTV headend equipment? Check these!
Note: Please let us know how many channels of the program and how many receivers will be, we will recommend the quantity of the encoder, transcoder, server, and receiver box to you.
1*FBE400 Magicoder Server
1*R69 TV Player Box
1*FBE200 Encoder
1*FBE300 Transcoder
Electrical Index of FBE400 Complete IPTV Solution for School
Schematic Diagram: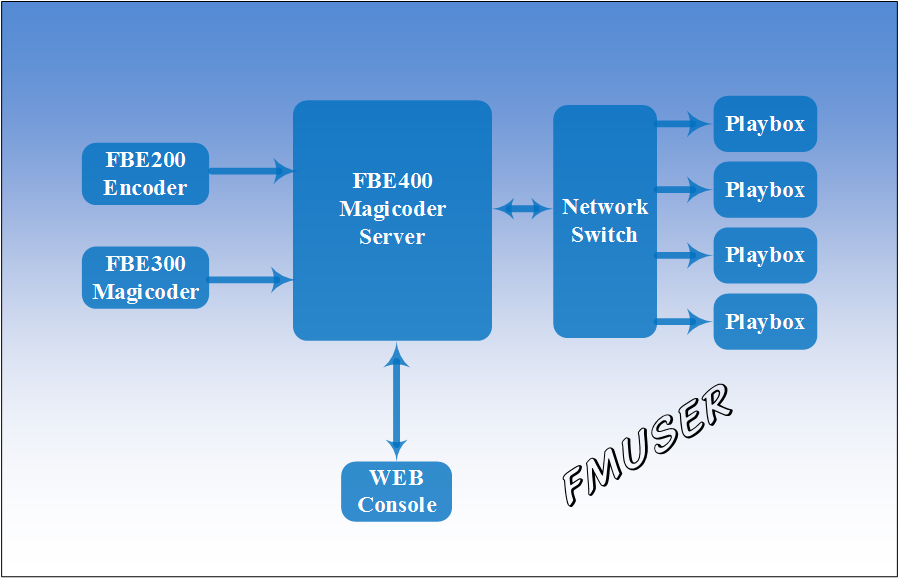 Background Management: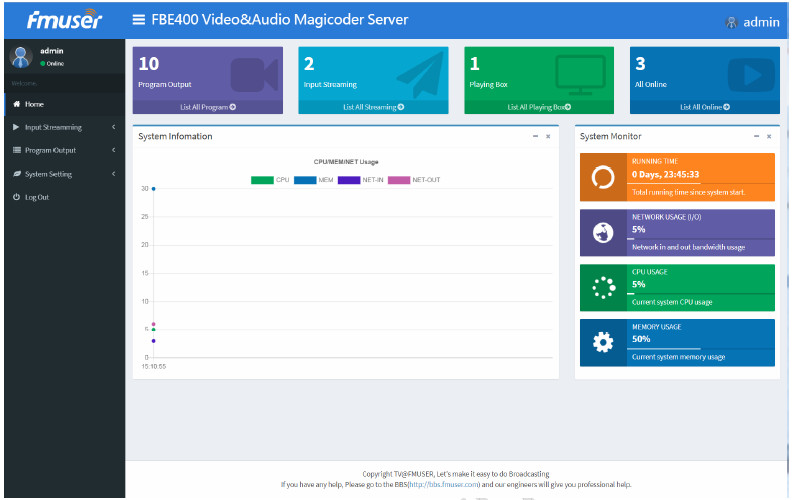 Electrical Index of IPTV Player Box
No

Item

Parameter

1

master control

Allwinner H3

2

DDR

1G

3

FLAH

8G

4

OS

Android 7.1

5

Output Interface

HD

6

Input Interface

100Mbps network port, support RTMP Input

7

Input Voltage

DC 2V 2A

9

Total Weight

0.36KG

10

Overall Size

98MM*98MM*98MM

12

Working Environment

Working temperature: 0-40 ℃

Working humidity: less than 95%
Electrical Index of FBE400 Magicoder Server
| | | |
| --- | --- | --- |
| NO | ITEM | Parameter |
| 1 | Input protocol | RTMP input |
| 2 | Output protocol | RTMP output |
| 3 | Input resolution | Supports 1920x1080 resolution input |
| 4 | Output resolution | Supports 1920x1080 resolution output |
| 5 | Number of programs | Support up to 30 programs input at the same time |
| 6 | Number of players | Supports up to 60 players to watch at the same time |
| 7 | network port | 1000Mbps network port |
| 8 | LED indicator | Network cable connection status light |
| 9 | Total Weight | 170MM*115MM*27MM |
| 10 | Overall size | 0.6KG |
| 11 | Input voltage | DC 5V 2A |
| 12 | working environment | Working temperature: 0-40 ℃ Working humidity: less than 95% |
Index of Other Devices
Model No.
Chassis
Encoding
Input
wireless
other
FBE200-H.265-LAN
Small box
h.265
1 x HD or SDI in, 3.5mm Stereo in
--
--
FBE200-H.265-Wifi
Small box
h.265
1 x HD or SDI in, 3.5mm Stereo in
2.4g wifi
HLS
FBE204-H.265
19' 1U Rack
h.265
4 x HD or SDI in, 3.5mm Stereo in
--
--
FBE216-H.265
19' 3U Rack
h.265
16 x HD or SDI in, 3.5mm Stereo in
--
--
FBE300 Magicoder
Small box

h.265

USB Input/Output

3.5mm Stereo Audio Line Out

HD Video Out

RJ45 Ethernet In / Out

--
--
R69 IPTV STB
Small box
h.265
IPTV Decoder
--
--


CONTACT US


FMUSER INTERNATIONAL GROUP LIMITED.
We are always providing our customers with reliable products and considerate services.
If you would like to keep touch with us directly, please go to contact us