FMUSER FBE200 Wi-Fi Supported H.264 H.265 Hardware IPTV Encoder for Live Streaming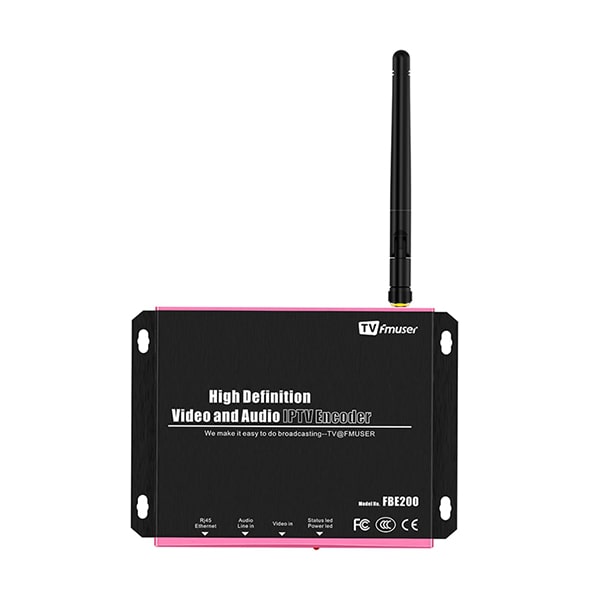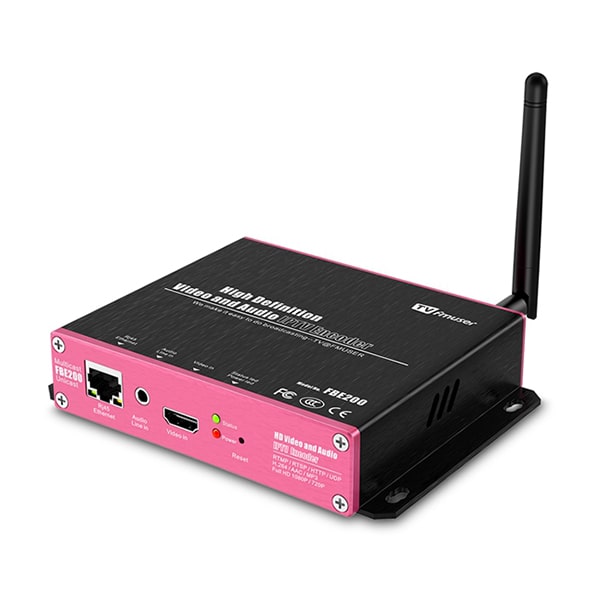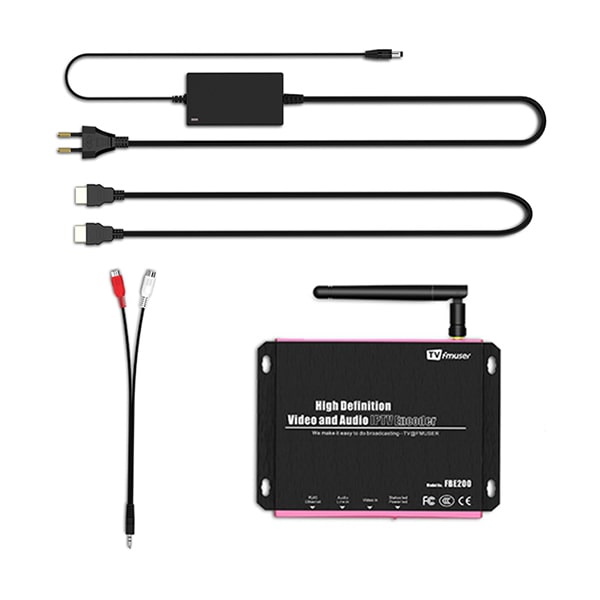 FMUSER FBE200 Wi-Fi Supported H.264 H.265 Hardware IPTV Encoder for Live Streaming
FEATURES
Price (USD): 262
Qty (PCS): 1
Shipping (USD): 0
Total (USD): 262
Shipping Method: DHL, FedEx, UPS, EMS, By Sea, By Air
Payment: TT(Bank Transfer), Western Union, Paypal, Payoneer
Why Choose FBE200 IPTV Encoder for Live Streaming?
In a fast-changing and highly competitive TV market, operators and TV service providers must deliver access to content on all screens, anytime, anywhere, while also reducing complexity and driving efficiency across all platforms. The FMUSER FBE200 encoder is designed to address the increasing demand for video delivery to the internet and mobile devices.
FMUSER FBE200 is with high integration and cost-effective design make this device widely used in a variety of digital distribution systems, such as the construction of professional broadcast level IPTV & OTT system, hospitality IPTV application, Remote HD multi-window video conference, Remote HD education, and Remote HD medical treatment, Streaming Live Broadcast, etc.
The FMUSER FBE200 H.264/H.265 IPTV Streaming Encoder supports 1 audio and HDMI video collection by input simultaneously for option. You can choose to use the HDMI or 3.5mm stereo for the audio line-in.
Each channel of HDMI input supports 3 IP streams output with two different resolutions (one higher resolution, one lower resolution) for adaptive bitrates, each group of IP stream supports two kinds of IP protocols output (RTSP/HTTP/Multicast/Unicast/RTMP/RTMPS).
FMUSER FBE200 IPTV Encoder can deliver H.264/H.265/encoding video streams with more channels of independent IP output to various servers for IPTV & OTT application, such as Adobe Flash Server (FMS), Wowza Media Server, Windows Media Server, RED5, and some other servers based on UDP/RTSP/RTMP/RTMPS/HTTP/HLS/ONVIF protocols. It also supports the VLC decode.
FBE200 is compatible with most of the streaming platforms, Live Broadcast On Any Streaming Service like WOWZA, FMS, Red5, YouTube Live, Face book live, Ustream, Live stream, Twitch, Meridix, Stream spot, Dacast, Tikilive, Netrmedia...
We also have SDI versions, 4 in 1 or 16 in 1 encoder in professional 19' Rack chassis; please feel free to contact us if you need them.
If you want to promote your own brand, we can also do OEM for you.
* We reserve the right to upgrade the appearance or functions of the product without extra notice.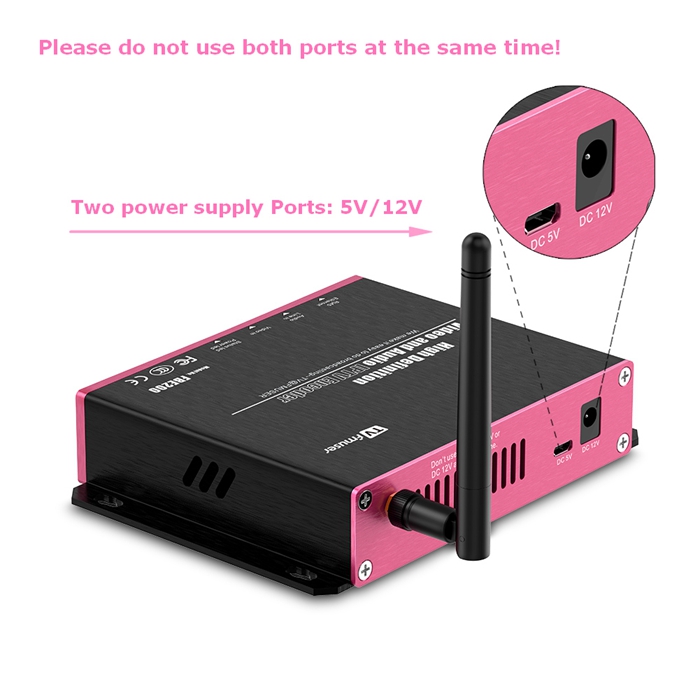 Benefits You Can Not Resist
Video Compression support H.264 / H.265, Main Profile / High Profile/Baseline Profile.
Audio Compression support MP3 & AAC-LC/HE audio compression.
Bitrates CBR / VBR16Kbit/s--12Mbit/s.
Streaming resolution up to 720, 720P, 1080P.
GOP frame rate settings supported.
Insertable of the logo and Scroll Caption (OSD).
Adjustable of audio gain.
Capable of image parameter settings.
Support up to 3 TS over IP stream out.
Switchable of audio output mode: Left, Right, and Stereo.
Configurable of Multi-rate, Multi-resolution, Multi-protocol.
Providing M3U8 HLS/RTSP/HTTP/UDP/RTMP/RTMPS protocol.
Support FFMPEG, HLS.
Support ONVIF Network Video Protocol.
Web-based management.
Full-duplex mode 1000M/100M.
Support Wi-Fi connection for RTMP / RTMPS upload.
Multiple output streams per input service to support Broadcast, VOD, IPTV and OTT, Mobile/ web, Set-top box applications.
Support multiple types of equipment display at the same time on one computer.
Support Microsoft standard flow-driven architecture (WDM architecture); support Microsoft WMENCODER, compatible with Windows VFW software architecture and WDM mode.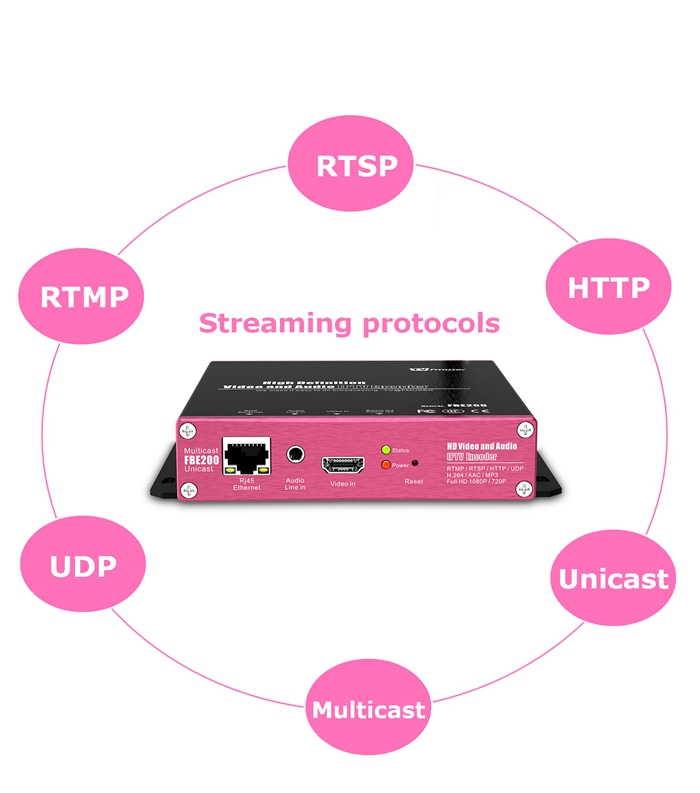 Where You May Find FBE200 IPTV Encoder Useful
Digital TV Broadcasting System
RJ45 Digital TV Programs Transmission
Hotel TV System
Head-end system of Digital TV branch network
CATV Broadcasting system
Edge side of Digital TV backbone network
IPTV and OTT headend system
Etc...
IP output over RTP / RTSP / RTMP / RTMPS / HTTP / HLS -- Transfer through internet or LAN
FMUSER FBE200 supports secure live and on-demand streaming both within and outside their corporate networks. Empowers enterprises to personalize engagement, reduce travel costs, extend their reach, and boost sales through video streaming.

Broadcast Streaming Solutions, Powering Leading-Edge Broadcasting. Deliver traditional broadcast channels over the top while also creating leading-edge broadcasting channels to power mobile journalism and citizen participation.
Education Streaming Solutions.Streaming for the classroom and beyond. Extend your reach. Engage. Make the most of your budget.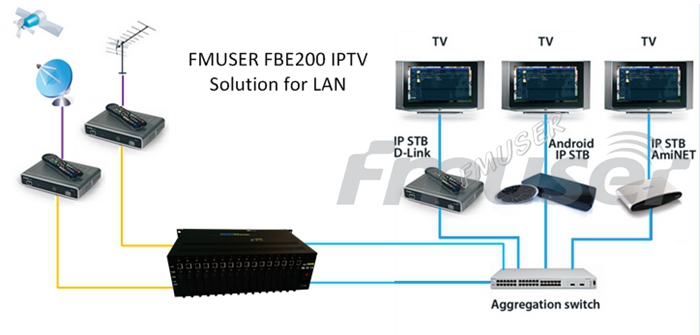 IP output over UDP (Unicast / Multicast) -- Transfer through LAN
You May Also Find FBE200 IPTV Encoder In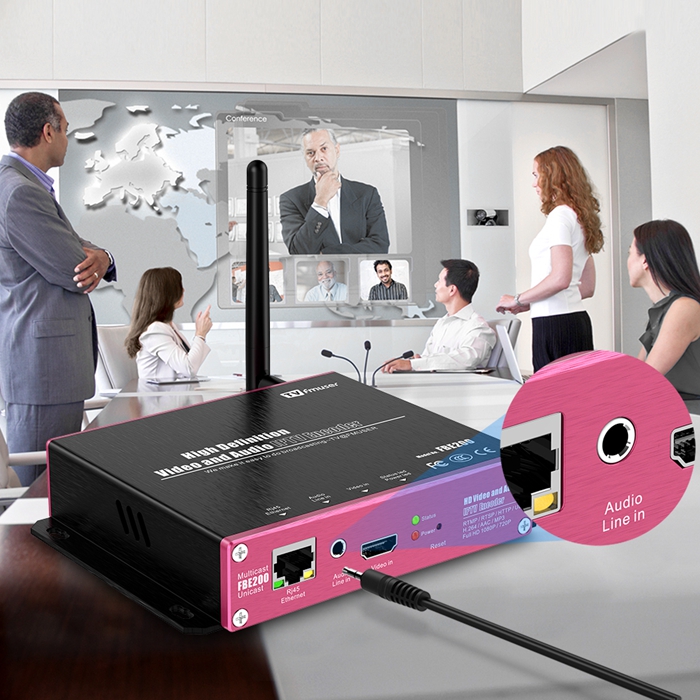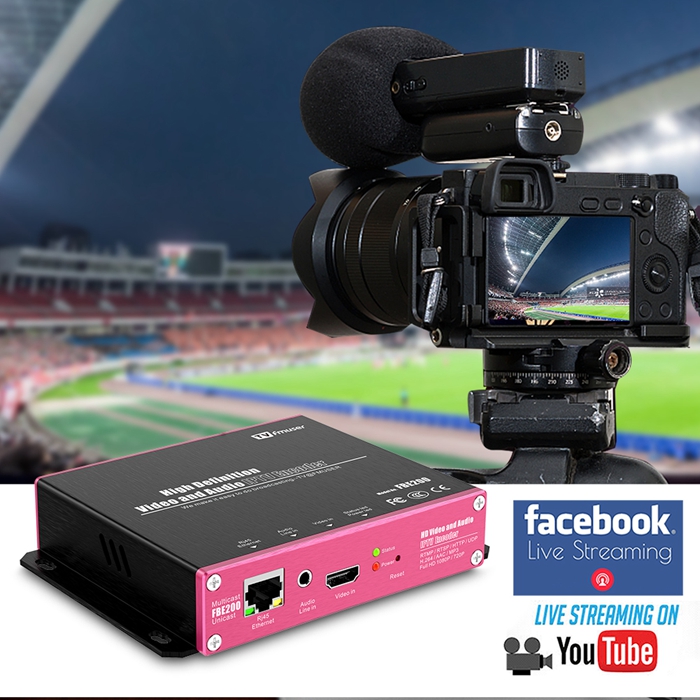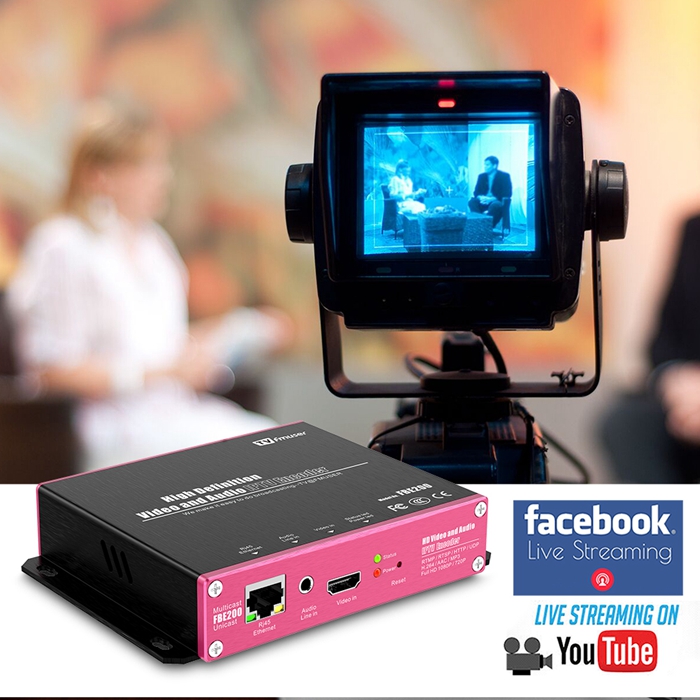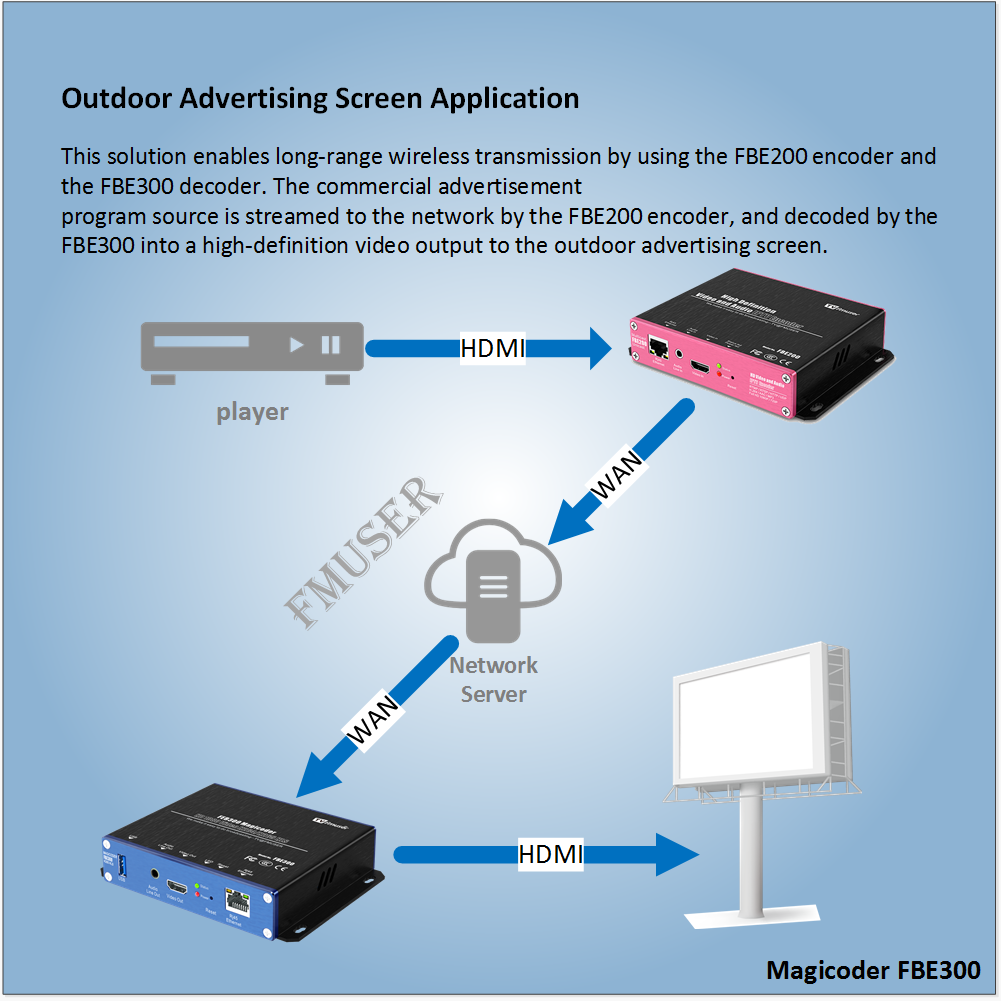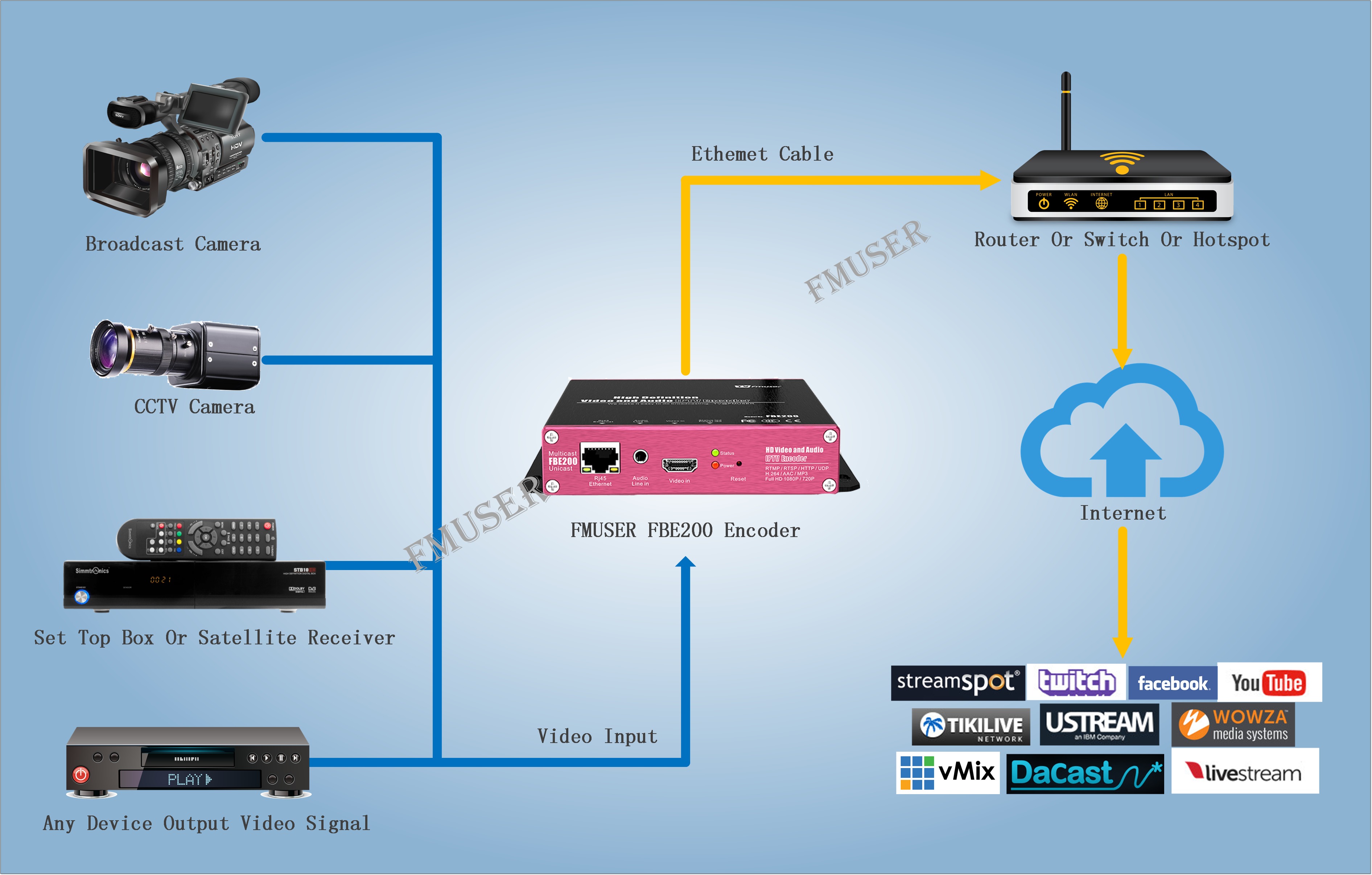 1* FBE200 IPTV Encoder
1* Wi-Fi Antenna
1* HDMI Cable
1* 3.5mm to RCA female (L-R)
1* 110V / 220V to 12V 2A Power Supply
1* User Manual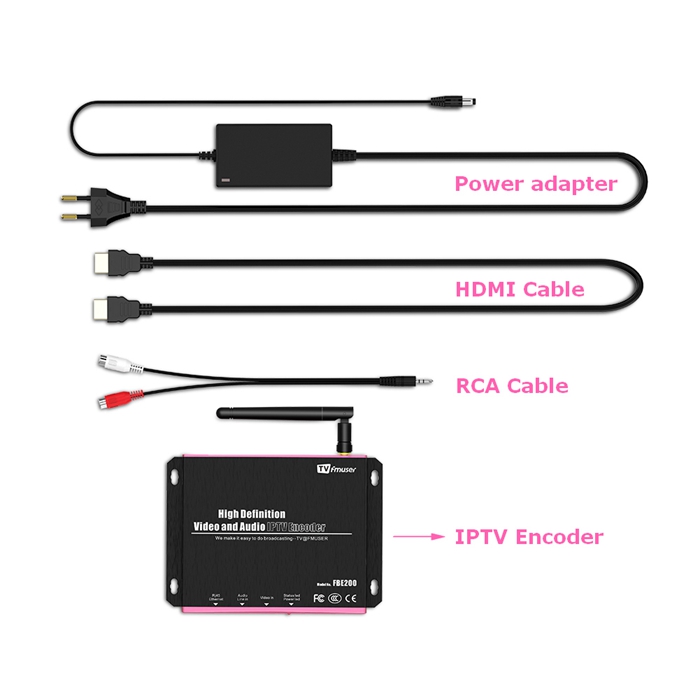 Electrical Index and Instructional Index of FBE200
About Latency, we have done a test:
Computer #1 ouputs HD to Fmuser FBE200 encoder.
Computer#2 uses VLC to play the video from the encoder. VLC sets 300ms of cache.
Latency results under different protocols:
RTSP :240ms -250ms
UDP:240ms-250ms
HTTP: 2000ms-3000ms
RTMP/RTMPS: depends on the cloud platform server, sometime it is over 1-2 minutes
Our Encoder Already Supports SRT Protocol:
All of our fbe200 encoders support the SRT video transmission protocol. Customers who use the old version can download the upgrade package supporting SRT protocol in our forum. Our forum address is: bbs.fmuser.com
SRT can realize point-to-point video transmission directly on the Internet and can realize the transmission and distribution of high-definition network video in the complex Internet environment, between multiple places, and with low delay.
It may replace RTMP in the future. Different from RTMP:
SRT supports AES encryption, so it is more secure than RTMP
SRT uses FEC correction technology, so it is more stable than RTMP transmission
SRT is based on UDT protocol and solves the problem of high transmission delay of UDT protocol, and does not need the server to forward. Therefore, it has a lower delay than RTMP and can reach less than 200ms.
SRT supports the h.265 algorithm, so it takes less bandwidth than RTMP under the same video quality.
Electrical Index of FBE200 Hardware IPTV Encoder
General Options
Power supply Voltage: 110VAC±10%, 50/60Hz; 220VAC±10%, 50/60Hz
DC Power input: 12V or 5V by Micro-USB
Consumption: less than 40W
Operating temperature: 0--45°C (operation), -20--80°C (storage)
Dimensions: 146mm(W)x140mm(D)x27mm(H)
Package Dimensions: 165mm(W)x112mm(D)x70mm(H)
Package Weight: 0.65KG
VIDEO Encoding
Video Compression: H.264 / AVC or H.265 / HEVC High Profile Level 1.5
Video Inputs: 1 x HDMI 1.3a version (support HDCP protocol, or 1 x SDI for option)
HDMI/SDI Main Streaming Resolution: 1920x1080, 1680x1056, 1280x720, 1024x576, 850x480, 720x576, 720x540, 720x480, 720x404, 704x576, 640x480, 640x360, auto
HDMI/SDI Sub-Streaming Resolution: 1280x720, 800x450, 720x576, 720x540, 720x480, 720x404, 704x576, 640x480, 640x300, 352x288, 320x240, 320x180, auto
Bit-rate: 16kbps~12Mbps, CBR/VBR
Video pre-processing: Noise reduction, Sharpen, Filtering
Video encoding: supports HLS M3U8 FFMEPG VLC
AUDIO Encoding
Audio compression: AAC, MP3
Sampling rate: Adaptive, selectable of re-sample.
Sampling accuracy: 24-bit
Bit Rate: 48k, 64k, 96k, 128k, 160k, 192k, 256k
Re-sample: 32k, 44.1k
IP Encapsulation output
Transport protocol: TS over IP output, RTSP / HTTP / UDP or RTMP / RTMPS protocol
For each HDMI (SDI) to IP output (HTTP / RTSP / UDP / RTMP / RTMPS / HLS protocol) 3 group out with higher resolution (up to 1080P) for large screen application.
Output: RJ45 Ethernet interface, 100/1000M Full
Other Guides
| | | | | | |
| --- | --- | --- | --- | --- | --- |
| Model No. | Chassis | Encoding | Input | Wireless | Other |
| FBE200-H.264-LAN | Small box | h.264 | 1 x HDMI or SDI in 3.5mm Stereo in | -- | -- |
| FBE200-H.264 | Small box | h.264 | 1 x HDMI or SDI in 3.5mm Stereo in | 2.4g Wi-Fi | HLS |
| FBE200-H.265 | Small box | h.264/h.265 | 1 x HDMI or SDI in 3.5mm Stereo in | 2.4g Wi-Fi | HLS |
| FBE204-H.264 | 19' 1U Rack | h.264 | 4 x HDMI or SDI in 3.5mm Stereo in | -- | -- |
| FBE204-H.265 | 19' 1U Rack | h.264/h.265 | 4 x HDMI or SDI in 3.5mm Stereo in | -- | -- |
| FBE216-H.264 | 19' 3U Rack | h.264 | 16 x HDMI or SDI in 3.5mm Stereo in | -- | -- |
| FBE216-H.265 | 19' 3U Rack | h.264/h.265 | 16 x HDMI or SDI in 3.5mm Stereo in | -- | -- |
Instructional Index of FBE200 Hardware IPTV Encoder
Panel Instructions:
Web Backend Management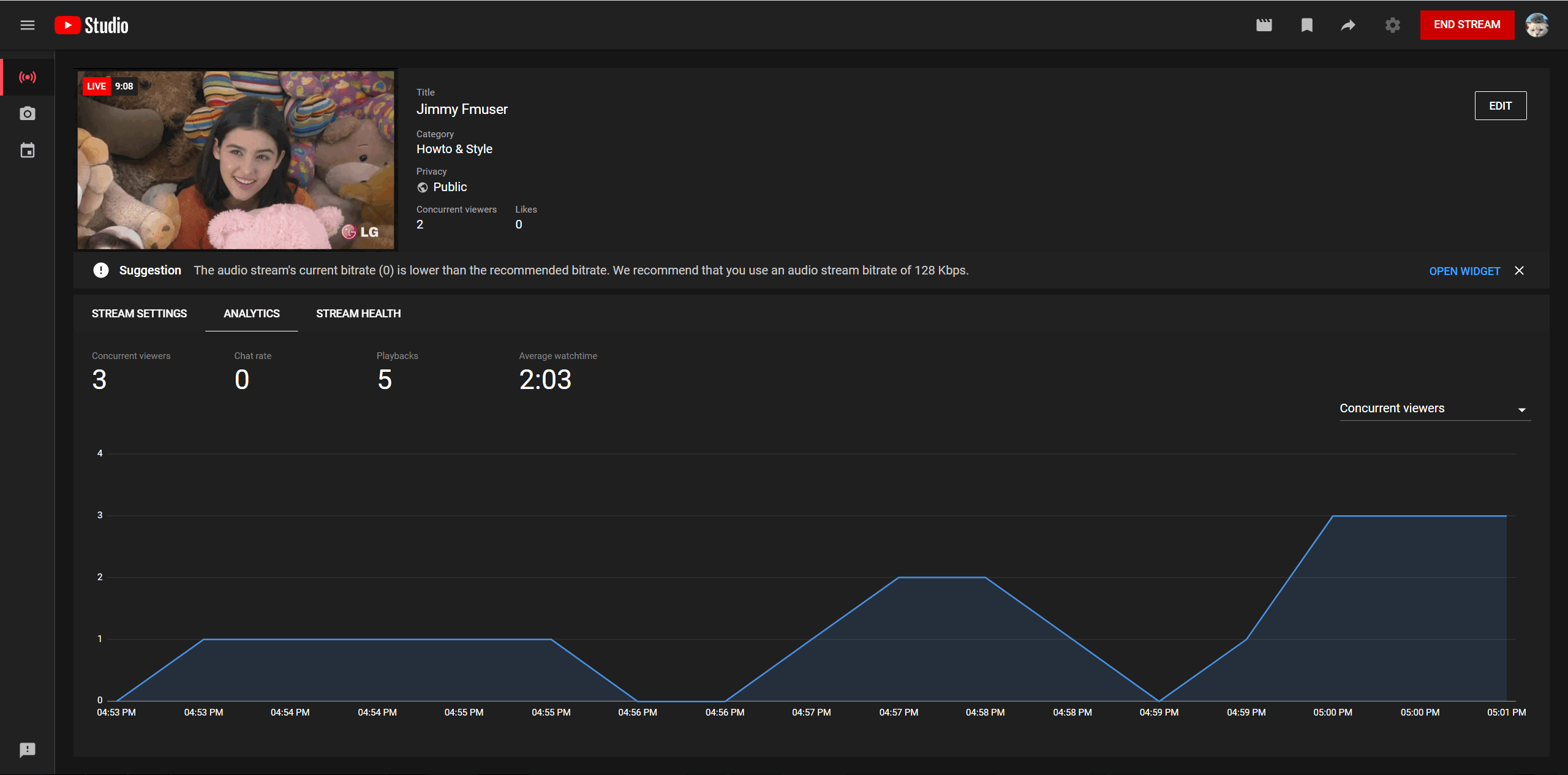 Network Management System
The network management system is applied to control and manage parameters and settings, etc. It centralizes encoders through the network easily.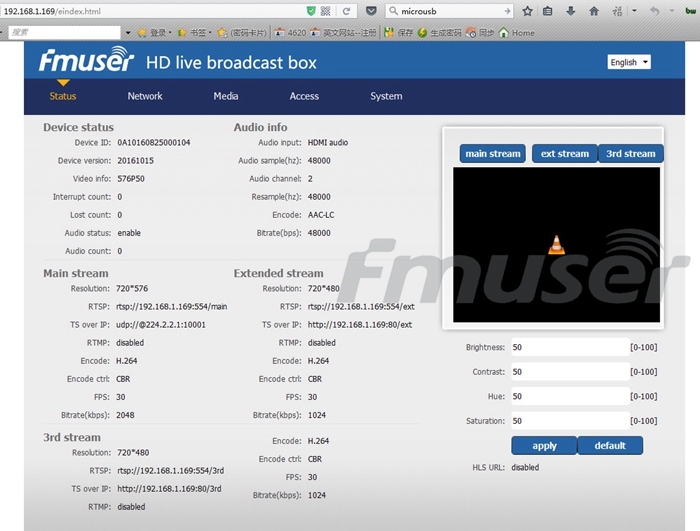 CONTACT US


FMUSER INTERNATIONAL GROUP LIMITED.
We are always providing our customers with reliable products and considerate services.
If you would like to keep touch with us directly, please go to contact us