FMUSER 2U Compact 1000W FM Transmitter FSN-1000T for FM Radio Station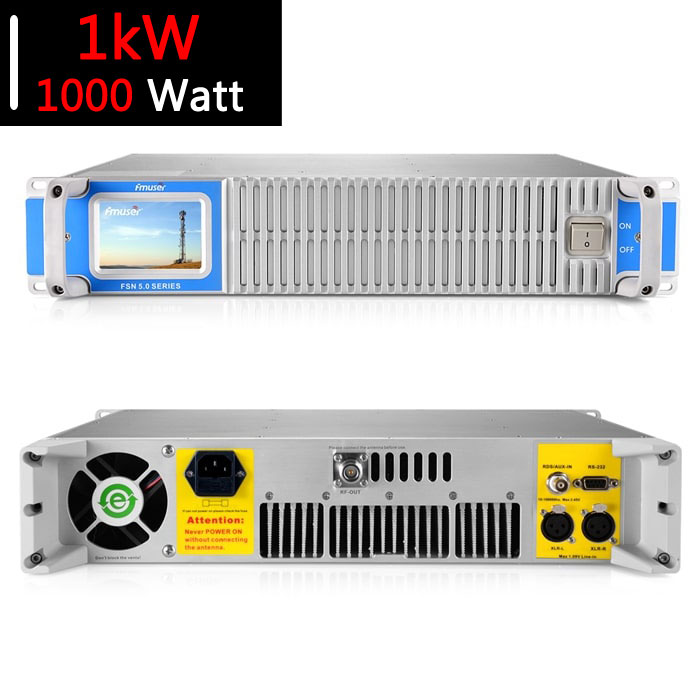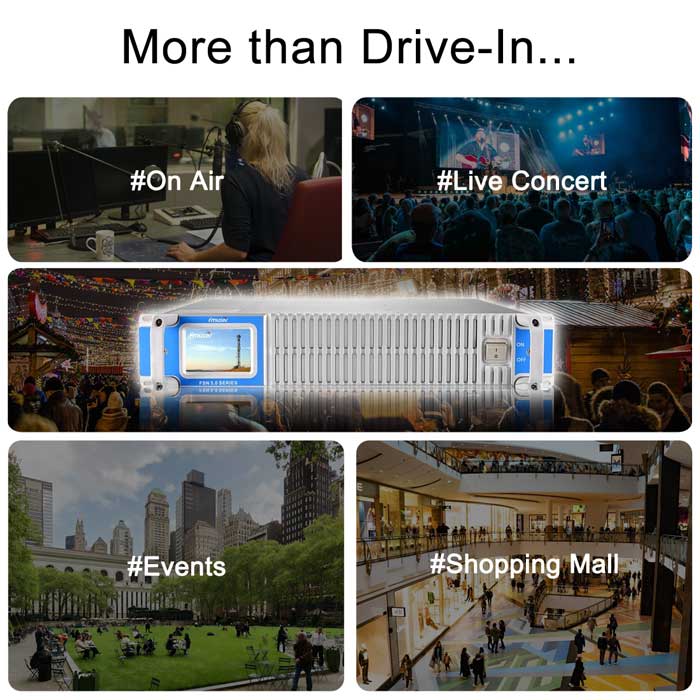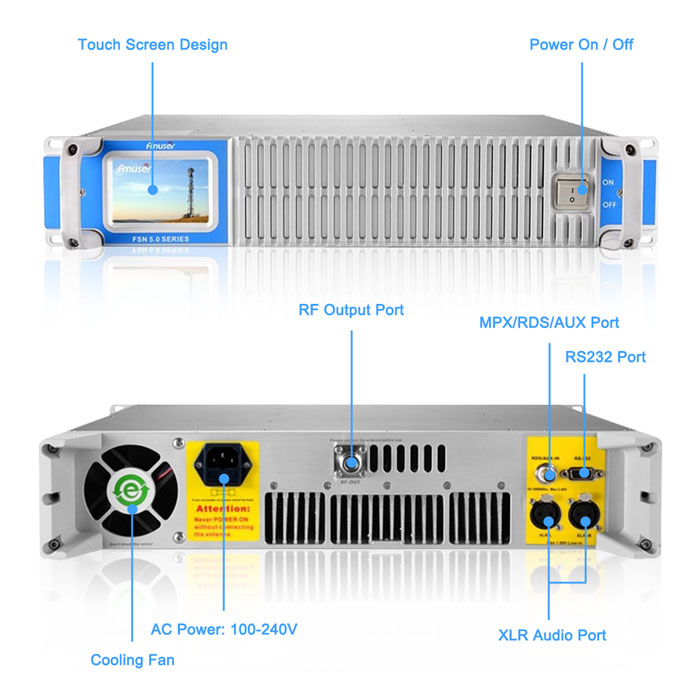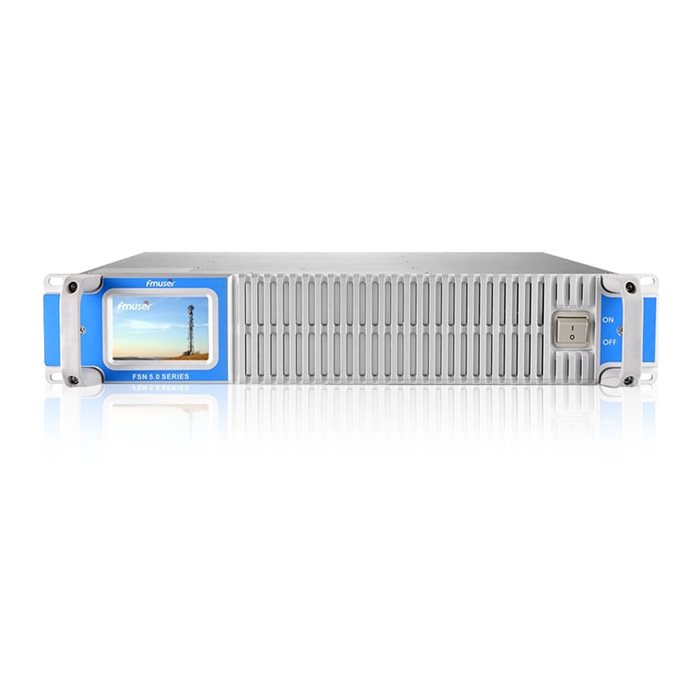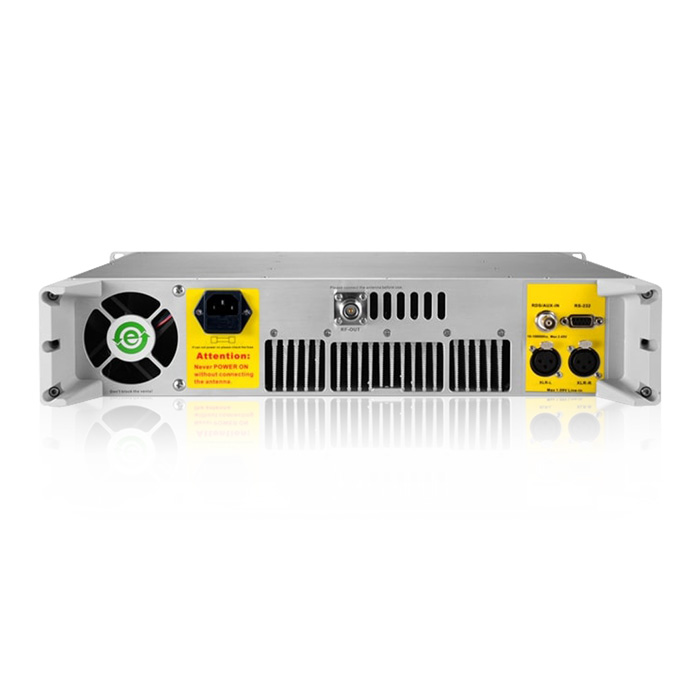 FMUSER 2U Compact 1000W FM Transmitter FSN-1000T for FM Radio Station
FEATURES
Price (USD): 3,169
Qty (PCS): 1
Shipping (USD): 0
Total (USD): 3,169
Shipping Method: DHL, FedEx, UPS, EMS, By Sea, By Air
Payment: TT(Bank Transfer), Western Union, Paypal, Payoneer
RF Part

Frequency
87.5 ~ 108 MHz
Frequency step value
10 kHz
Modulation
FM
Peak deviation
± 75 kHz
Frequency stability
<± 100Hz
Frequency stabilization method
PLL frequency synthesizer
RF output power
0 ~ 1000 watts ± 0.5 dB
Residual wave
< -70 dB
Higher harmonics
< - 65 dB
Parasitic AM
< - 50 dB
RF output impedance
50 Ω
RF output connector
L29 female
Audio input connector
XLR female
AUX input connector
BNC female
Pre-emphasis
0 uS, 50 uS, 75 uS ( user setting)
S/N ratio mono
>70 dB (20 to 20 kHz)
S/N ratio stereo
>65 dB (20 to 15 kHz)
Stereo resolution
-50 dB
Audio frequency response
30 ~ 15,000 Hz
Audio distortion
<0.3%
Audio level gain
-12 dB ~ 12 dB step 3 dB
Audio input
-19 dB ~ 5 dB
Power supply voltage range
110V ~ 260V
Operating temperature range
-10 ~ 45 ℃
Work mode
Continuous work
Cooling method
Air cooling
Cooling efficiency
<95%
Work Altitude
<4500 M
Power consumption
1500 VA
Dimensions
(W) 483 x (H) 320 x (D) 88 mm without handles and protrusions
Size
19 "2U standard rack.
Weight
12 kg
FSN-1000T: The Most Effective DSP 2U Shelf 1000W FM transmitter
As one of the leading low-power FM transmitters, the FSN-1000T 1000W FM transmitter is combined with high performance and impressive design.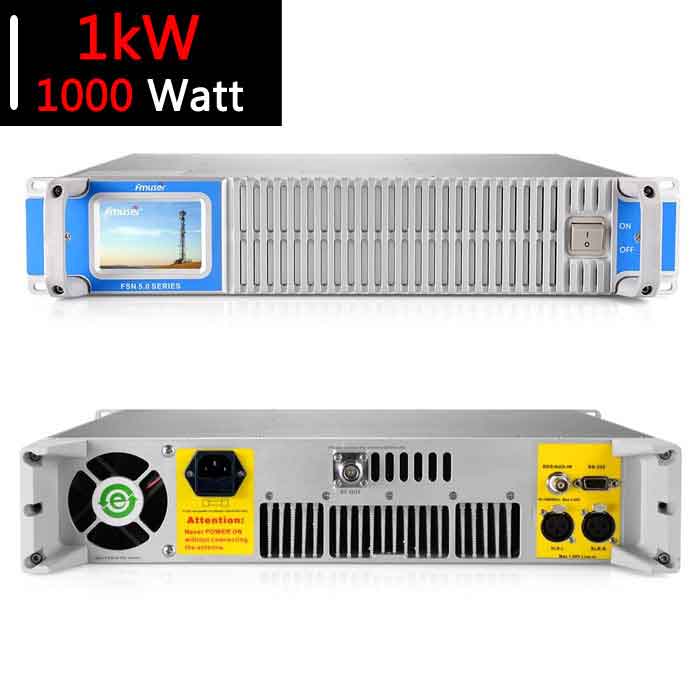 Thanks to our factory, we have the ability to offer our consumers this high-end transmitter, it is featured by:
Human-friendly touching screen for all-in-one monitoring.
The durable cooling method from the internal fan assists in effectively minimizing the over-heated functioning temperature.
The high-fidelity audio outcome has obtained appeal among clients all over the world.
Built-in DSP innovation has actually surpassed most rivals' activity.
The 19-inch 2U compact design has conserved many areas as well as improved the practicability for working.
Inexpensive and low-cost design as always.
BLF188XR/ MRFE6VP61K25H is taken on as the chip to reach a higher performance for the radio broadcast stations.
Power tuneable (0 watts to 1,000 watts).
FSN-1000T 1000W FM transmitter has the ability to serve most radio broadcast terminals such as the community radio stations around as well as the town.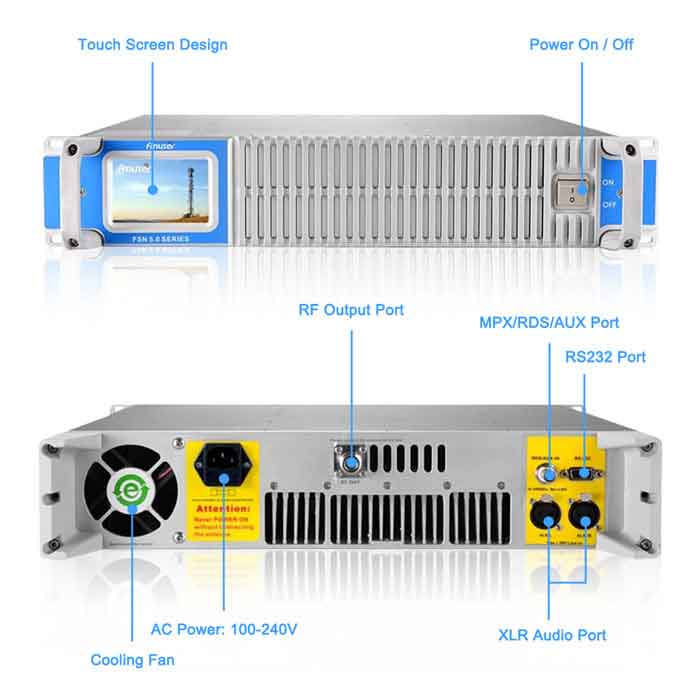 What is an excellent quality 1000W FM transmitter? Check out the following functions that FSN-1000T is developed with!
Total Inner Protection System
To begin with, to minimize the price of an FM radio station, not replacing that high-cost device will be the first option, and the layout goes above all the various other referrals.
One of the most valuable components is the over-heated & over-SWR defense, as well as the follower mistake alarm, these designs are a safety guarantee for long service life in an FM radio station.
The FSN-1000T 1000W FM transmitter can instantly switch to provide alarming messages (normally beeping for some time).
When the SWR is obtaining normally greater while there are disconcerting messages presented as well on the display, the device will certainly keep beeping.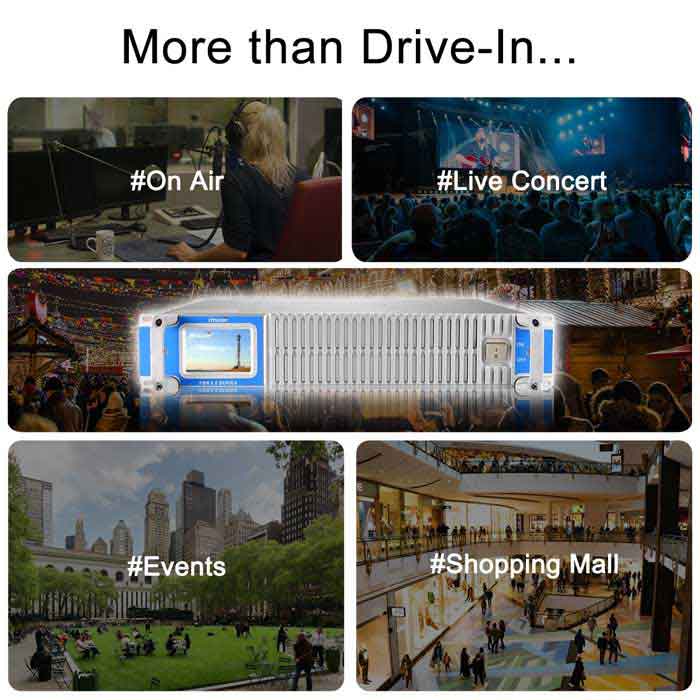 As well as if the follower is in negative working condition, startling messages will likewise be shown on the screen.
Dependable Hardware Design Provides Wider Options
Have I informed you that the FSN-1000T has 0 watts to 1000 watts that are tuneable? Well, this is way much insufficient for a top-quality FM transmitter.
Antenna Freq Matching: the FSN-1000T 1000W FM transmitter can check automatically for the best antenna freq to boost for far better performance between the transmitter as well as the antenna.
One-touch, all done: a sensitive touch board is set on the FSN-1000T to occur of the jog dial, which stands for a lot easier operation.
Wonderful Flexibility via flexible settings: the 1000W FM transmitter is designed with XLR ports, which can be connected to the audio mixer.
Optional Pre-emphasis Modes: there are 3 available audio settings for FSN-1000T, specifically 0 United States, 50 United States, as well as 75 United States, anybody that supervises the operation of the device is able to pick the best among their will.
1000W FM Transmitter FSN-1000T Alternatives - The FMUSER "FSN" Family
| | | |
| --- | --- | --- |
| | | |
| FSN-350T | FSN-600T | FSN-1500T |
| | | |
| FSN-2000T | FSN-3500T | FSN-5000T |
Recommended Products You May Also be Interested In
| | | |
| --- | --- | --- |
| | | |
| Up to 1000 Watts | Up to 10000 Watts | Transmitters, antennas, cables |
| | | |
| Radio studio, transmitter station | STL TX, RX, and antenna | 1 to 8 bays FM antenna packages |
1 * FSN-1000T 1000W FM transmitter
CONTACT US


FMUSER INTERNATIONAL GROUP LIMITED.
We are always providing our customers with reliable products and considerate services.
If you would like to keep touch with us directly, please go to contact us