FMUSER Digital 100W TV Transmitter FU518D-100W with Compact Rack Design for TV Broadcast Station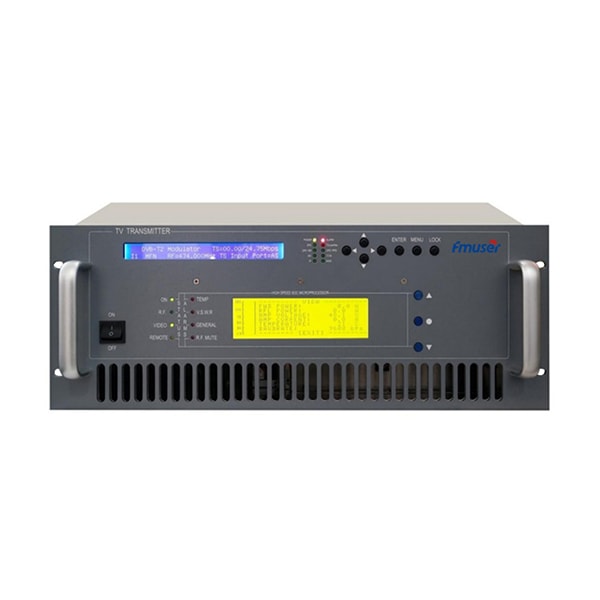 FMUSER Digital 100W TV Transmitter FU518D-100W with Compact Rack Design for TV Broadcast Station
FEATURES
Price (USD): 7500
Qty (PCS): 1
Shipping (USD): 650
Total (USD): 8150
Shipping Method: DHL, FedEx, UPS, EMS, By Sea, By Air
Payment: TT(Bank Transfer), Western Union, Paypal, Payoneer
About FU-518D 100w TV transmitter
FU518D-100W DVB-T/ATSC/ISDB-T 100Watt transmitter is a digital TV territorial broadcast DVB-T/ATSC/ISDB-T transmitter for professional TV Station, with high-quality VHF/UHF and professional and intelligent design as well as high reliability with amazing price. Power tuning from 100W/200W/300W/500W.
Features of FU-518D 100w TV transmitter
All solid-state digital TV transmitters, bandwidth 6-8 MHz.
Pre distortion correction, automatic switching of double actuators.
High linearity LDMOS power amplifier, high gain power amplifier module, parallel switching power supply, high efficiency.
Telemetry and remote control are based on web interface and software.
Good man-machine interface, automatic one-key switch.
Multiple protections (over voltage, over current, overheating, high standing wave ratio...) High reliability, 24-hour continuous operation.
Best 100W TV Transmitter Manufacturer
FMUSER is a famous supplier of complete TV station equipment and TV turnkey solutions, we have our own TV transmitter factories to provide the best quality of our TV transmission equipment.

With over ten years of manufacturing experience in TV station equipment, FMUSER is now able to supply high-power VHF TV transmitters, UHF TV transmitters, and TV broadcast antenna systems, good price, and high quality!
Contact us now and ask for a quotation, we are always here ready for your needs!
Also Read
Please contact our sales team for more details!
| Terms | Specs |
| --- | --- |
| Working frequency | VHF/UHF |
| Channel bandwidth | 8MHz |
| Output power | 100W |
| Output impedance | 50Ω |
| Output interface | L27 |
| Allowed operation | -20dB |
| Power input level | 0dBm |
| Amplifier input impedance | 50Ω |
| Amplifier input interface | L16 |
| Useless transmission | ≤-60dB |
| Band fluctuations | ±0.5dB |
| Band shoulder | better than 36dB |
| MER | better than 30dB |
| Size | 390mm×570mm×820mm |
| Weight | 45KG |
CONTACT US


FMUSER INTERNATIONAL GROUP LIMITED.
We are always providing our customers with reliable products and considerate services.
If you would like to keep touch with us directly, please go to contact us