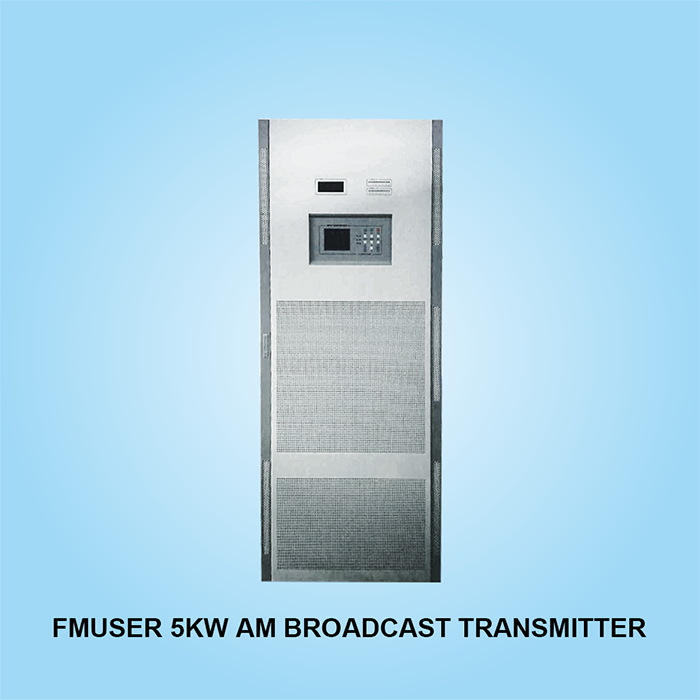 FMUSER Solid State 5KW AM Transmitter
FEATURES
Price (USD): Contact for more
Qty (PCS): 1
Shipping (USD): Contact for more
Total (USD): Contact for more
Shipping Method: DHL, FedEx, UPS, EMS, By Sea, By Air
Payment: TT(Bank Transfer), Western Union, Paypal, Payoneer
What is FMUSER 5KW AM Transmitter?
Tested by FMUSER's qualified RF staff, the attributes of the high power AM Transmitter are:
72% or perhaps higher job productivity - as higher as 72% (or maybe greater), while boosting the working effectiveness of the radio, this 5000 watt cheap AM Transmitter saves energy and also minimizes the expense of radio function and also servicing.
Mobile all-in-one design - this boosts the room utilization of the cabinet.
AUI remote control - The AUI feature can easily understand remote control and also enhance the real-time monitoring of tools.
Integrated total instrument function - FMUSER 5000 watt cheap AM Transmitter will definitely aid you systematically deal with and monitor real-time insusceptibility size, current, current, power and also other crucial criteria, and also you do not need to have to spend 10s of thousands of dollars to obtain additionally.
Just how does this 5KW AM Transmitter Work?
This 5000 watt cheap AM Transmitter acquires the consistent "customer first" concept of FMUSER's development vegetation.
5000 watt cheap AM Transmitter: Economical and High Performance as Still
The industry-leading remedy certainly not just supplies worldwide consumers with a cost effective acquisition rate, but also brings up to 72% (or even extra) to professional AM broadcasts. high) show performance - this means lower devices procedure and also maintenance expenses.
A dependable air-cooled 5KW AM Transmitter combined along with tough show productivity makes this AM show transmitter the transmission tool of choice for a wide variety of 5KW are actually stations, specifically for customers on a spending plan that may each help them develop high-performance AM shows.
It is actually consistently much more attractive to possess a broadcast terminal as well as an AM Transmitter that may truly help in regards to expense (savings in electrical power expenses may be in the tens or maybe thousands of thousands of bucks).
Energy Saving, Eco Friendly 5000 watt cheap AM Transmitter
The carbon dioxide discharge of broadcast stations, particularly large broadcast stations, is a vital concern that is actually easily forgotten by radio operators. There are numerous rewards for too much carbon dioxide emissions, among which is power consumption.
FMUSER 5kw AM Transmitter is environmentally friendly and energy-saving for its own' over 72% working productivity.
Because of the need to attain the effect of intercontinental transmission, a lot of are actually transmitters possess ultra-high power intake, such as 100KW, 500KW or maybe greater. If you do not intend to get a complaint letter from the nearby environmental protection department, after that you 'd much better opt for one that appropriates for nearby use. Electrically standard AM show transmitter.
FMUSER possesses a sophisticated AM Transmitter creation plant and also item manufacturing procedure, and also always attaches to the main objective of creating high-efficiency, eco friendly as well as energy-saving AM transmitting tools for the large number of army and also nationwide AM radio stations, which is actually why this The principal cause for the level of popularity of the 5KW AM Transmitter at the beginning of its release - to make sure that it is strong and also possesses good features for the environment.
This entry-level AM Transmitter has three flexible power levels: high, tool and also low power, and warranties trustworthy job efficiency.
That is to state: Higher efficiency = much less energy = lower price = longer operation.
Within a restricted product life pattern, this FMUSER's 5000 watt cheap AM Transmitter can efficiently help your radio save energy and also power, and indirectly lower thousands of measurement heaps of garden greenhouse gasoline discharges.
When you transmit your AM program hundreds of kilometers away, you are defending the environment, eliminating pair of birds with one rock!
A 5000 watt cheap AM Transmitter that Can Enhance Human-Machine Interaction
This recently discharged 5KW AM Transmitter is at least half the dimension of traditional AM Transmitters, which indicates you can generate extra radio devices layout options along with additional upscale floor area.
The mobile concept of parts not only enables the radio designers to respond swiftly, but additionally reduces the servicing or substitute price of the entire equipment. You no more need to fret about whether it has the common issues of standard 5000 watt cheap AM Transmitter over the last - you can simply replace it with a new device. Not replacement parts.
Regardless of its small size, your station engineers have simple access to every one of this 5KW AM Transmitter's internal components and also primary components, which are going to decrease prospective prices linked with downtime for AM Transmitter servicing in the course of system rests.
The FMUSER series integrates solid-state parts in a rugged, extremely repetitive, hot-swappable style. The sleek footprint, posted components list and also screwdriver disposable energy maintain your FMUSER AM Transmitter competing years to come.
FMUSER 5000 watt cheap AM Transmitter: Built-in Data Backup Exciter along with Automatic Switching
A special function of the FMUSER 5KW AM Transmitter is a comprehensive copying of the exciter area that supplies the RF carrier and also inflection command signs to the energy module. In case of a failing, the transmitter instantly switches over to the integrated data backup exciter, significantly improving the higher working stability inherent in the mobile solid-state layout.
This 5000 watt cheap AM Transmitter can easily sustain online show without hands-on guidance, embraces an one-of-a-kind circuit, which may dynamically maintain the energy source, prevent the a/c line voltage coming from changing, as well as immediately repair the previous operating condition after AC power overvoltage, failure or even rf overload, without unique resources or Quick and easy regularity modification capability is actually available along with external examination tools.
Powerful 5KW AM Transmitter with Integrated Body
In addition to its sleek structure, energy saving as well as higher effectiveness, this 5000 watt cheap AM Transmitter is actually also a strong all-in-one combined device. In the adhering to web content, you will definitely discover how this AM Transmitter offers services for several leading business with the integration of effective software application and components units.
AUI-IP remote body
This 5KW AM Transmitter for sale is equipped along with remote control software (AUI), the radio engineer may from another location monitor the running standing of the AM Transmitter in real time with a personal computer or cellphone APP without going to the internet site, and answer rapidly to numerous instances and provide equivalent s remedy.
This are going to significantly conserve the procedure as well as maintenance expenses of AM radio transmitters.
It deserves discussing that the 5kw AM Transmitter can easily likewise supply data accomplishment functions for developers, and its network interaction user interface and serial interaction user interface are actually (RS232 or RS485/RS422).
Automated program data checking device (optional for this 5000 watt cheap AM Transmitter)
FMUSER configures an incorporated parameter control panel and also an arrow coupler for spectrum dimension for every single purchaser who buys this 5000 watt cheap AM Transmitter style completely free.
The market retail price of these units ranges coming from 10s of 1000s of bucks. If you perform certainly not desire these The function appears in your televison broadcasting organization, please send your demands to FMUSER's RF pros with the "Call our company" form on the left, as well as they will certainly connect along with you as soon as possible.
Looking at AM Transmitter customers along with various requirements, FMUSER has especially set up a guideline dash panel that can easily check lots of significant specifications including transmitter resistance, voltage, existing and also power directly.
Due to the fact that the system may immediately gauge insusceptibility without manual frequency move (insusceptibility is actually determined at the combiner, so no accordant filter period correction is needed), it is feasible to assess the antenna without shutting off the broadcast Body resistance trace.
All at once, you may sense the load insusceptibility of the aerial body during the course of typical operation of the 5kw AM Transmitter through the control panel, as well as help make macro corrections based on real-time records. You can easily also review the transmitted current as well as existing waveforms to evaluate the load resistance within the operating regularity range., to ensure your AM program unit is actually functioning adequately.
The FMUSER AM Transmitter also consists of an integrated directional coupler for spectrum dimensions, aiding you boost the reliability of your spectrum dimensions in to the genuine aerial tons, which is crucial when measuring adjacent stations discharges.
Higher intelligent safety mechanism body
The security tool includes a technical essential measured access body that makes sure energy is actually eliminated coming from the transmitter cabinet and also the antenna is based just before get access to is actually permitted.
A sound emergency situation shutdown body is actually included, enabling the add-on of an unrestricted amount of series-connected safety shut-off changes.
Any sort of loss of electrical connection within this loophole will instantly result in the main a/c circuit breaker to open, clearing away all electrical power to the transmitter closet.
Unfailing reliability layout
The assembly and also connection portion of the power amp panel uses the entire board gold layering procedure, which guarantees really good power efficiency, oxidation protection and oxidation resistance.
The body of this 5KW AM Transmitter takes on an anti-radiation situation and also a protecting construct. Other than the skeletal system, it is actually an all-aluminum case, which complies with the criteria of electromagnetic radiation.
Follower air movement is unaltered through adjustments in hvac energy, additional guaranteeing low temperature operation and also long-lasting dependability. With master-standby switchover, the built-in system inside this 5000 watt cheap AM Transmitter will automatically switches to the standby machine when the multitude falls short.
Due to the requirement to obtain the result of global transmission, many Are actually transmitters have ultra-high power consumption, such as 100KW, 500KW or also much higher. Electrically common AM broadcast transmitter.
You absolutely no much longer have to fret about whether it possesses the popular troubles of traditional AM Transmitters in the past - you can only substitute it with a brand new machine. A distinct function of the FMUSER 5000 watt cheap AM Transmitter is a total duplication of the exciter section that delivers the RF provider and also modulation management signs to the energy component. In the occasion of a breakdown, the transmitter automatically changes to the built-in back-up exciter, dramatically boosting the high working dependability innate in the modular solid-state design.
| | |
| --- | --- |
| Modulation method | PDM |
| Power output range | 0-110% of rated power |
| Power factor | ≥0.95 |
| Machine efficiency | better than 73% |
| Frequency tolerance | ≤1Hz |
| Audio input impedance | 600Ω balanced |
| Audio input level | -10 ~ +10db (nominal +6db) |
| RF output impedance | 50Ω (custom) |
| Positive peak modulation capability | not less than 110% |
| Continuous modulation capability | 100% continuous modulation of sine wave |
| Frequency response | ±0.5db (50Hz~8kHz, m=90%) |
| Total harmonic distortion | ≤2.0% (50Hz~8kHz, m=90%) |
| Signal-to-noise ratio | ≥62db |
| Carrier drop | ≤3% |
| Square wave overshoot | ≤0.5% (400Hz, M=0.8) |
| Square wave top drop | ≤0.5% (40Hz, M=0.8) |
| Spurious emission | ≤-60dB |
| AC power supply | 3-phase 4-wire system, 380V±10%, frequency |
| Temperature | -10~+45℃ |
| Relative humidity | 0-95% non-condensing |
CONTACT US


FMUSER INTERNATIONAL GROUP LIMITED.
We are always providing our customers with reliable products and considerate services.
If you would like to keep touch with us directly, please go to contact us