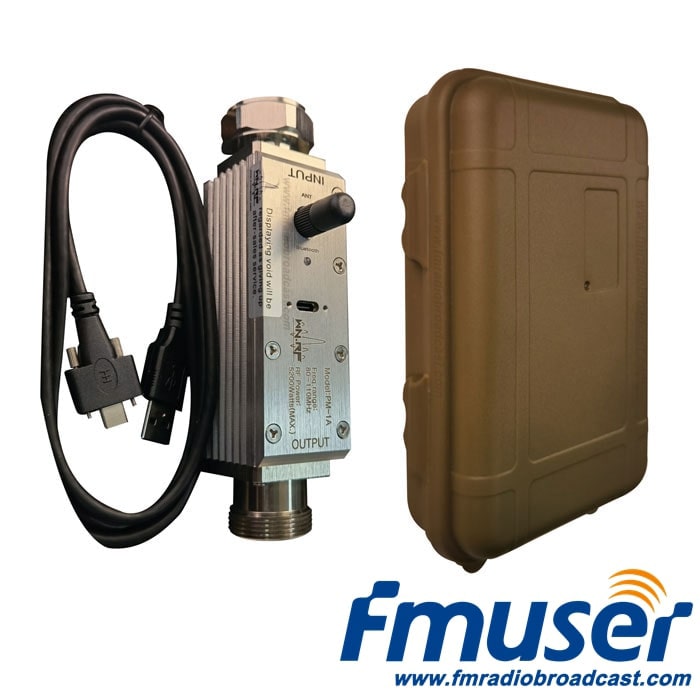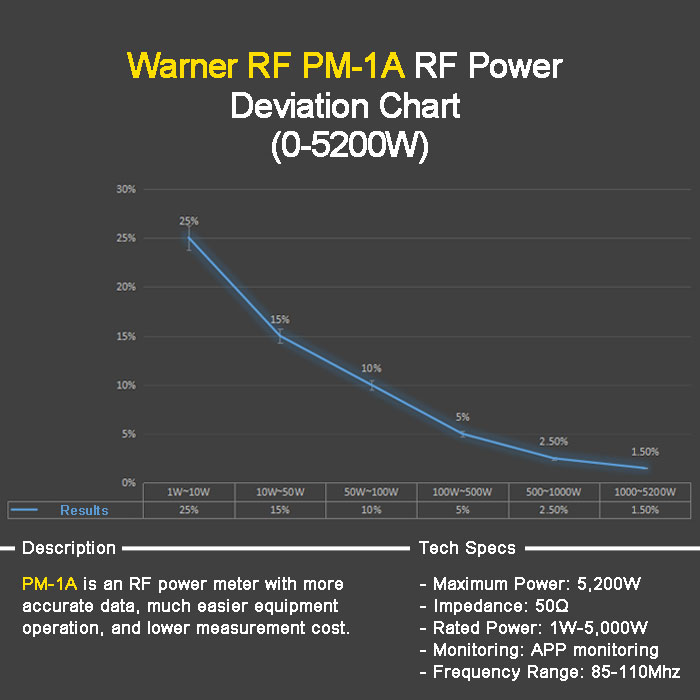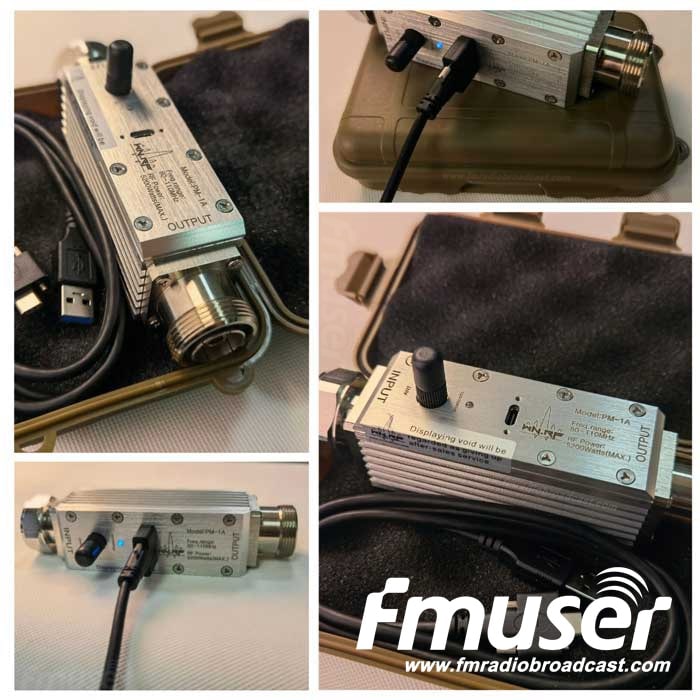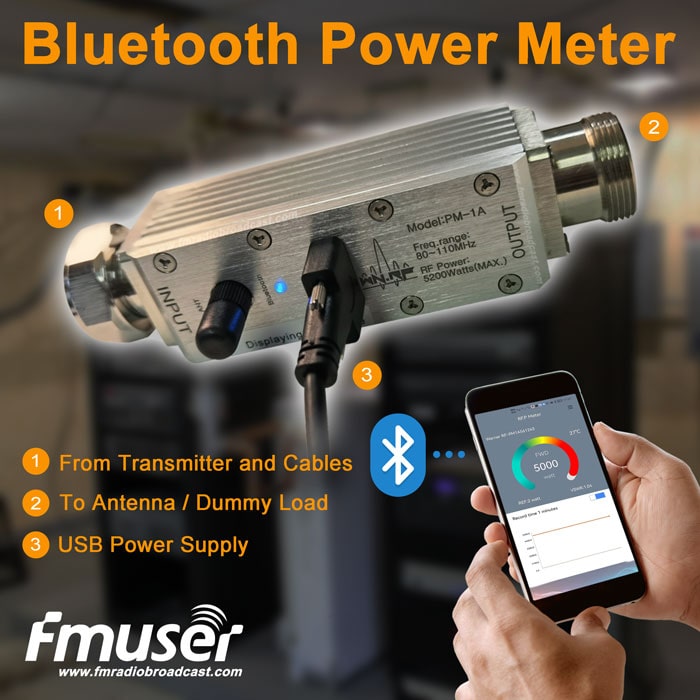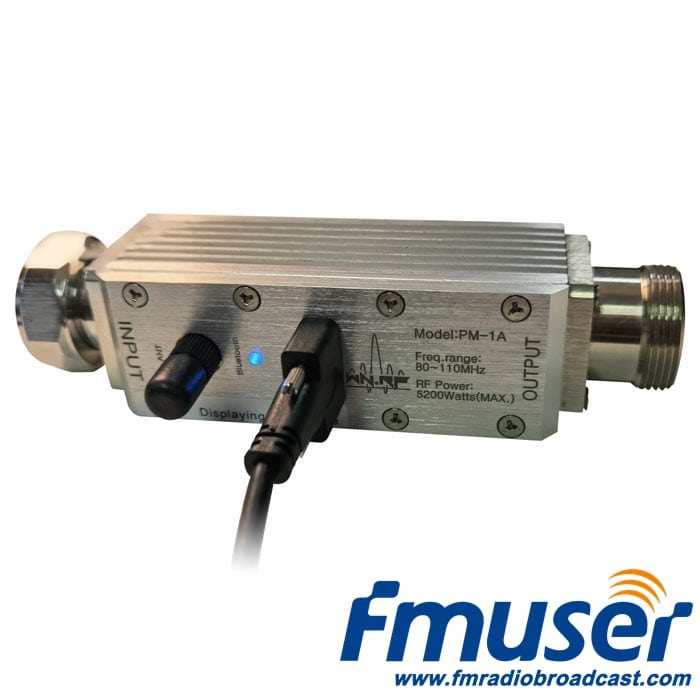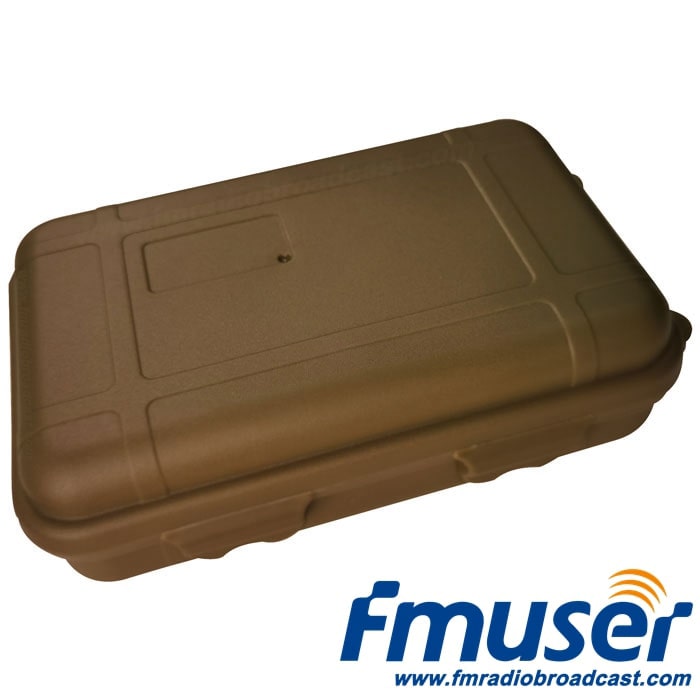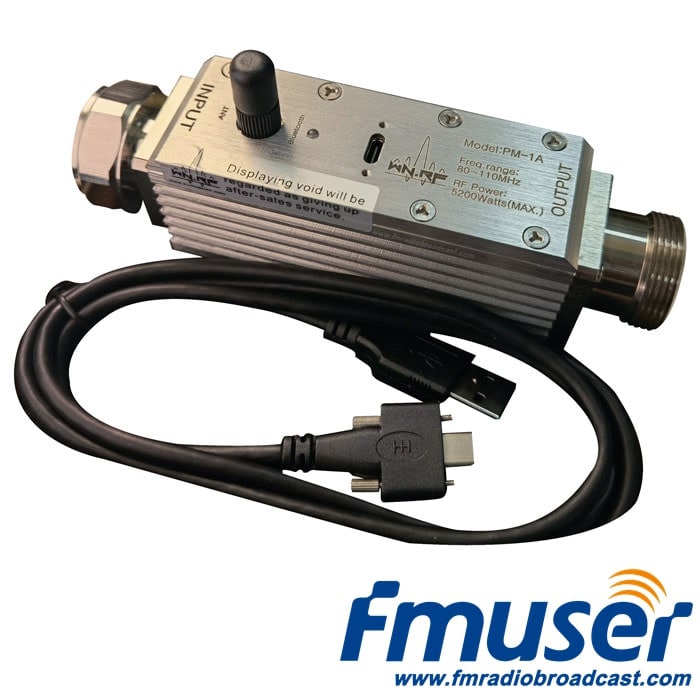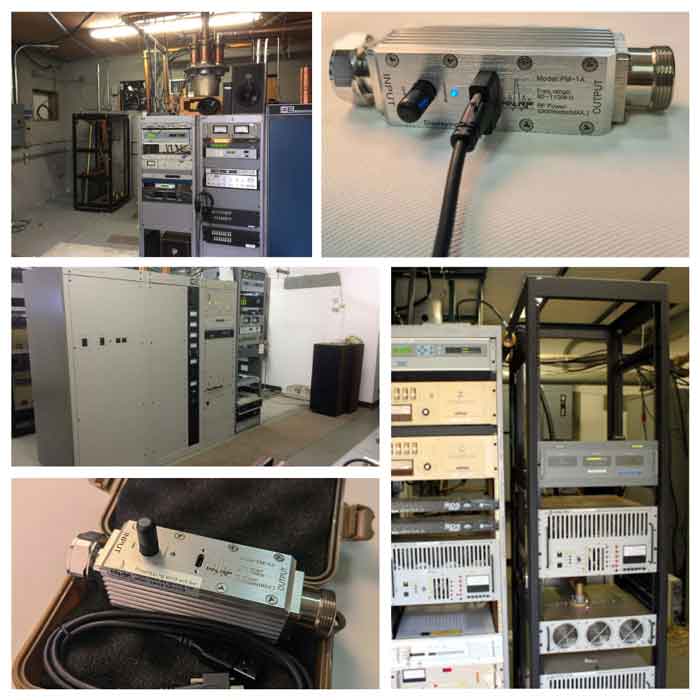 Warner RF WNRF PM-1A 5200W RF power meter 50Ω 85-110MHz for antenna VSWR & FM transmitter output power testing
FEATURES
Price (USD): Contact for more
Qty (PCS): 1
Shipping (USD): Contact for more
Total (USD): Contact for more
Shipping Method: DHL, FedEx, UPS, EMS, By Sea, By Air
Payment: TT(Bank Transfer), Western Union, Paypal, Payoneer
PM-1A RF Power Meter Explain | RF Measurement Solution from FMUSER
In order to meet the needs of better RF measurement for our customers in FM transmitter and antenna commissioning - more accurate data, much easier equipment operation, and lower measurement cost, as the leading manufacturer of RF test equipment, FMUSER has timely launched a new RF power meter dedicated to 85-110MHz RF testing.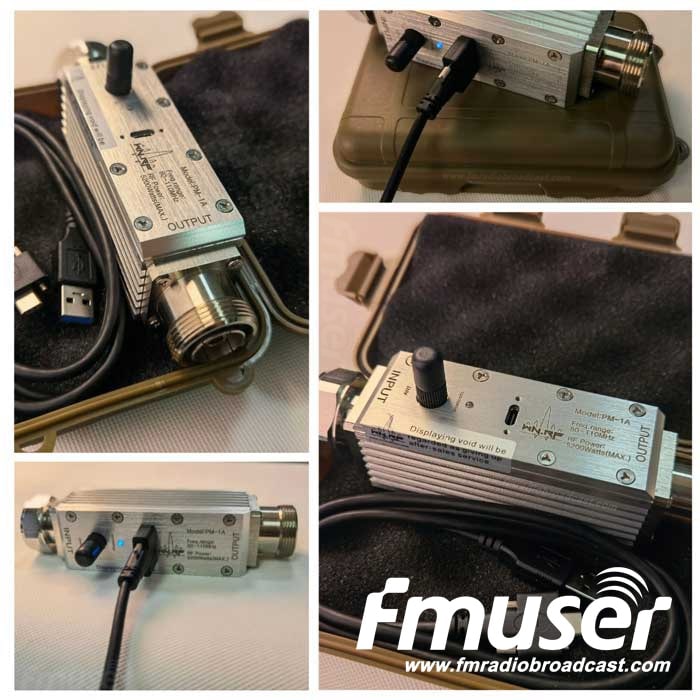 The following content will cover product bundle information, specification information, and main highlights of the RF power meter.
By the way, preferential prices for bulk OEM and ODM orders are NOW opening, contact us if you are working as:
Antenna Installation Engineers
Transmitter Maintenance Engineers
Transmitter and Antenna Manufacturers
etc.
Keep exploring for more!
Distributors Wanted for Low Power FM Transmitter Wholesale
FMUSER is looking for a distribution partner for the low-power FM transmitter wholesale business.
Contact the FMUSER sales team NOW to obtain unlimited business opportunities including complete product supply, reliable solutions, and rich profits! For more details, please fill in the "contact us" form on the left or click below to contact us.
What is inside the Package?
The following pieces of the device will be included in each package of your order, please check whether it is complete:
FMUSER PM-1A RF power meter * 1
USB Type-C power cable * 1
FMUSER PM-1A user manual * 1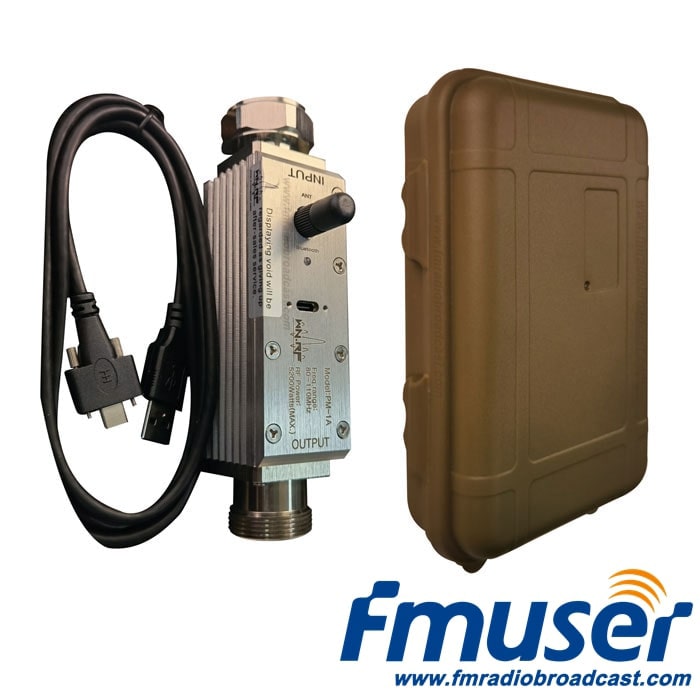 Get Started with the Following Infomation!
In addition, don't forget the APK installation code of the APP, please click the link below to download it:
How to Use FMUSER PM-1A RF power meter?
Open the Bluetooth settings before the test starts
Make sure the Bluetooth of the FMUSER PM-1A RF power meter is connected to your mobile phone
Turn on your transmitter (ALWAYS connect the antenna/dummy load ahead)
Commission the transmitter while monitoring
What are the Technical Specifications?
The specifications of this newly released FMUSER PM-1A RF power meter are as follows:
Terms
Specifications
Model
FMUSER PM-1A Power Meter (5200W)

Accuracy (85-110mhz)
1-10w ±30%
10-100w ±20%
100-500w ±5%
500-1000w ±2.5%
1000-5000w ±1.5%
Monitoring
APP monitoring
Manufacturer
FMUSER
Accurate Frequency Range
85-110Mhz (FM band 87-108mhz included).
Measurement besides 85-110 MHz
Yes, but it may not be as accurate as measuring inside the 85-110 MHz freq range.

Measuring Power Range

1-5,200W. Long-time power measuring for less than 3kW is NOT RECOMMENDED, or it will bring severe damage to the power meter.

Power Measurement

CW (continuous-wave)

Maximum Power
5,200W
Impedance (Input/Output)
50Ω
Rated Power
1W-5,000W
Insert VSWR
≤1.03
Coupling Isolation

≥32 dBc

Digital Display
Digital
Data Connection

Bluetooth

Power Supply

Type-C, 5V

Input Connector Type
L29 DIN Male
Output Connector Type
L29 DIN Female
Power Connector
TYPE-C
Dimensions in MM (protrusions part are excluded)

152 (W) x 35 (D) x 40 (H)

Net Weight

600 g

Ambient Temperature Range
-10℃ to 40℃
Suggested Operating Temperature
<60°C
Suggested Operating Altitude
<4500M

Material (Power Meter)
Aluminum alloy
Material (Package Box)
Plastic
Best for
Installation, testing, and maintenance of FM radio transmitter and FM transmitter antenna, etc.
Any Features or Highlights Compared to Others?
In order to benefit more FM radio stations, we have launched this FMUSER PM-1A digital RF power meter that distinguishes it from traditional RF power meters, and hope to expand your station's living space by reducing your station's equipment purchase cost.
If you are still not satisfied with the previous content, then take a look at the main selling points of the FMUSER PM-1A RF power meter:
Low cost and Accuracy: Only 1/4 the price of RF power meters from other famous brands (e.g. Bird Technologies, TEGAM Inc, Keysight, etc.) but 4 times precision as higher as any one of theirs in the 85-110Mhz band.
Rugged design: The aluminum alloy cavity brings a rugged and durable design for daily commissioning.
APP monitoring: The traditional built-in display is removed with APP real-time monitoring instead. Meanwhile, a real-time display of reverse power and VSWR is provided. Professional as always and easy to use for the RF engineers.
Dynamical monitoring: Dynamically detecting and recording the curve according to time, which is convenient to check the power fluctuation at different time points.
Bump-resistant: Best for a long time and bumpy transportation such as in remote mountainous areas. Unlike a pointer meter, there will be no precision offset will be produced during the transportation of the FMUSER PM-1A RF power meter.
Real-time APP Monitoring for RF Commissioning Data
As mentioned above, unlike the traditional meters, the FMUSER PM-1A RF power meter abandons the bulky display meter, instead, a more convenient APP mobile monitoring design is adopted.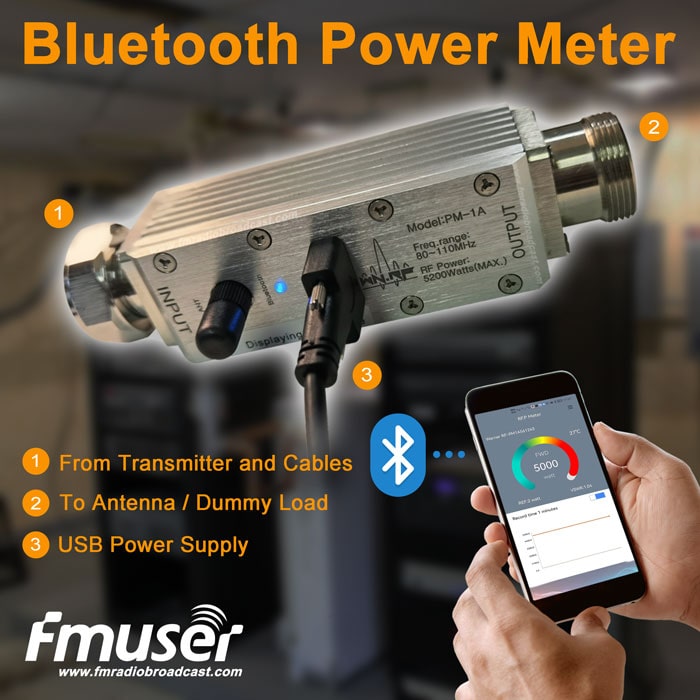 The digital design significantly improves the readability of RF data, meanwhile, it enables a quick APP monitoring for the RF engineers of the following parameters:
Forwarding power and reflected power of your FM transmitter
VSWR of your broadcast antenna
Working temperature and other complex parameters
High-precision professional test solutions
In exception to APP monitoring supported, FMUSER PM-1A RF power meter also has high precision as one of its biggest selling points.
As it is known to all, in the process of FM transmitter commissioning and monitoring, the transmitter data accuracy has a great impact on many of your decisions, including data recording, equipment replacement (e.g. FM transmitters, FM radio antennas, etc.), maintenance costs, etc.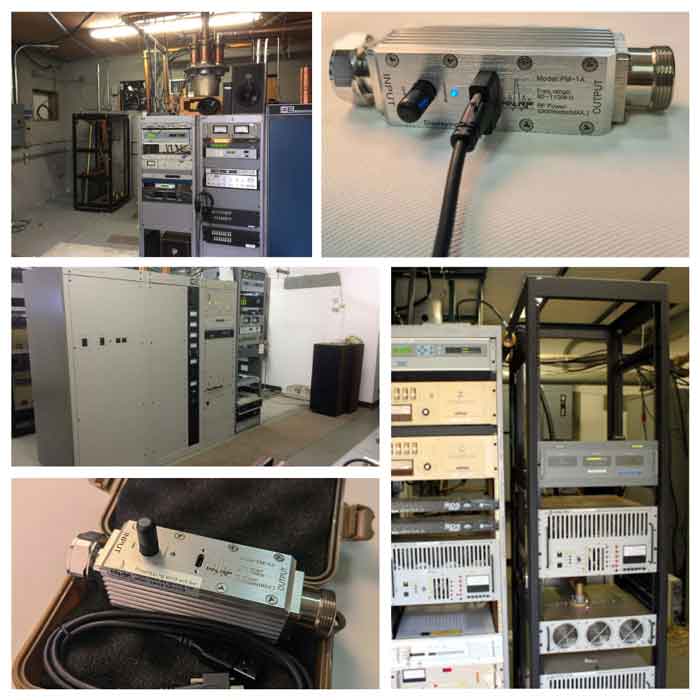 Honestly, selecting an RF power meter of high quality also helps decide how you will run the transmitter and antenna daily maintenance in your radio station.
But in fact, if you want higher monitoring accuracy of the FM transmitter output power, the absolute value of the frequency range and acceptable power range of the RF power meter must be smaller.
For example, an RF power meter of 88-108Mhz freq range and 100W-1000W power range will have higher accuracy than the one of 10kHz-108Mhz freq range and 10mW-1000W power range.
And that's what FMUSER PM-1A RF power meter does.
In the 85-110MHz freq range and 1-5,000W power range, FMUSER PM-1A has far more accuracy compared to most of its rivals alive (even better than Bird).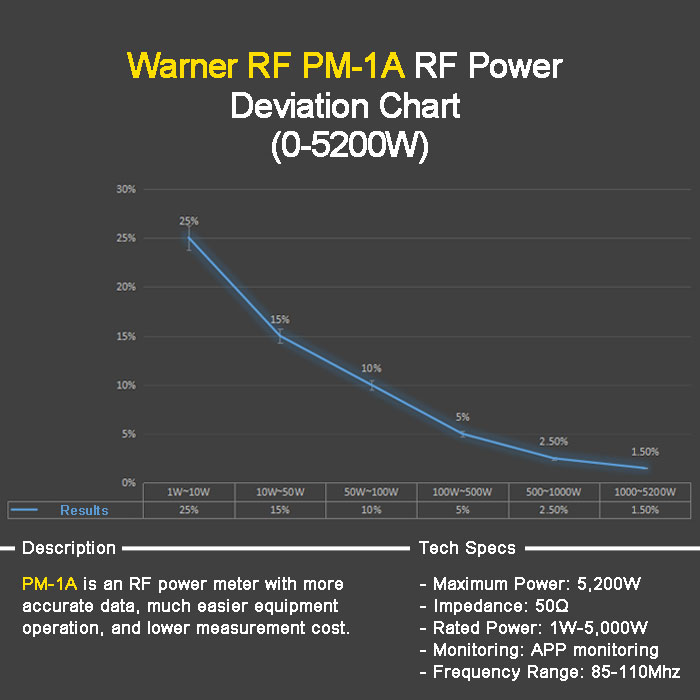 The core accuracy readings of the FMUSER PM-1A RF power meter are as follows:
Tested accuracy ±10% at a 0-200W rated power range
Tested accuracy ±3% at a 200-1,000W rated power range
Tested accuracy ±2% at a 1000-5,200W rated power range
The FMUSER PM-1A RF power meter focuses on an exact rated power that can reach as low as 2 watts and as high as 5,200 watts.
Additionally, with a fixed frequency range of 85-110MHz (FM band covered), rather than kHz, GHz, or thousands of MHz, FMUSER PM-1A can be well applied to all broadcast transmitters in the FM band (88-108MHz, 0-5.2kW).
FMUSER PM-1A RF power meter is such a great testing add-on whether it is in a small community radio station or a mid-sized town radio station, it can always meet the needs of the daily maintenance for the engineers.
Get Away from High-Cost Dilemma
As far as we know, the price of an RF power meter from some typical suppliers is generally set in thousands of dollars, but many customers still place their orders because there are no such alternatives. RF power meters with high cost and poor accuracy were the only option for most FM radio station engineers.
However, the launch of the FMUSER PM-1A RF power meter perfectly solves the problem.
The main users of FMUSER PM-1A have been fully considered from the beginning of its design. In addition to high accuracy and APP real-time monitoring, it is also very cost-effective - its price (temporarily confidential :)) is much lower than all the typical RF power meter suppliers you know so far. In the meantime, FMUSER PM-1A has proven high accuracy, you won't get such a high-quality fixed band RF power meter from other suppliers.
Today, the FMUSER PM-1A RF power meter is the only fixed band RF test solution on the market that is suitable for a large number of small and medium-sized FM radio stations and features both low cost and high performance.
Typical manufacturers of traditional RF power meters are:
Aeroflex (aeroflex ifr 6015, aeroflex ifr 1200s, aeroflex ifr 2945b, aeroflex ifr 6000, aeroflex ifr, aeroflex ifr 2975, aeroflex ifr 3500a, aeroflex ifr 3920, aeroflex ifr 4000)
Bird Technologies (4527, 4526, 4522, 4521, 4431, 4308, 43, 4412A, 4410A, 43P, 4391A, 4314C, 4305A, 4304A)
Tektronix (PSM3000/4000/5000 Series, tektronix psm5120, Tektronix PSM3320, Tektronix VX4281, Tektronix PSM5410, TEKTRONIX PSM5110)
TEGAM Inc (Gemini 5541A, GEMINI 5540A)
Keysight (N1912A, N1911A, N8262A, L2063XA, U2000B, U2002H)
Giga-Tronics (Giga-tronics 8651A, Gigatronics 80301A, 8541C Gigatronics, 8652A Gigatronics, Used Gigatronics 8542, Gigatronics 80314A, GIGATRONICS 8502A, Gigatronics 80324A, Giga-tronics 8542C)
Boonton Electronics (Boonton 4500C, Boonton PMX40, Boonton 4540, Boonton 4530, Boonton 4240)
Anritsu (ML2437A, ML2438A)
Rohde & Schwarz (R&S®NRPxxS/SN/SN-V, R&S®NRP-Z8x, R&S®NRPxxA/AN, R&S®NRPxxT/TN/TWG, R&S®NRQ6, R&S®NRPM, R&S®NRP-Z2x1)
PMM (PMM 6630)
Diamond(SX-200, SX-400, SX-400, SX-1100, etc.)
MFJ(mf705, mf845, mf926b, mf828, mf959c, mf267, mf269c, mfj 945e, mf2275, mf66, mfj 269c pro, MFJ-870, etc.)
etc.
Recommended Products You May Also be Interested In
| | | |
| --- | --- | --- |
| | | |
| Up to 1000 Watts | Up to 10000 Watts | Transmitters, antennas, cables |
| | | |
| Radio studio, transmitter station | STL TX, RX, and antenna | 1 to 8 bays FM antenna packages |
Traditional RF Power Meters Explain | Why Choose FMUSER over Others?
Adding several reliable, easy-to-use, and low-cost RF power meters for engineers is a pressing need for most FM radio stations.
Since power specifications are critical to FM transmitters while manufacturing, it has a huge impact on the performance as well as the sales price of almost all the FM broadcast transmitters.
Thus, more and more broadcasters need a more professional RF power meter to determine if their FM transmitters have sufficient RF output power (reverse power) guaranteed by their manufacturer.
Also, an RF power meter may also be used by the radio station engineer to see whether the VSWR of the antenna feedback is at a normal value.
But, the traditional RF power meter has many disadvantages, such as:
Reasons #1: Traditional RF Power Meters are Inconvenient to Use
Due to the backward manufacturing process, many traditional RF power meters use a display screen with built-in sensors. However, for radio engineers, the data displayed on the meter's screen are often hard-to-read, which is not in line with the accuracy reading requirements.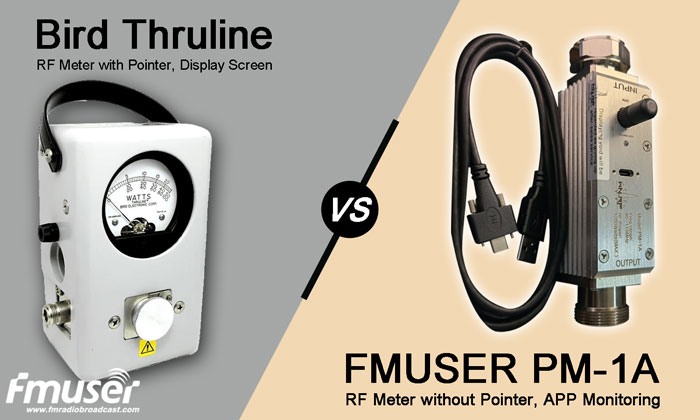 And relatively this design increases the workload of the engineer - they will have to be waiting next to the RF power meter all the time, which obviously makes no sense at all!
Reasons #2: Traditional RF Power Meters have Inaccurate Readings
For many FM radio stations of small-sized, purchasing RF power meters from some famous brands seems reasonable, for example, a Bird's 100kHz-100MHz RF power meter sounds great, right?
But a cruel fact that is, using a 100kHz-100MHz band RF power meter to measure the power of an 88-108MHz FM transmitter will cause inaccurate readings, which is due to excessive frequency between applicable frequency bands.
That is to say, if you turn to most traditional manufacturers alive in RF power meters of over-wide freq band, you may spend 10 times the price for one with inaccurate readings.
Reasons #3: Traditional RF Power Meters Need Excessive cost
Many manufacturers of traditional RF power meters tend to raise the price of their products in order to obtain higher profits, but these prices are too high for many small and medium-sized stations to afford.
Actually, they don't need such an expensive (yep, but functional also) RF power meter.
Instead, an RF power meter with an affordable price and accurate readings is all they ask for.
RF Power Meter: What it is and How Does it Work?
Are You Looking For The Answers To These Questions?
What is an RF power meter?
How do RF meters work?
What are the applications of RF power meters?
What are the types of RF power meters?
How to choose an RF power meter?
Where to buy the best RF power meter?
We Cover All You Need In This Page...
What is RF Power Meter? Explained by FMUSER
An RF power meter or microwave power meter is a professional instrument that measures the electrical power of a device, usually at microwave frequencies from 100 MHz to 40 GHz.
Besides, an RF power meter is mainly used to collect information, analyze, measure, and calculate RF power and radio antenna VSWR, and display it on the built-in screen. Or display the analog data in digital form on the app.
In RF frequency and power measurement, kHz, MHz, and GHz are the most commonly used frequency range measurement units, and mW, watt and kW are the most commonly used measurable power units.
A typical RF power meter can usually measure as low as a few Power ranges from mW up to several kilowatts and reports power in dBm (decibels relative to 1 milliwatt), dBW (decibels relative to 1 watt), or watts.
RF power meter is also known as:
FM Meter
RF Wattmeter
RF Meters
Microwave Power Meter
RF Wattmeter
RF Meter
RF Watt Meter
RF Power Monitor
RF Power Sensor
According to its structure and use, the RF power meter can be divided into:
Inline RF Power Meter
Digital RF Power Meter
RF Peak Power Meter
Handheld RF Power Meter
RF power meters need to connect to many different devices and perform various tests and calculations. For example, engineers use RF power meters to measure and record pulsed RF signals, noise-like signals, and pseudo-random signals.
Typical application scenarios also include:
Directional power calculation
Determining total power
Indicating peak envelope power
Pulse power measurement
Laboratory usage
Field usage
In addition, the RF power meter is used in many various application scenarios including RF development, design, test, repair, and field service, and is one of the most important test equipment.
How does RF Power Meter Works?
To understand how an RF power meter works, you must first understand its structure, how it was applied, and its types.
Basic Structure of a Typical RF Power Meter
A typical RF power meter, such as the ones from Bird Technology, consists of the following parts:
The Display Screen (pointer-type or digital-type)
Power Sensors
Sensor connectors
Control Knob
Plug-in frequency range and power level components
Portable belt
Battery
Among them, the display screen, power sensing components, and sensor connectors are the core components of all RF power meters.
On-site Testing with an RF Power Meter
Generally, when engineers need to conduct on-site testing for FM transmitters, few pieces of broadcasting equipment are needed. Here is a sample list:
Broadcast equipment to be tested: e.g. high power FM broadcast transmitters
Antenna/dummy load: for eventual transmission of the broadcast RF signal from the transmitter
Feeders/cables: Connect transmitter and antenna or dummy load, transmit RF signal
RF power meter: used to match the frequency of the device under test: e.g. 50-200MHz (VHF) RF wattmeter
Other related devices: RF power sensors, and spectrum analyzers. The maintenance engineers will select power sensors based on frequency range, dynamic range, and modulation format, dues to limited space, this topic will not be introduced here.
Then, the engineer will ensure that all equipment is wired separately before powering on the transmitter, including:
Connect the audio source-FM transmitter line: including the transmitter's power supply, RF output, audio input, etc.
Connect the FM broadcast antenna/RF dummy load line: including RF input (feeder/feeder), antenna installation (check positive and negative poles, antenna installation height, multi-layer antenna spacing)
Choose the right RF power meter: including matching the frequency of the broadcast transmitter and the power sensor connector (high-power FM transmitters need to be connected to the feed pipe, so you may need to choose an RF power meter with a flanged head)
When everything is ready, the engineer will connect each device according to the order of "broadcast transmitter-RF power meter-antenna/dummy load".
The last step is to turn on the power of the broadcast transmitter, adjust the input power and observe the RF power meter RF power and VSWR values ​​displayed on the meter
How to Choose Your RF Power Meter? 5 Key Factors that Should Bear in Mind
Choosing the right RF power meter is critical for test equipment, as accurate RF signal detection is very important in any application. So, for any FM radio station that wants more accurate RF power and VSWR measurements, how do you choose the best RF power meter? There are a few things to keep in mind when choosing an RF power meter, which are types, freq range, display, and product quality. Keep reading for more!
#1 Understanding the Types
If you want to buy an RF power meter, then you should first understand its type. RF power meters can be basically divided into heat-based RF power meters, diode-powered detectors, absorption RF power meters, and pass-through meters. A heat-based RF power meter is a good choice when performing integrated measurement activities, and a diode-powered detector is a choice when readings of a basic level or transient nature are required. Of course, you also need to pay attention to whether your RF power meter is suitable for recording unique metrics such as average power, pulse power, or peak envelope power. While the absorption RF power meter is suitable for obtaining very accurate laboratory data, the pass-through RF power meter is suitable for field tasks.
#2 Frequency Range Matters for Accuracy
Choosing the right frequency range matters. A smaller frequency range comes with greater error, for example, if you are commissioning an FM transmitter with frequency ranges from 88 to 108Mhz, then an 85-110Mhz RF power meter is your best choice.
If you usually use an RF power meter of 1-200Mhz to commission an FM transmitter, then its error will be much larger than an RF power meter with a smaller freq range. It may cause troubles such as the inaccurate specs of transmitter power output and antenna VSWR.
#3 Make Commissiong More Convenient via APP Monitoring
Choosing an RF power meter with an APP monitoring could help save you time. This kind of RF power meter offers a digital display and timeline recording function. To focus on commissioning the transmitter and antenna is all left to do, no need to record VSWR and forward power specifications on the book anymore! You know what this means to your job.
#4 Never Leave the Product Quality Behind.
An RF power meter with high quality usually has a long service life - it also guarantees your commissioning accuracy. Additionally, a rugged design offers greater protection to free the power meters from the bumps in the logistics and transportation process. So, always be careful about the quality before placing an order for an RF power meter.
#5 Freq Selective or Freq Fixed Type
It is worth noting that RF power meters can be either frequency selective or frequency fixed, the biggest difference between the two is accuracy and price.
For example, the portable RF power meter from Bird can meet the test needs of different frequency ranges (such as 450kHz-2.7GHz or 50-100MHz, etc.) and power ranges (such as 100mW-10kW) through plug-in power matching components.
However, its price can run into thousands of dollars.
For most broadcasters, the overflowing selling price, frequency range, and power range are also unnecessary, not to say the test results are subject to large deviations (even if the claimed accuracy is ± 5%)
Compared with the former's wide frequency range and power range, the frequency-selective RF power meter has a higher field test accuracy and is often cheaper.
This type of RF power meter is specialized It is used to monitor the RF power output and VSWR value of the FM frequency band, which is also just enough to meet the transmission system detection of most low-power FM radio stations.
About FMUSER
FMUSER is the world's leading supplier of affordable broadcast solutions. Since 2004, we have successfully provided thousands of reliable turnkey solutions for AM, FM, and TV stations in several countries around the world, including complete packages, remote/onsite installation guidance, trusted after-sales service, and more.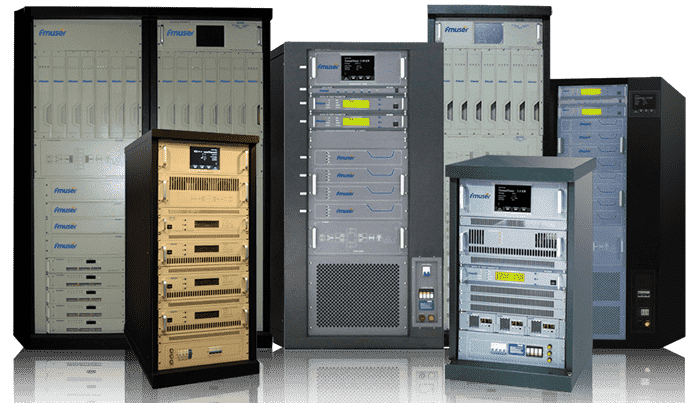 Our manufacturing factory ensures a first-class high performance to every piece of equipment and has so far given each FMUSER customer's radio station a new vitality.
"We make every effort to ensure your experience, this is the mission of FMUSER"
--- Tom Lee, Founder of FMUSER.
Recommended AM Transmission Products You May Also be Interested In
CONTACT US


FMUSER INTERNATIONAL GROUP LIMITED.
We are always providing our customers with reliable products and considerate services.
If you would like to keep touch with us directly, please go to contact us